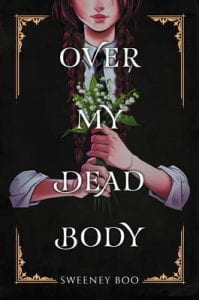 Boo, Sweeney. Over My Dead Body. HarperAlley, 2022. 978-0-063-05631-2. 240 p. $24.99. Grades 7-10.
It's not easy being a foundling, as Abigail Younwity knows all too well. On top of having no family of her own and being named after the Younwity Hidden Institute of Magic where she's a student, Abigail knows that foundlings are especially vulnerable to the ghosts that haunt the untamed woods surrounding the school grounds. When Abigail's friend Noreen disappears, Abigail knows that the forest holds the answers. On a hunt for information, she discovers a journal hidden in the hollow of a tree; it belonged to another student who vanished without a trace almost a century ago. The school administrators demand that Abigail leave the search to the Coven, but she can't give up on finding the closest thing she has to a sister. Meanwhile, the Institute is preparing for the Samhain festival, when "the veil between the world of the dead and the living is at its thinnest," and evil spirits are apt to strike. Time to find Noreen clearly is running out. Assisted by a handful of trusted friends and armed with some helpful spells, Abigail will risk expulsion, or worse, to solve this mystery.
THOUGHTS: Written and illustrated by Sweeney Boo, this vibrant graphic novel is pure witchy fun from start to finish, while also incorporating some weightier issues such as possessive friendship. Fans of Sabrina (in all its incarnations) and Squad by Maggie Tokuda-Hall and Lisa Srerle will love it!
Graphic Novel          Amy V. Pickett, Ridley SD