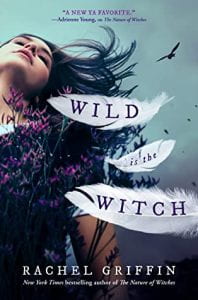 Griffin, Rachel. Wild is the Witch. Sourcebooks Fire, 2022. 978-1-728-22945-4. 320 p. $18.99. Grades & up.
Iris Gray knows witches aren't welcome in most towns after being involved in a severe magical explosion and being forced to leave her last town. While the Witches' Council was lenient in their punishment, Iris knows they're keeping tabs on her. Now settled in Washington, Iris never lets anyone see who she really is; instead, she vents her frustrations by writing curses she never intends to cast. Then, she meets Pike Alder, the witch-hating aspiring ornithologist who interns with her at a wildlife refuge. She creates the perfect curse for Pike – to turn him into a witch. Just as she is about to disperse it, an owl swoops in and steals the curse. If the bird dies, the curse is unleashed, and with the bird being a powerful amplifier, the entire region is in danger of being turned into witches. With the possibility of her magic being stripped from her if her secret is found out, Iris begs Pike to help her track the bird through the Pacific Northwest. Along the way, Iris learns much about Pike and about herself that has her rethinking her coping mechanisms and Pike himself. Griffin's language is lyrical and cozy, perfectly matching the setting of the Pacific Northwest forests in which Pike and Iris hike to find the bird and save everything.
THOUGHTS: Readers of paranormal fiction with an interest in hedgewitch/nature-focused practice will enjoy this thoughtful take on magic. The dynamic of Iris' family is refreshing as they recover from events prior to the book. Of course as the tense situation with the owl builds, so does the journey toward truths that Pike and Iris keep from one another. A solid standalone YA paranormal romance pick for 8th grade and up.
Fantasy          Natasha Lewis, Whitehall-Coplay SD