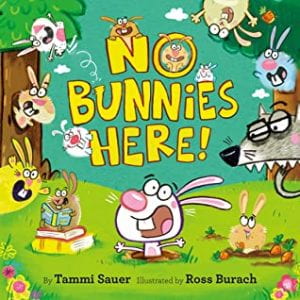 Sauer, Tammi. No Bunnies Here! Illustrated by Ross Burach. Doubleday, 2022. Unpaged. 978-0-593-18135-5. Grades K-3. $17.99.
It is time for Bunnyville's Hoppy Day Parade, and in "the land of a thousand bunnies" our narrator becomes quite nervous when he sees an excited wolf. Bunny immediately springs into action to prove to wolf how wrong he is by assuming there are bunnies in Bunnyville. By donning clever costumes, disguising bunny friends, and renaming Bunnyville, Bunny works hard to show Wolf that there are no bunnies here. Despite Bunny's best efforts, the enthusiasm for the Bunnyville Hoppy Day Parade cannot be stopped. As Bunny tries one last time to get Wolf out of Bunnyville, he realizes Wolf may not be hungry for a bunny after all. Wolf may have an entirely different reason for coming to Bunnyville. If Bunny can learn to listen to Wolf, he may realize what Wolf's purpose in coming to Bunnyville is. But can a predator and prey coexist? This sweet friendship story will show young readers not to judge a book – or a wolf – by its cover.
THOUGHTS: Readers will laugh out loud at Bunny's hilarious antics as he tries to avoid the not so big bad wolf. Bold, colorful illustrations will enchant readers. Recommended for elementary collections.
Picture Book          Maryalice Bond, South Middleton SD