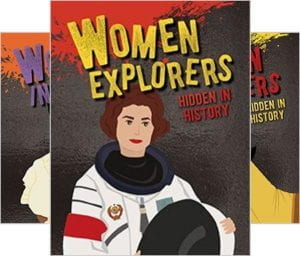 Hidden History/Hidden in History. Crabtree Publishing, 2020. $15.96 ea. $95.76 set of 6. 48 p. Grades 5-9.
Custance, Petrice. Women Writers. 978-0-77877309-2.
—. Women Inventors. 978-0-7787-7305-4.
Eason, Sarah. Women Rulers. 978-0-7787-7299-6.
—. Women Warriors. 978-0-7787-7308-5.
O'Brien, Cynthia. Women Scientists. 978-0-7787-7300-9.
Rodger, Ellen. Women Explorers. 978-0-7787-7304-7.
The Hidden in History series introduces middle grade readers to lesser known women inventors, writers, rulers, warriors, scientists, and explorers through informational text and full color photos. Pages brimming with historical information are enhanced with brightly colored text boxes, illustrations, and images. Each of the five chapters is divided into a theme. Chapter one focuses on the hidden aspect of women in history while the following four provide biographical information on women who lived in Asia, America, Europe, and Africa. In Women Inventors, readers will learn about the women who invented paper bags, home security systems, coffee filters, and the Wing Chun style of kung fu. Readers also will learn about the lives of extraordinary women who were business tycoons like Madam C.J. Walker along with contemporary scientists such as Dr. Flossie Wong-Staal and other women inventors who have made revolutionary advances in science. In Women Writers, readers will learn about Amelia Lanyer, the woman some think may have been the real Shakespeare. Additionally, readers will learn about feminist writers around the globe who used their pens despite all odds to speak out in favor of suffrage, to condemn systemic racism, and to tell stories of marginalized communities. Women through all periods of history from ancient times through the 21st Century are featured. An index and glossary can be found at the back of each book.
THOUGHTS: This series is a great resource for any middle or intermediate school library. The colorful pages will make these attractive to readers who are interested in learning more about women throughout history.
920 Collective Biography          Jackie Fulton, Mt. Lebanon SD
609.2 Biography of Inventors
809 History of Literature

This series aims to uncover the lesser known extraordinary lives of women leaders in history. Women featured include Liluokalani who was the first Hawaiian Queen, a samurai named Tomoe who is famous in Japanese culture, and Queen Hanbe of the Amazons who had a mighty female army. Each book is organized by chapters featuring European, Asian, American, and African women. The books are full of photographs, colorful illustrations, maps, and captions that provide additional facts. An extensive glossary of terms and "Learning More" section helps the reader understand the content and learn more.
THOUGHTS: These books are a good starting place for students who are unaware of the role women have played in history. I think the series accomplishes its goal of uncovering the ignored or forgotten achievements these women have made throughout history. Readers will need to explore additional sources to learn more in-depth information about the road blocks these women have faced and the time-periods in which they lived.
Collective Biography          Jaynie Korzi, South Middleton SD