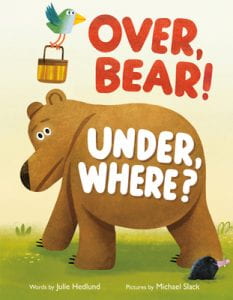 Hedlund, Julie. Over, Bear! Under, Where? Illustrated by Michael Slack. Philomel Books, 2021. 978-0-593-20355-2. Unpaged. $17.99. Grades K-3.
Over and Under are friends playing at the park and picnicking with their friend, Dog. When Bear appears, they all run away, but soon Bear overtakes the group. To get away from him, Over, Under, and Dog dig a hole and hide inside. The friends soon realize, though, Bear wasn't trying to ruin their day; he just wanted to join in the fun. 
THOUGHTS: This is a MUST HAVE picture book for all elementary libraries and classrooms. Not only are Over and Under the characters in the book, but they are also prepositions and parts of compound words. Over, Bear! Under, Where? is the perfect introduction to these elements of English grammar while also providing a solid laugh at the word play throughout. 
Picture Book        Erin Bechdel, Beaver Area SD