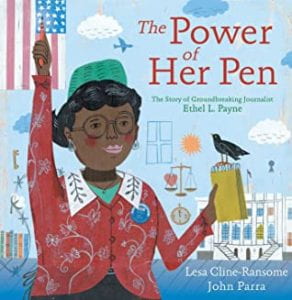 Cline-Ransome, Lesa. The Power of Her Pen: The Story of Groundbreaking Journalist Ethel L. Payne. Simon and Schuster, 2020. 978-1-481-46289-1. Unpaged. $17.99. Grades 1-4.
The life of Ethel L. Payne, the "First Lady of the Black Press", is depicted in this picture biography. Born in Chicago in 1911, Ethel loved listening to her grandparents' stories of the cotton fields in Kentucky and her parents' own sharecropping tales. Ethel developed a love of writing and after high school fought against racism in her community. After World War II, she left for Japan and collected stories from black American soldiers on the base, noting the unfair treatment they received from the Army. Soon Ethel's stories from Japan were sent to American newspapers. On her return, Payne took a job as a features editor with the Chicago Defender, an African American newspaper.  Her stories progressed from local events to covering the Democratic National Convention. Eventually, Ethel moved to Washington DC and became one of three African American reporters with a White House pass. For the rest of her life, she wrote stories that focused on civil rights and the issues facing African Americans.  There is an author's note that gives more details on Ethel L. Payne's life. John Parra has used acrylic paint to create illustrations that feature other well-known African Americans. Readers will enjoy poring over the drawings to search for the small objects found throughout the text, including the clocks that move forward in time by the end of the story.
THOUGHTS: This text is a worthwhile addition to elementary collections. Readers will learn about the life of this famous African American woman and her important contribution to the civil rights movement.
921 Biography          Denise Medwick, Retired, West Allegheny SD
070.92 Journalism and Publishing