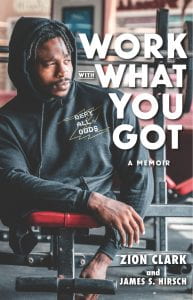 Clark, Zion, and James S. Hirsch. Work With What You Got: A Memoir. Candlewick Press, 2023. 978-1-536-22421-4. 232 p. $18.99. Grades 7-12.
Born in prison with a rare congenital condition that left him without legs, and given up by his drug-addicted mother, Zion Clark faced a lifetime of bias and underestimation.  However, he maintains that negative stereotypes of being African American and being part of the foster care system were also large obstacles in his life.  The instability and the lack of training and oversight are two problems plaguing the foster care system, where the reality is, "who's going to listen to a ten-year-old?" He acknowledges the help of some amazing people as he grew up: his first two foster families, his wrestling coach, and his adoptive mom. Their combined messages supporting his self-worth; determination; and hard work; combined with the outlets of music, athletics and faith, led Clark away from a gang and crime. Clark became a formidable athlete, first in wrestling, then in wheelchair road racing. Now a motivational speaker, Clark inspires others with his life story and overcomer attitude.
THOUGHTS: This honest memoir is riveting reading, appropriate for middle and high school.        
Biography