Copeland, Cynthia L. Cub. Algonquin Young Readers, 2020. 978-1-616-20848-6. 240 p. $12.95. Grades 4-7.
Cynthia Copeland delivers a fantastic middle grade graphic memoir! In the fall of 1972, the halls of Litchfield Junior High have something in common with Wild Kingdom: every kid is either predator or prey. Cindy has perfected the art of playing dead to get the "predators" to lose interest in her. She doesn't have to play dead in art or English class, though, where she shines. Beloved English teacher Mrs. Schulz recommends Cindy for an internship with a female reporter at the local paper. Attending local events with Leslie, Cindy learns the ropes of recording facts, gathering quotes, and crafting an informative story with an attention-grabbing lede. "To make it into the paper," Leslie advises her, "a story has to be great: accurate, fair, complete, concise." The same could be said for a successful memoir! It is a joy to watch Cindy's confidence blossom as she finds her voice through journalism. Full-color panels with a variety of layouts depict her journey of empowerment in bright, tween-friendly colors with just a tinge of nostalgia. Despite the time period specifics, Cindy's seventh grade year – spent juggling friend drama, a nice boy who almost looks like John Denver when the lights are dim, and her new job as a "cub" reporter – is one that every preteen girl will relate to.
THOUGHTS: This heartfelt, engaging graphic memoir, complete with lovingly depicted growing pains, is a surefire recommendation for fans of Raina Telgemeier.
Graphic Memoir          Amy V. Pickett, Ridley SD
---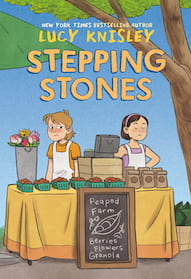 Knisley, Lucy. Stepping Stones. Random House Graphic, 2020. 978-1-984-89684-1. 224 p. $12.99. Grades 3-7.
After her parents' divorce, Jen and her mom relocate to rustic Peapod Farm in upstate New York. Jen misses her dad, her old apartment, and the delicious food in the city. She's also disillusioned with the farm's constant chores, nasty geese, and especially her mom's annoying new boyfriend Walter. Things look up with the discovery of barn kittens and mail-order chicks, but the weekend addition of Walter's daughters, Andy and Reese, puts a damper on the fun. Andy, an insufferable know-it-all, seems to thrive on one-upping Jen and calling out her weak math skills when the girls work the Peapod table at the local Farmer's Market. But with a little luck and extra effort, there's hope for these part-time sisters to find their common ground. Lucy Knisley lovingly depicts Peapod Farm and the market with lush green foliage, colorful flowers, and aqua skies. Jen's unspoken emotions are conveyed through her body language and flushed cheeks. Many readers will expect more growth (and definitely a much-needed apology or three) from bossy Walter, but they will also identify with Jen's frustration when she feels unheard, and her perspective that the adults always (however unfairly) get the last word.
THOUGHTS: With Stepping Stones, graphic memoirist extraordinaire Lucy Knisley has created a standout middle grade graphic novel. As mentioned in the Author's note, Knisley's own story closely aligns with Jen's, and we readers can only hope that she has more stories in store for this age group!
Graphic Novel          Amy V. Pickett, Ridley SD
---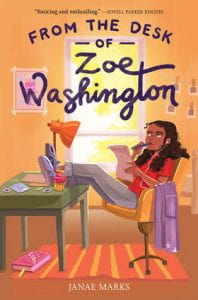 Marks, Janae. From the Desk of Zoe Washington. Katherine Tegen Books, 2020. 978-0-062-87585-3. 291 p. $16.99. Grades 4-7.
Zoe has just had the best twelfth birthday party ever, making cupcakes with her besties at a real bakery. She's now one step closer to fulfilling her dream of competing on the Kids Bake Challenge and becoming a professional pastry chef. She returns home to the surprise of her life: a letter from her father, Curtis, who Zoe has never met in person because he has been incarcerated for her entire life. Zoe is intrigued, but confused; after all, her father is a convicted criminal, guilty of murder. But in his letters, Curtis sounds … Nice. Supportive. Caring. With the assistance of her grandmother (and unbeknownst to her mom and stepdad), Zoe begins exchanging letters with her father. When Curtis claims his innocence, Zoe decides to investigate. With the help of her best friend, Trevor, she begins a quest to find Curtis's alibi witness. She also awakens to the occasional injustices of our criminal justice system.
THOUGHTS:  In her debut novel, Janae Marks balances the serious with the sweet. Zoe (who is part of an upper-middle class, mixed-race family) is sometimes mature well beyond her twelve years. Still, she is an endearing heroine on a life-changing quest for the truth. Readers with an interest in the criminal justice plotline may want to pick up Just Mercy: Adapted for Young Adults by Bryan Stevenson to learn about the real people whose lives mirror Curtis's story.
Realistic Fiction          Amy V. Pickett, Ridley SD
Meet Zoe Washington: a 12 year old African American girl who loves to bake (she dreams of competing on the Kids Bake Challenge on Food Network), has a best friend Trevor (who lives next door), and has a good relationship with her parents (her step dad is white). On her 12th birthday, Zoe checks the mail to find a letter addressed to her, from her father (Marcus) who is in jail for murder! Zoe has never heard from him before, so this letter is a huge surprise.  She decides to write him back, but does not share this decision with her mom. At first their communication is awkward, but once she finds out that Marcus claims innocence, Zoe decides she is going to help free him. With the help of Trevor and her grandmother, Zoe finds his alibi for the day of the crime. Once they catch Zoe in her lies, her mom and step dad are furious that Zoe has been in contact with Marcus and ground her, but once finding out the details, eventually soften and help Zoe on her quest to free Marcus.
THOUGHTS: This a great example of an age appropriate book that deals with wrongful imprisonment and racial inequality. An impelling story, this is a must purchase for any middle school library.
Realistic Fiction          Krista Fitzpatrick, Upper Dublin SD