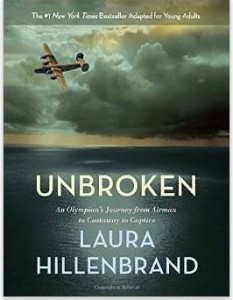 Hillenbrand, Laura.  Unbroken: An Olympian's Journey from Airman to Castaway to Captive.  New York: Random House, 2014.  978-0-385-74251-1.  320p.  $19.99.  Gr. 7-12.
Unbroken was originally published in 2010 and tells the riveting story of Louis Zamperini.  This edition has a slightly different title and has been adapted for young adults.  Louis Zamperini was born in 1917 and grew up in California.  As a boy, he was a juvenile delinquent headed toward a life of crime.  His Italian immigrant family worried about the choices he was making and his older brother, Pete, finally got Louis into track.  Suddenly, the speed Louis exhibited while escaping angry neighbors and the police was channeled into running races.  Louis was very, very fast and quickly became famous.  He qualified for the 1936 Olympics and hoped to medal in the 1940 Olympics.  However, World War II ensued and Louis joined the Army Air Corps.  During a rescue mission, Zamperini's B-24 was shot down.  He spent 47 days on a raft in the Pacific Ocean with two fellow airmen. On the 48th day, Louis and his buddy Phil were found, but the soldiers that rescued them were Japanese; the two men became POWs.
Louis was moved to different prison camps, each more brutal than the last.  At the Omori POW camp, he met Mutsuhiro Watanabe, a sadistic corporal who spent the rest of the war trying to break Louis' body and spirit.  The cruelty described in this book is almost beyond belief and Louis' determination to survive is amazing.  Eventually, the atomic bomb ended the war in Japan and he made his way back home to his family.  After he came home, Louis faced a new battle- this one against alcoholism.  Once again, Louis' family, now including a wife and children, fought to keep him from going over the edge.  In the end, his life was saved by a Billy Graham service that encouraged him to turn his life over to God.
This edition of Unbroken makes Louis Zamperini's story, one that deserves to be told, accessible to a younger group of students.  It seems more action-oriented than the original.  Some of the more graphic details about life in the POW camps have been edited out.  Finally, this book is substantially shorter than the adult edition.  High school librarians should consider acquiring both editions of the book.  Each has its own strengths and each deserves to be a part of your collection.
92 Biography  Susan Fox, Washington Jr. /Sr. High School