Brown, Jennifer. Thousand Words. New York:  Little, Brown Books for Young Readers, 2013. 978-0316209724. 288p. $17.99. Gr. 9-12.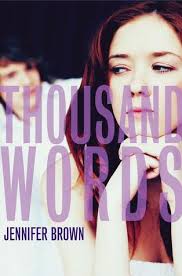 The premise of this book is so timely and appropriate for high school students today. High school sophomore Ashleigh loves her senior boyfriend and while drunk at a party, she is encouraged by her friends to send him something so he does not forget her at college. She decides on the spur of the moment to send him a full frontal nude photo of herself even though she is a virgin. What happens next is an absolute nightmare as the photo is sent out to practically everyone in the school as a result of a bad breakup and her friends who trash Kaleb's house and truck. The story, told through her time working on her sixty hours of community service and flashbacks, really gets to the heart of the matter of the dangers of drinking and sexting and how it not only changes her life, but also the life of her ex-boyfriend who is charged with distributing child pornography. Ashleigh loses her parents' trust, coach's respect, friends, and reputation. We are there with her as she attempts to rebuild her life with the help of an unlikely new friend, Mack. The title comes from the saying that a picture is worth a thousand words, but as Ashleigh also learns, it does not tell the whole story.
Realistic                               Marian Kohan, Erie School District
The book does not come off as overly preachy as it highlights an important issue that too many of our teens are engaging in and the possible worst case scenario that could result.  One of the students who read the book liked it but thought it seemed too contrived and went overboard on the consequences for the teens. Another thought that there was no way a girl who was not having a sexual relationship with her boyfriend, and really didn't want one, would send a nude photo of herself—drunk or not. To her the story lacked a ring of truth but she did like how the story was told and wanted to read more about Ashleigh's new relationship with Mack.