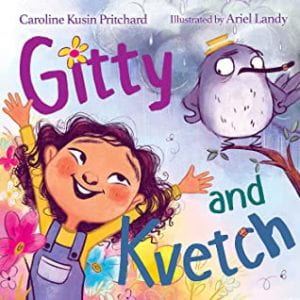 Pritchard, Caroline Kusin. Gitty and Kvetch. Illustrated by Ariel Landy. Atheneum Books for Young Readers, 2021. 978-1-534-47826-4. Unpaged. $17.99. Grades K-3.
Gitty is sure today is "the perfect day to hang the perfect painting in our perfect, purple tree house." Kvetch, Gitty's bird friend, isn't so sure he's ready after their last adventure. But Gitty isn't deterred by Kvetch's pessimism and convinces him to join the fun with a tempting worm sandwich. Along the way, Gitty sees many wonderful sights, while Kvetch identifies the negatives. Even when storm clouds appear Gitty wonders, "Did we hit the jackpot or what?" It's not until the friends are forced to take refuge in their tree house that Gitty realizes her "perfect painting was wet and wrecked, just like her perfect day." Will Kvetch be able to overcome his negative attitude to help his friend see the bright side? Beautiful, bright digital illustrations highlight Gitty's optimism, while muted purple tones show Kvetch's cynicism. A glossary of Yiddish words is included at the end, helping emerging readers understand Kvetch's meaning throughout the story. Note: Kvetch is not identified as male or female, but for the purpose of writing this review I identified him as male.

THOUGHTS: Reminiscent of Spires' The Most Magnificent Thing, young readers will adore Gitty and Kvetch's friendship and come to appreciate how differences put together can make the perfect pair. Highly recommended for elementary picture book collections.

Picture Book          Maryalice Bond, South Middleton SD