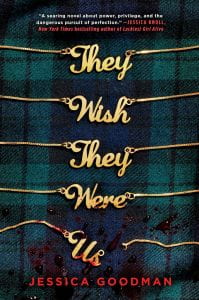 Goodman, Jessica. They Wish They Were Us. Razorbill, 2020. 978-0-593-11429-2. 327 p. $17.99. Grades 9-12.
As a student in an exclusive private school on Long Island, Jill and her five best friends should be living their best lives as seniors and members of the elite group The Players. They have unlimited money and the world at their feet. But there's a shadow hanging over their lives: the story of what happened to their friend, Shaila. During their freshman year, Shaila was murdered by one of their own – Graham, her boyfriend and a member of The Players. Three years have passed since her murder and most of The Players seem content to honor Shaila in their memories and move on. But Jill starts getting text messages from Graham's sister, Rebecca, and she quickly realizes that there may be more to the story than she originally thought. Despite her better judgement, Jill contacts Rebecca and becomes consumed with finding out the truth of what happened to her best friend. Unfortunately, while her investigation might bring justice for Shaila, the truth could end up ruining Jill's life and turning her perfect world inside out.
THOUGHTS: While at times a little predictable, Goodman's book delivers a punch that will draw in young readers. The plot is full of drama, scandal, and a glimpse into the privileged lives of the young elite. High school librarians should purchase Goodman's book as it will be a popular choice for young adult readers, especially those who are fans of One of Us Is Lying and A Good Girl's Guide to Murder.
Mystery/Thriller            Danielle Corrao, Manheim Central SD