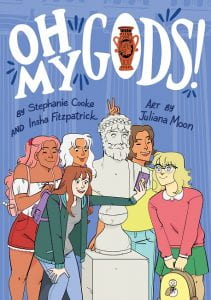 Cooke, Stephanie. Oh My Gods! Houghton Mifflin Harcourt, 2021. 978-0-358-29952-3. $12.99. 202 p. Grades 4-8.
Being a teenager is tough enough, but when Karen's mom gets the job offer of her dreams, Karen is obligated to move to Greece to live with her Dad, Zed, which means her life is about to get much more complicated. Soon after her arrival, it is clear that living on Mt. Olympus will be a lot different than the life she was used to in New Jersey! Karen quickly meets a group of friends at her new school, and to her they seem normal, but anyone familiar with Greek mythology will immediately realize that the references and similarities to Greek deities mean Karen's new friends are more than the everyday teenagers they pretend to be. Together, the new friends discover a student turned into a statue in the library one night, and Karen realizes she must solve the mystery of who is turning kids to stone on campus!
THOUGHTS: Fans of fiction featuring Greek mythology, including Rick Riordan fans, will love the multitude of references to gods and goddesses in this book. Students who do not know much about the Ancient Greeks may be inspired to learn more; this would make a great pairing with nonfiction titles like those in the Mythlopedia series. The graphic illustrations are charming and enhance the mystery and quirky humor in the story. Strong themes of friendship and acceptance in this book leave the reader eager to see what the next installment (April 2022) of Karen's adventures on Mt. Olympus will hold!
Graphic Novel          Erin Faulkner, Cumberland Valley SD