Bausum, Ann. Stubby the War Dog: The True Story of World War I's Bravest Dog. Washington, D.C.: National Geographic, 2014. 978-1-42631-487-2. 72 p. $30. Gr. 4-8.
This books details the true story of stray dog Stubby; he had the good fortune of being in the right place at the right time and his life was truly extraordinary. Stubby lived around the Yale University athletic fields. These fields were used as training grounds for soldiers during World War I, so Stubby met lots of new friends and always had enough food thanks to the army cooks. He was a very friendly dog who became very attached to one soldier, J. Robert Conroy, and they became best friends. Stubby was also very smart. He learned all the military commands, how to march in formation with soldiers, and even how to salute! When it came time for J. Robert Conroy to ship off to France to fight in the war, he smuggled Stubby on to the ship and took him to France. Stubby spent the whole war with his friend. He became the mascot for his division but he also helped alert soldiers when attacks were coming, helped find wounded soldiers, and was a friend to all.
This book is amazing, just like Stubby. Bausum does a wonderful job of incorporating facts and information about World War I and soldier life while telling Stubby's story. It's also very visually appealing with lots of photographs and sidebars of information. It would be an excellent resource for a research project but the text is difficult and is best suited for students in grades 5+. Some of my third and fourth grade students have checked it out and they enjoy perusing the photos and extra information on Stubby.
beautifully done.
History 940.4                  Lindsey Long, Nye & Conewago Elementary Schools
Life on the Front Lines (Series). North Mankato: Capstone, 2014. $20.49ea. Gr. 3-5.
Cooke, Tom. The Gulf War on the Front Lines. 978-1-4914-0852-0.
Cooke, Tom. The U.S.Civil War on the Front Lines. 978-1-4914-0848-3.
Cooke, Tom. The Vietnam War on the Front Lines. 978-1-4914-0851-3.
Cooke, Tom. World War I on the Front Lines. 978-1-4914-0849-0.
Cooke, Tom. World War II on the Front Lines. 978-1-4914-0850-6.
With eyewitness accounts and on the scenes photos, students will get a glimpse of what life was like on the front lines of the U.S. military's most important battles. Students who love learning about history and military will enjoy this bold and first-hand account of soldiers on the battlefield. Series is well done and expresses the challenges and tragedy of war without excessive violence.
900; History              Robin Bartley, Davis Elementary School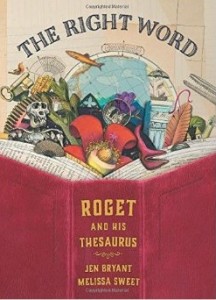 Bryant, Jen.  The Right Word, Roget and his Thesaurus.  Massachusetts, Eerdmans Books for Young Readers, 2014.  978-0-8028-5385-1. 42p.  $12.60. Gr. 3-6.
Not only is this an interesting and well thought out biography, it is illustrated in a collage format that ideally depicts Roget's train of thought and organizational style.  Although it is a book with a combination of many different styles it is informative, entertaining and a great resource for elementary readers who enjoy biographies.  Difficulties may arise for early readers due to different font styles and sizes along with different patterns of words, word bubbles and collages, but readers that love a challenge and enjoy the book immensely. The wealth of information provided in the back of the books, from author's notes, illustrators notes, principle evens, further reading provide numerous possibilities for extension activities and enrichment.
92 Biography                        Denise Naumann, Eisenhower Elementary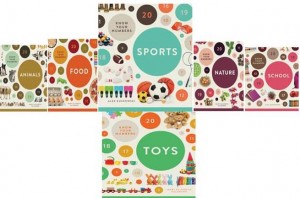 Know your numbers (series of 6). Minneapolis, MN: Abdo Publishing, 2015. 24p. Reading/Interest Level preK- Grade 2. Accelerated Reader Tests for all.  Reinforced Library Bound Hardcovers  $15.95, eBooks  $25.95.
Animals:  Lib bdg. 9781624032646   eBook 9781629686073
Food: Lib bdg. 9781624032653         eBook 9781629686080
Nature: Lib bdg. 9781624032660       eBook 9781629686097
School: Lib bdg. 9781624032677       eBook 9781629686103
Sports: Lib bdg. 9781624032684       eBook 9781629686110
Toys: Lib bdg.    9781624032691        eBook 9781629686127
Counting is great….Counting your favorite things: even better. This series counts different items in the same category up to twenty. There is a sentence describing the picture. Below is the number in counting form, in its number form, and its written form. At the very bottom of the page, a number line highlights the number in order it falls from one to twenty.
Teaching in a school with several special education classes, this book would be a great aid to teaching those special needs students as the counting is in various forms and the different topics provide multiple ways to reach the students.
Lourie Stewart               Dunbar and Connellsville Township Elementary Schools

Kalman, Bobbie. Where on Earth are……? part of the Explore the Continents series. New York: Crabtree Publishing, 2014. Interest Level: Grades 4-7. Accelerated Reader tests available.
These are the four newest titles for Fall 2014, there are seven more in series.
Where on Earth are Deserts?      9780778704997   $19.95
Where on Earth are Rivers?        9780778705024   $19.95
Where on Earth are Forests?      9780778705000   $19.95
Where on Earth are Mountains?  9780778705017   $19.95
Students will learn about key landforms found on each of the seven continents. Each book includes photographs, maps, and diagrams to help explain how different mountains, rivers, deserts, and forests were created, and how each landform influences climate, people, plants, and animals in a geographic area. Also includes an index and glossary.
Lourie Stewart                                 Dunbar and Connellsville Township Elementary Schools
Lennie, Charles. Abdo Kids Construction Machines Series. North Mankato, MN.: Abdo Publishing, 2015.  24p. Interest Level K-2. Accelerated Reader for all books.
Bulldozers:  Lib bdg. 9781629700151 $19.95
         eBook   9781629701134  $29.95
  Read to Me ebooks  9781629702117 $34.95
Concrete Mixers:  Lib bdg. 9781629700168  $19.95
                                 eBook  9781629701141  $29.95
           Read to Me ebooks  9781629702124 $34.95
Cranes:          Lib bdg. 9781629700175 $19.95
                          eBook 9781629701158  $29.95
     Read to Me ebooks 9781629702131 $34.95
Dump Trucks: Lib bdg. 9781629700182 $19.95
                          eBook  9781629701165  $29.95
      Read to Me ebooks 9781629702148  $34.95
Excavators:    Lib bdg. 9781629700199  $19.95
                           eBook 9781629701172  $29.95
      Read to Me ebooks 9781629702155  $34.95
Loaders:        Lib bdg. 9781629700205 $19.95
                          eBook 9781629701189 $29.95
    Read to Me ebooks 9781629702162  $34.95
Beep! Beep! Mike Mulligan and his Steam Shovel Move Over! Abdo Kids has brought the toughest construction machines to young students in the library. Students can learn why each construction machine is important at the job site, what makes them special, and more. To add to that there is a facts section and glossary. The photography is bold and bright.
I received two in my box of goodies, and the rest are definitely on my list to order.
Lourie Stewart                                          Dunbar and Connellsville Township Elementary Libraries
Loewen, Nancy.  Helen of Troy Tells All: Blame the Boys (The Other Side of the Myth series).  N. Mankato, MN: Picture Window Books, 2015.  978-1-4795-2182-1.  32 pages.  $26.65.  Grades 2-3.
There are plenty of paths to sharing ancient stories of myths and monsters, but this series takes an accessible and humorous twist.  Younger readers will enjoy hearing the story told in the first person, framed as an exclusive interview in the Temple Times.  While the format doesn't quite hold the periodical style, the illustrations, spacing and wording make it a fitting retelling for the intended audience.  In Blame the Boys, Helen of Troy defends herself by letting the reader know that she didn't ask for all the attention that goes with her unmatched beauty.  The consequences are explained reasonably and with wit, including the thousand ships and Trojan Horse.  Readers can compare the text to other examples and discuss where the blame really lies.  Other myths explored in the series include Cyclops, Medusa, Medea, and Pandora.  A worthy addition to your lore collection.
390; Mythology             Dustin Brackbill State College Area School District
Mason, Helen.  Is it Natural or Human-Made?  (What's the Matter series)New York, NY: Crabtree Publishing Company, 2014.  978-0-7787-0535-2.  24 pages.  $??.  Grades K-2.
What is Matter, what defines it, and what are the properties we use to describe matter?  These are the straight-forward questions that this ten book series tackles with logic, illustrations, and examples.  Most useful is the repeated examples for each concept, including review questions, experiments and repetitive language.  The vocabulary may be a challenge for independent reading, but these are science terms brought to a primary level of understanding.  Each book includes a table of content (divided into inquiry style questions), headings, and an index (lacking is a clear glossary).  By looking at the whole set, a child could easily group the contrasting and similar objects based on their properties.  So, What's the Matter?  Everything around us!
530; Physical Science         Dustin Brackbill State College Area School District