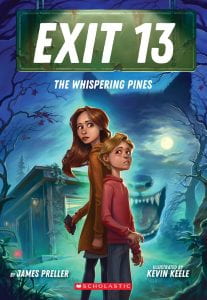 Preller, James. Exit 13: The Whispering Pines. Scholastic, 2023. 978-1-338-81044-8. 187 p. $7.99. Grades 3-6.
Lost in the gloom, the McGinn family reluctantly checks into the Exit 13 Motel for the night. Somehow, the young man at the desk, Kristoff, seems to be expecting them… and their rooms are already prepared. Intending only to stay for one night, the family's stay is extended after Mr. McGinn injures himself and is unable to drive. Since their arrival, the youngest McGinn, Ash, has felt there was something wrong with the motel and is drawn to the woods behind the motel and the wolf-like creature that seems to live in them. As the story develops, the McGinn family seems unable to find a means to leave the hotel area. To escape, Ash and his sister, Willow, along with their newfound friend, Justice, must solve its mystery and that of the woods beyond. Ending on a cliffhanger, this book is part of a series designed to encourage further reading.
THOUGHTS: Lately, my younger students have been requesting "scary books," and I've had a limited selection to offer them. The Whispering Pines presents a balanced scare factor that will appeal to the younger set (without terrifying them) and entice my older readers looking for a quick read. The chapters are short and several graphic novel sequences move the story along, presenting a format that is appealing to fans of graphics but also supporting reluctant readers. Recommended for those seeking to add to their "scary" collections for younger readers or those looking for books with built-in supports for striving readers.
Mystery