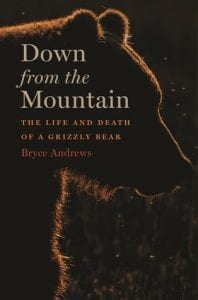 Andrews, Bryce. Down from the Mountain: The Life and Death of a Grizzly Bear. Houghton Mifflin Harcourt, 2019. 978-1-328-97245-3. 274 p. $25.00. Gr. 10+.
Bryce Andrews grew up in Seattle and spent a decade ranching outside Missoula, Montana, before joining the nonprofit conservation group People and Carnivores. The group's purpose is "to mitigate the conflicts that arise when ranchers, farmers, hunters, and recreationists share landscapes with large predators." As bears gravitate to agricultural crops in Montana's Mission Valley — especially corn — opportunities for dangerous encounters with people increase. Bryce's quest to find a solution that protects both people and bears parallels the journey of Millie, a grizzly bear named for Millie's Woods, and her two female cubs. Down from the Mountain's subtitle reveals Millie's fate. Her story "embodies the violence that mankind inflicts everywhere on wilderness and wild creatures." It's a tragic story, to be sure, but one that should be widely read by anyone who cares about nature, wildlife, and the changing American landscape. 
THOUGHTS: Although some sections of Down from the Mountain about building, monitoring, and repairing an electrified fence dragged on, most of the book is both fascinating and eloquently written. Of special, poignant interest is the future of Millie's cubs when she is unable to care for them.
This would be an excellent choice for an A.P. Biology book club, and could readily be excerpted for a unit on endangered species.
599.7, Grizzly Bears         Amy V. Pickett, Ridley SD
---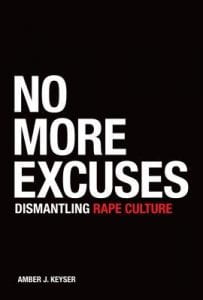 Keyser, Amber. No More Excuses: Dismantling Rape Culture. Twenty-First Century Books, 2019. 144 p. $28.04. 978-1-541-54020-0. Grades 9-12. 
The bold black and white cover of this book parallels its content: a persuasively blunt presentation of the abuse and criminalization of women in our culture and the painful, misleading messages perpetuated about men AND women.
"What is… rape culture?
The belief that men don't have to listen when a woman says no.
The belief than men can objectify the bodies of women.
The belief that women who like sex are sluts.
The belief that men can't be expected to control their sexual urges.
The belief that women are responsible for keeping horny men at bay.
The belief that women don't have a right to decide what they do with their bodies.
The belief that rape isn't really a big deal."  (101-102)
Keyser shares individual stories of survivors–both unknown and celebrities, details the birth of the #MeToo movement, tackles pervasive media objectification of women, and examines how even our legal system does little to prevent rape culture. This book could be eye-opening to young people (male or female), who will see themselves in the stories and misunderstandings presented. "Speaking out, standing up" is increasingly an option, and Keyser gives ways that we can stop the abuse. The book closes with rich source notes, glossary, and further information. Students intimidated by the topic will be encouraged by the straightforward and relatively short presentation (144 pages) and the engaging sidebars.
THOUGHTS: This book is an excellent starting point for anyone seeking to understand the current culture and push for change. Strongly recommended for all high school collections. 
362.8 Rape, Sexual Harassment          Melissa Scott, Shenango Area SD
---
Ribay, Randy. Patron Saints of Nothing. Kokila, 2019. 329 p. $17.99. 978-0-525-55491-2. Grades 7-12.  
Filipino-American Jay Reguero edges toward the end of his senior year feeling unsure of future plans and realizing that outside of his parents' support, he's pretty alone despite friends and siblings. He spent his first year of life in the Philippines, until his Filipino dad emigrated to the US with his American mom, and they successfully embarked on medical careers and provide well for their three children, of whom Jay is the youngest. Jay has memories of visiting his Filipino family eight years ago and the strong connection with his cousin Jun, about his age. For a while, the two wrote letters (Jun's more frequent than Jay's), until news came four years ago that Jun had run away. Now Jay learns that Jun is dead. There is no explanation, and there is to be no funeral. Jay is stunned by the news and heavily burdened by memories of a great cousin and friend that he abandoned. What really happened? All he can learn is that Jun was killed as a drug user or dealer, and these killings are allowed (even welcomed) under President Duterte's policies to wipe out crime in the Philippines. But under the policies, police and vigilantes kill, largely unquestioned and without recrimination. Jay cannot imagine his caring cousin to have fallen into drug use. Jay finagles a solo 10-day spring break trip, ostensibly to connect with his Filipino heritage, but really to uncover the unraveling of Jun's life. He takes Jun's letters, and reads them to remember. These letters offer needed insight into Jun's way of life, his motivations, and his numerous questions about faith, purpose and more. On Jay's visit, he is to stay in three relatives' homes: his Tito Maning (Jun's father and police chief); Tita Chato and Tita Ines; and his grandparents Lola and Lolo. At Tito Maning's, no one speaks of Jun; it is as though he never existed. Jun's letters disappear from Jay's bag, and Jay also discovers Tito's harsh control of the family as well as his disregard for Jay's American beliefs. Through Jun's sister Grace, he meets Mia, 19-year-old aspiring journalist determined to write the truth of her country, despite the reality of death for those who speak out. Through Mia, he is able to piece together most, but not all, of Jun's last four years, and he is angry at family secrets, defensive of his cousin's memory, and grieved again and again by the truths he learns. He returns to the U.S. having stood up to Tito Maning, and determined to delve into his Filipino heritage more fully, reconnecting with his own father on the way.
THOUGHTS: This is a powerful story of grief and how to make a difference both from within a country, and from a world away. Ribay has Jay (like the reader) humbly learn of devastating corruption outside of a bubble of American safety, prosperity and ignorance–corruption that controls his own family's lives. The wonder here is that Ribay suffuses the novel with such hope, through Jun, Mia, Grace, and ultimately, Jay. Masterfully done, eye- and heart-opening, and not to be missed.
Realistic Fiction          Melissa Scott, Shenango Area SD
---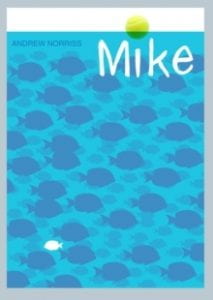 Norriss, Andrew. Mike. Scholastic, 2019. 232 p. $17.99. 978-1-338-28536-9. Grades 7-12.
Floyd Beresford is a 15-year-old tennis prodigy.  He began playing at age two, and his parents encourage everything about the sport: daily training (in a backyard court), expensive matches, traveling, anything.  Floyd's dad's own tennis career derailed due to injury, and only Floyd's birth restored his hope. So Floyd plays, and plays well. But then Floyd notices Mike. Mike, who shows up quietly at odd times and says or does unusual things (like holding Floyd's arm down during a match). And, since no one else can see Mike, Floyd's parents hire psychiatrist Mr. Pinner, who will figure this out in a few sessions so Floyd can get back to tennis. With the support of Mr. Pinner, who believes Mike has important things to say to Floyd, Floyd begins to pay attention to Mike and to himself. Soon, he faces the fact that he doesn't like tennis. And he doesn't want a career in tennis. It's a major hurdle to tell his parents, but an even more major one to discover just what it is he does want to do. This is a book to encourage young people to listen to their own "Mike" and discover themselves.  
THOUGHTS: A unique book, light-hearted enough to carry what could seem a heavy message of self-determination. Everyone can identify with Floyd, and this book will have readers seeking what their own Mike has to say to them.  
Realistic Fiction          Melissa Scott, Shenango Area SD
---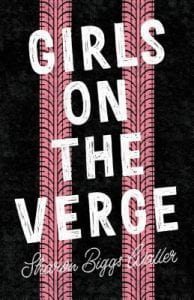 Waller, Sharon Biggs. Girls on the Verge. Henry Holt & Co., 2019. 978-1-250-15169-8. $17.99. 221 p. Gr. 9 and up.
17-year old Camille has only had sex once, but she finds out she is pregnant as a result. It's been months, and she has not even spoken to the boy since. She is definitely not ready to have a baby, but while she knows she wants to terminate the pregnancy, getting an abortion in Texas is no easy task. Restrictive laws, fake clinics that turn out to be abortion deterents, and judgemental shamers at every turn force Camille to take matters into her own hands. As a result, she embarks on a road trip to Mexico in search of an abortion with Annabelle – a new friend she barely knows but who supports her decision – and her life-long, very conservative best friend Bea – who does not support her decision but decides to make the trip last-minute nonetheless. Shockingly enough, this story takes place in present day. Though primarily a story meant to reveal the magnitude of shame and struggle women in the US still face when making decisions about their own bodies, Girls on the Verge is also very much a tale of the strength of female friendship as this trio endures trial after trial in this quick-paced compact plot. 
THOUGHTS: Girls on the Verge will not blow anyone away with its character development or prose, but it serves as more proof that contemporary YA fiction should be taken seriously as more than just fluff and sparkly vampires. Biggs Waller tackles a hot button issue head-on, and does it well and even-handedly. While she obviously wants readers to sympathize with Camille, her best friend Bea's conservative side is also presented fairly on multiple occasions throughout the novel. A good addition to any high school collection but may contain language and themes that are too mature for sensitive readers. 
Realistic Fiction          Sarah Strouse, Nazareth Area SD
---
Thomas, Angie. On the Come Up. Balzer + Bray, 2019. 978-0-780-40461-8. 447 p. $18.99. Gr. 9 and up.
Bri Jackson wants to rap.  As the daughter of Lawless, a rapper who's life was taken too soon, she wants to stand out as her own talent in The Ring and beyond. After an incident at school, Bri uses her words to express her feelings. She records "On the Come Up" and becomes a neighborhood and internet sensation. But with praise, comes criticism: criticism of her representation of police and praise of gang life. Facing poverty at home and a desire to help her family, Bri must decide what life to live and how to remain true to herself. 
THOUGHTS: On the Come Up is a must-have for all high school collections. Angie Thomas is a master craftsman. Her beautiful words and characters evoke so much emotion: anger, laughter, happiness, tears, that the reader becomes entwined in the story. Her authenticity is insightful and leads to understanding, empathy, compassion, and action. The audiobook is superb and brings the story to life with depth and soul.
Realistic Fiction          Erin Bechdel, Beaver Area SD
Bri wants to be a rapper, and she's good–like really good. She probably got some of her talent from her late father who was a well-known rapper before he was murdered in a gang fight. Obviously, her mother and brother do not want her involved in a lifestyle that could be dangerous. Bri's aunt, on the other hand, is more than willing to go against her sister's wishes and help Bri rap in big battles. Bri's mom is a recovering addict who just lost her job, recently stopped going back to school, and is trying to figure out how to pay rent while Bri's brother decides to drop out of college to help put food on the table. This story is hard in that it touches on drugs, violence, and racism, and family issues.
THOUGHTS: Read it for the phenomenal raps. I enjoyed Thomas' second novel even more than The Hate U Give–she can write a rap! I was so into it, and I'm not even a music person. On the Come Up includes more relatable characters for readers to attach to and still manages to touch on big issues that span all demographics.
Realistic Fiction                Samantha Hull, Ephrata
---
Ancrum, K. The Weight of the Stars.  Imprint, 2019. 978-1-250-10163-1. 378 p. $18.99. Grades 9+.
Ryann Bird is an orphaned teen who takes care of her younger brother and his son Charlie, in a trailer on the wrong side of the tracks. She also serves as protector and friend to a group of delinquents and misfits from her high school. When a troubled new girl moves to town, Ryann's teacher asks her to reach out to her. Alex Macallough is obsessed with finding out about her mother who was one of the sixteen "Uninauts" chosen to launch out into space for the rest of their lives to record galactic phenomenon. Always obsessed with space herself, Ryann helps the guarded and hostile Alex as she listens for transmissions for her mother's spaceflight. After a tense start, Alex and Ryann form a tentative friendship which begins to turn into something more. Though much of the plot focuses on the space mission, this book is decidedly not a sci-fi novel, it is very much about friendship and relationships of all sorts. The Weight of the Stars features a very diverse cast of characters: mostly queer, of various ethnicities, with wide disparities in wealth and even a polyamorous parental relationship. Ryann's squad of misfits is a family- each one a bit troubled and different, yet they all fit together.  
THOUGHTS: An emotional and introspective book that explores some heavy issues such as grief, PTSD, anger, and love. Another solid title with LGBTQ themes and characters for high school collections.
Realistic Fiction          Nancy Summers, Abington SD
---
Yu, Mimi. The Girl King. Bloomsbury, 2019. 978-1-681-19889-7. 488 p. $17.99. Grade 9 and up.
Lu is the eldest daughter of the emperor, trained as a warrior and ready to take on the throne when her father steps down. However, in an unexpected move, Lu's father names her cousin Lord Set as the heir to the throne instead and promises Lu's hand in marriage to cement the succession. At their betrothal ceremony, Lu challenges her cousin and proposes a competition to determine who is truly fit to rule. But Set has organized an assassination plot against her and her father to ensure his success. Lu escapes and must head to the north to convince the magic wielding lords and warriors to support her claim to the throne. The Girl King is told in the alternating points of view of Lu, her timid younger sister, Min, and Nokhai, an Ashina peasant. As Lu tries to raise an army to oppose her cousin, she is joined by Nok, the last surviving "Gifted," a shapeshifter whose clan was destroyed by Lu's father and grandfather. Meanwhile, Min is left behind at court with the ruthless Set when she realizes that she herself possesses some incredible magic. This fast paced novel blends fantasy with Asian history to create a fascinating adventure with complex characters and a richly detailed setting and background story depicting political intrigue and ancient legends. The ending is a terrific setup for the next book in the series, expected next year.
THOUGHTS: Fans of Sabaa Tahir and Renee Adhieh novels will especially appreciate this epic fantasy tale. Because of some graphic scenes of violence, this book is recommended for grades 9 and up. 
Fantasy          Nancy Summers, Abington SD
---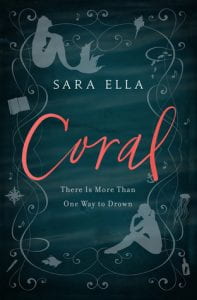 Ella, Sara. Coral. Thomas Nelson, 2019. 368 p. $18.99. 978-0-785-22445-7. Gr. 8 and up.
Trigger warning: Suicidal acts and death by suicide are discussed and described in detail. 
Mermaids cannot cry. So when Coral discovers that her sister, the Crown Princess, has tears it can only mean one thing: Red Death is coming. Afterward, Coral knows it will not be long before Red Death finds her too. Only Coral's Grandmother seems to understand Coral's struggle, but running away from the family curse also means giving up everything she has ever known. On dry land Coral will have to learn who she is all over again. Merrick, son of a wealthy business magnate knows that it's his responsibility to uphold the family name in front of the paparazzi. When tragedy strikes and tears his family apart, Merrick is forced to take his sister into hiding while searching for his estranged mother. Brooke appears one day in the same coastal California town as if she just walked out of the sea. All three story lines become woven together in a deliciously unexpected twist. Coral is part fairytale, part romance, and part tragedy rolled into one unforgettable story about loss and healing. Mental health is handled in a relatable way as several characters struggle with depression, suicidal thoughts, and suicidal actions. The ripple effect of mental health challenges within families is also a poignant takeaway from this novel. The alternating views from narrators keeps the reader guessing until all of the pieces are beautifully woven together into a modern day fairytale ending. 
THOUGHTS: Although the subject matter is sometimes painful, this book also carries a beautiful message about recovery and self-love. I would definitely recommend this title to mature teen readers. 
Realistic Fiction          Jackie Fulton, PSLA Member
---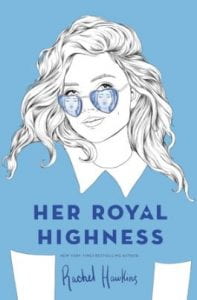 Hawkins, Rachel. Her Royal Highness. G.P. Putnam's Sons Books for Young Readers, 2019. 304 p. $17.99. 978-1-524-73826-6. Grades 9+. 
Recently heartbroken by her best friend turned maybe something more, Millie applies for scholarships to ensure that she can attend boarding school in Scotland and avoid a daily reminder of what she can't have. It was her original plan for senior year before the awkward ending with Jude anyway. Millie is determined to enjoy her time in the Highlands of Scotland as part of the first class of women admitted to Gregorstoun, and it doesn't seem difficult considering the lush green surroundings. However, Millie has a bit to learn after she insults her roommate, who she later learns is Princess Flora. Tons of teenagers with titles and a lot more money (and freedom away from parents) than a scholarship student proves to be challenging at times in this lighthearted international LGBTQ+ romance. Those who read Royals will be happy with the appearance of some familiar characters, but Millie and Flora and a new cast of high society teens take center stage in this companion.
THOUGHTS: Hand this book to any romance reader who likes learning about royals and their drama. Fans will want more books featuring this royal family!
Realistic Fiction          Maryalice Bond, South Middleton SD
---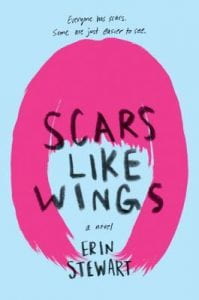 Stewart, Erin. Scars Like Wings. Delacorte Press, 2019. 352 p. $18.99. 978-1-984-84882-6. Grades 9+.
After losing everything how does one move forward? Almost one year ago life as Ava knew it ceased to exist. Of course, she didn't realize that until months later when she woke from a coma and was given devastating news: the fire that burned over 60% of her body also took the lives of both of her parents and her cousin/best friend Sarah (Ava's Aunt Cora and Uncle Glenn's only child). Many painful days of healing later, Ava now lives with Cora and Glenn while struggling with who she is; the old Ava died in the fire. Now as far as Ava is concerned, cyber school and staying hidden away define her existence. The only people who regularly see her are her aunt and uncle and her doctors. When her surgeon and aunt suggest she attend school, Ava begrudgingly agrees to a two week trial period. Though the stares are hard at first, Ava is used to them, and she begins to realize how much she misses having friends. Taken under the wing by Piper, another girl who has scars of her own, Ava begins to define her new normal and adapt to life outside of her comfort zone. Though Ava's grief is at the heart of this novel, Piper provides some much needed comic relief. Readers will learn that it isn't just the outside appearance that defines who we are.
THOUGHTS: With plenty of tear-jerking moments, there also are plenty of laugh out loud scenes and musical references (I definitely had a few songs stuck in my head). Hand this book to any fan of a compelling, emotional read or those who will appreciate the healing power of music.
Realistic Fiction          Maryalice Bond, South Middleton SD
---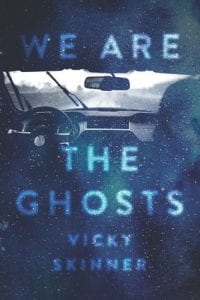 Skinner, Vicky. We Are the Ghosts. Swoon Reads, 2019. 272 p. $17.99. 978-1-250-19535-7. Grades 9+. 
Ellie's life looked a lot different a year ago. She and her older brother Luke, who their whole school idolized, were best friends, and she was starting to date Cade. Then Luke disappeared, and Ellie's life came to a screeching halt. Her grades plummeted, and she withdrew into herself, lost without Luke. With no word from her brother in over a year, Ellie is awoken by her parents with news of Luke's sudden death. Completely devastated again, Ellie looks for answers and reconnects with Luke's best friend and his ex-girlfriend. Cade and Ellie tentatively reconnect as well. Together the four teens embark on a road trip to get away and find some answers. While Ellie, Wes, and Gwen have questions about Luke, not everything they learn is easy. Ellie must find a way to accept Luke's death and exist without her brother beside her. Even Cade gets some answers to questions about his own family.
THOUGHTS: This emotional journey leaves readers with a lot of unanswered questions, but the mystery surrounding Luke's last year will compel readers to the surprising ending. Hand this one to fans of unpredictable plot twists.
Realistic Fiction          Maryalice Bond, South Middleton SD
---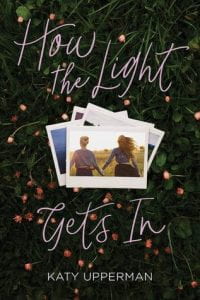 Upperman, Katy. How the Light Gets In. Swoon Reads, 2019. 336 p. $18.99. 978-1-250-30567-1. Grades 9+. 
Callie and Chloe spent last summer visiting their recently divorced Aunt Lucy and helping transform her new historical house into a bed and breakfast. Then Chloe died tragically. Callie has spent the past year in a haze – mostly of her own creation – and her dad has had enough. He gives Callie a choice for this summer: go to Montana wilderness camp or spend another summer in Bell Cove, Oregon working with her aunt. It doesn't seem like much of a choice, so Callie decides to return to Bell Cove, her aunt, and her memories. Unusual dreams and old house sounds are unnerving, but Callie doesn't seem so far away in Bell Cove. Tucker, a local boy who is working on Lucy's yard, helps Callie feel again. As Callie works on the house and uncovers some of its history, she learns how to manage her feelings in a productive way. But to move on Callie has to face some harsh truths about Chloe's death and her part in it, or neither of them will be able to move on. Readers will feel the blanket of guilt and grief that covers Callie's life and the hope that healing brings.
THOUGHTS: Upperman skillfully combines a subtle mystery with the paranormal and the unbreakable bond between sisters. The sweet romance brings hope and lightens the tone of the novel. Recommended for high school libraries where compelling stories or romance are popular.
Realistic Fiction          Maryalice Bond, South Middleton SD
---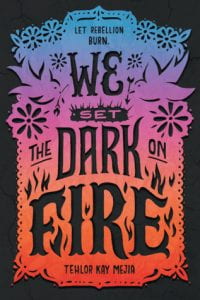 Mejia, Tehlor Kay. We Set the Dark on Fire. Katherine Tegen Books, 2019. 978-0-062-69131-6. $17.99. 364 p. Gr. 9+. 
Daniela Vargas is the top Primera of her graduating class at the Medio School for Girls. Primeras are the first wives – the family planners, the socialites, the wives with no emotion and all the logic. The Segundas are the second wives – the childbearers and caretakers. This family system based on an ancient religious tale is how Medio has functioned for thousands of years. By graduating as top Primera, Daneila ensures she will be married off to the richest, most powerful young bachelor on the island, which has been her goal since her parents illegally snuck over the wall and into the capitol city when she was only four years old. No one can find out where she really comes from, though, if she hopes to maintain this life her parents worked so hard for her to have. Upon graduation, she is married off to Mateo Garcia, a young man from a powerful family, and rumor has it he is being groomed for the presidency. It seems Daniela finally reaches her lifelong goal and promise to her parents, but on the night of graduation, Daniela is approached by a rebel group who knows her secret and threatens everything she has worked so hard for unless she cooperates with them. As if that weren't enough trouble, she also finds out her Segunda, the woman she must share her life with, is Carmen, a gorgeous but venomous rival of hers from school. Politics, forbidden love, and an emerging rebellion collide in this page-turning debut novel.
THOUGHTS: This was one of the more refreshing speculative fiction novels I have personally read in a while (and speculative fiction is my favorite genre). Though the politics of the world are fairly standard – the rich and powerful class maintaining – even strengthening – the divide by suppressing poor outside the city walls, the Latin-based culture and two-wife family structure are what makes it stand apart from other dystopian stories. While there were some plot twists readers might peg early on, it still managed to surprise me, personally, at several turns, making this a very enjoyable, unputdownable read. Highly recommended for students searching for strong Latina and/or LGBTQ characters, and very timely given the political issues presented.
Dystopian          Sarah Strouse, Nazareth Area SD
Outside the walls, people are dying. Daniela Vargas barely escaped that life with her family when she was just a girl, fleeing over the wall to the relative safety on the other side. But just how safe is her new life? With a capital living a life of luxury while people starve, things are bound to get messy. At the Medio School for Girls, young women from prominent families are trained to be one of two wives for the political leaders of Medio and, despite her less than desirable background, Daniela has managed to rise to the top of her class. Graduation is just days away when civil unrest strikes yet again in Medio and if Daniela isn't careful, she may just lose everything.
THOUGHTS: Set among a background of political unease, Daniela's struggles to remain true to herself and to her convictions, leading her down a path both frightening and exhilarating. This was an intriguing and entertaining read that will appeal to fans of Renée Ahdieh's The Wrath and the Dawn and Suzanne Collins' The Hunger Games.
Fantasy (mythology); Dystopian          Samantha Helwig, Dover Area SD
---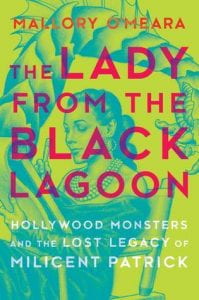 O'Meara, Mallory. The Lady from the Black Lagoon: Hollywood Monsters and the Lost Legacy of Milicent Patrick. Hanover Square Press, 2019. 978-1-335-93780-3. 307 p. $26.99. Gr. 10+.
Mallory O'Meara is a writer, filmmaker, podcaster, and fan of all things horror. With her deep love of monster movies, she is the ideal author to relate the rise, fall, and disheartening obscurity of the woman who created one of cinema's most iconic monsters: the Creature from the Black Lagoon. Early chapters cover Milicent's childhood and teen years in (maybe a little too much) detail, particularly the period when her father worked as a construction engineer on the California estate of media magnate William Randolph Hearst. Later, Milicent attended the Chouinard Art Institute in Los Angeles, where her work earned her a job offer from Walt Disney; she became one of the first female animators at Disney Studios in 1939. She then spent the next decade working as a freelance artist and professional model, and later as an extra on various movie sets. In 1952, she became the first woman to work in a special effects makeup department (at Universal). There, she designed one of cinema's all-time most recognizable monsters, eventually going on a national publicity tour to promote The Creature from the Black Lagoon. Sadly, this tour triggered the professional jealousy that would derail her trailblazing career. It's clear that Mallory O'Meara identifies deeply with her subject and the professional challenges Milicent Patrick faced, especially sexism in the film industry and the experience of being a female in a male-dominated space. Also, not every Hollywood monster wears a rubber suit and a mask.
THOUGHTS: A woman before her time, Milicent Patrick should have been hailed as a hero. But few even recognize her name … until The Lady from the Black Lagoon. It's a great listen for anyone with an interest in hidden Hollywood history, creature features, the #MeToo movement, and the feminist perspective of the divine Ms. O'Meara. 
777, Motion Picture Industry/Biography          Amy V. Pickett, Ridley SD