Grabenstein, Chris. Mr. Lemoncello's Great Library Race. Random House, 2017. 978-0-553-53606-5. $16.99. 279 p. Gr 3-6.
Kyle, Akimi and the other library lovers from Grabenstein's Escape from Mr. Lemonchello's Library and  Mr. Lemoncello's Library Olympics are back for a new game. Mr. Lemoncello, the P.T. Barnum of libraries, has created the Fact-Finding Frenzy to debut his new Nonfictionator technology, interactive holographic displays. Pairs of the young library trustees compete against each other for the chance to travel around the country promoting Mr. Lemoncello's newest game. Grabenstein does a nice job keeping the series current by introducing Abia, a Muslim girl. In addition, the competitors find themselves abandoning the game to save Mr. Lemoncello's reputation when rival game-makers accuse him of plagiarizing the idea for his very first game. The four finalists dig into researching Mr. Lemoncello's background, learning to check facts and verify fake news to save their hero from shame.  THOUGHTS:  With the excitement generated by the Nickelodeon movie, this will be a welcome addition to the series. It is at least as good as the first book in the, if not better. The emphasis on research and verifying what we read on the internet is a timely, important message for students.  
Mystery     Nancy Nadig, Penn Manor SD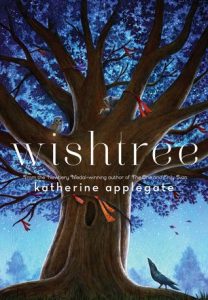 Applegate, Katherine, and Charles Santoso. Wishtree. Feiwel and Friends, 2017. 978-1-250-04322-1. $16.99. 216 pp. Gr. 3-6.
Red has been growing, living, watching, and even speaking for 116 years. Most people don't stop to listen, but they do come to leave wishes on branches every year as a neighborhood tradition. In that time, things have changed, yet some things remain the same for the old oak tree. Wishes have come and gone, and the residents of the tree continue to share with Red and learn from its wisdom. When the word LEAVE is carved in its trunk, Red wonders if it's the end of the family living next door, perhaps even the end of the wishtree's life. Can Red make one more wish come true, and can tolerance and friendship save the day?  Katherine Applegate continues her trend from The One and Only Ivan and Crenshaw to shed light on unique points of view and stories that matter and move. The amazing illustrations from Charles Santoso fill the pages with wonder and whimsy. Stop and pause and listen as Red shares a tale you won't soon forget.  THOUGHTS: I must say that I loved the message, but was equally delighted by the humor and imagination that Applegate shows in bringing this tree's world to life. The relationship between the animals, and their naming traditions, and the friendship of Red and a crow named Bongo are inventive, natural, and remarkable at the same time. Students could easily relate and play along with naming their neighborhood creatures. Hopefully, they would also hold discussions about acceptance and wish for a better world.
Realistic Fiction; Magical Realism     Dustin Brackbill, State College Area SD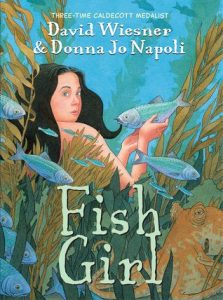 Napoli, Donna Jo, and David Wiesner. Fish Girl. Houghton Mifflin Harcourt, 2017. 978-1-537-90518-1. $25.00. 186 pp. Gr. 3-6.
Come see the mysterious Fish Girl! She lives inside the Ocean Wonders aquarium and is protected by Neptune himself, her keeper and caretaker. Fish Girl is indeed a mermaid, but she is told that she must stay hidden from humans and can't talk or walk. She is still curious and lonely, though the aquatic animals and her devoted octopus friend care for her. When Neptune isn't watching, she makes a friend, explores beyond her boundaries, and may just unravel some truths about her life and world. David Wiesner uses his amazing artistic vision from work like Flotsam to fill the panels of this graphic novel passion project. Donna Jo Napoli brings voice to the Fish Girl as she navigates her adolescence and questions whether she is a protected treasure or a captive. There are unresolved questions and wonders galore at the ending, but young readers will be captivated by the "mysterious Fish Girl."  THOUGHTS: This is a great debut graphic novel for Wiesner, though many will recognize that he uses panels effectively in his other picture books. This would be great for a book club discussion and brings in bits of mythology and mystery that deserve further analysis. Another worthy project idea would be for students to study the traits of the other ocean creatures who dwell in the Ocean Wonders. Fun book to explore!
Graphic Novel; Fantasy      Dustin Brackbill, State College Area SD