Hopkins, Lee Bennett, editor. World Make Way: New Poems Inspired by Art from the Metropolitan Museum of Art. New York: Abrams Books for Young Readers. 2018. 978-1-4197-2845-7. $16.99. Unpaged. Grades 4-7.
The master of sharing poetry collections with young readers has created a new artistic collaboration in World Make Way. Lee Bennett Hopkins begins the book with a quote and illustration from none other than Leonardo Da Vinci, "Painting is poetry that is seen rather than felt, and poetry is painting that is felt rather than seen." Indeed, the remainder of the book seeks to bridge those two artistic mediums together by allowing 18 poets (including Hopkins) to find inspiration in various works from the Met. The artwork ranges from familiar paintings (Cassatt and Klimt) to worldly artifacts (Mexican wood engraving and Chinese scrolls) and comes with museum style descriptions. The poets, such as Marilyn Singer, J. Patrick Lewis, and Naomi Shihab Nye, work to bring a voice to the people and creatures represented. This gorgeous side by side practice leads the reader to see, feel, and hear the creative works with plenty of room for personal interpretation. The World should Make Way for the visual and literary achievement within.
THOUGHTS: Students who have any art history background or art teachers wishing to help make world art more accessible will appreciate this work. The poems are not too long or complex, but they do encourage multiple readings to absorb the themes and meanings. As such, the book sits well with middle grade readers and those adults who who share the love of the Met's broad collection.
811 Poetry          Dustin Brackbill State College Area SD
---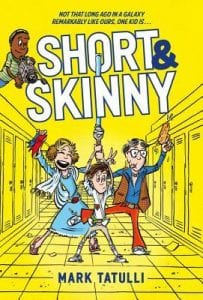 Tatulli, Mark. Short & Skinny. Little, Brown and Company, 2018. 978-0-316-44051-6. 249 p. $12.99. Grades 4-8.
Oh, slop! It's the summer of 1977, and 12-year old aspiring cartoonist Mark Tatulli has had it with being short and skinny. The neighborhood bullies view him as an easy target. He's listed as "unofficial" on the swim team roster because his times are so slow. His best friend, sister, and brother all enjoy a regular laugh at his expense. In a last-ditch attempt to bulk up, Mark orders a bodybuilding kit that's advertised in the back of a comic book. Maybe by the beginning of eighth grade he'll have the height, muscles, and confidence to talk to his crush, Lisa Gorman. 1977 is also the summer of Star Wars; inspired by the game-changing film, Mark and his friends join forces to make their own homegrown spoof of the movie called Star Bores. Can discovering his passion – and editing his own Super 8 movie – transform the life of the self-proclaimed "Mayor of Munchkin City?" Mark Tatulli's bright artwork vividly depicts the 1970s, while the relatable storyline captures the universal preadolescent angst. A variety of panel sizes and layouts gives every page a fresh look. Even better, the story is laugh-out-loud funny while still inviting empathy (and a touch of commiseration).
THOUGHTS: Short & Skinny joins a growing number of outstanding graphic memoirs. It fits in perfectly right between Smile by Raina Telgemeier and Hey, Kiddo by Jarrett J. Krosoczka. It would be a standout selection for a middle grade book club, especially combined with a screening of Star Wars.
92 Graphic Memoir          Amy V. Pickett, Ridley SD
---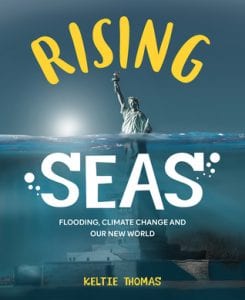 Thomas, Keltie. Rising Seas: Flooding, Climate Change and Our New World. Firefly Books, 2018. 978-0-228-10022-5. 64 p. $19.95. Grades 5+.
This middle grade nonfiction title is a brightly colored, highly readable overview of the hazards of rising sea levels around the globe. Spotlighted cities and countries include Miami Beach, New York, Mumbai, Greenland, Bangladesh, and island nations such as the Maldives. Brief chapters discuss the current situation and outlook for each area, and feature maps, photographs, and fast facts. Each region's game plan to protect, adapt, or relocate is also covered. The author's conversational writing style offsets the more dire predictions. Best of all, Rising Seas concludes with ten tips that answer the question "What can you do?"
THOUGHTS: This is a solid choice for both browsing and reading cover-to-cover. The real star of the show are the "photo illustrations" that depict the watery future of several international landmarks. Students are often instructed to open research papers with an "attention grabber," and Rising Seas offers an abundance of statistics and forecasts that could make perfect openers.
551 Climate Change          Amy V. Pickett, Ridley SD
---
Kephart, Beth. Wild Blues. New York: Atheneum Books for Young Readers, 2018. 978-1-481-49153-2. 323 p. $17.99. Gr. 5 and up.
Lizzie assumes that her summer at her uncle's cabin in the "six million acre" woods will unfold just as it always has – spending her days "collecting" with Uncle Davy; shooting the breeze with her best friend, Matias; and avoiding her mother's phone calls. Kidnapping, escaped convicts, and getting dangerously lost in the woods were definitely not on her to-do list. Readers get to know Lizzie in snippets – we discover, along the way, that her mother has been recently diagnosed with cancer, that her mother and her Uncle Davy are not on speaking terms, that her father was a self-centered narcissist, and that she and her mother eventually left him. We also know that she and Uncle Davy share a very special bond – this is a rare thing in middle-grade and YA, to shine a spotlight on a relationships with a secondary family figure; aunts and uncles are universally ignored, and Lizzie and Uncle Davy's interactions are well-drawn and entertaining. It just so happens that Uncle Davy's cabin is closely situated to a prison, and it just so happens that right around the time of Lizzie's visit, two convicted murderers have escaped said prison – information that neither Lizzie nor her uncle are aware of. When Lizzie hikes out to meet her BFF, Matias, at their normal meeting spot, and finds him gone, with only one of his crutches left behind, she knows something terrible has happened. Without a second thought, Lizzie sets out to find him – she's not alone though; she has her trusty wilderness guide – Camping and Woodcraft by Horace Kephart – which she dubs, "The Art of Keppy," a gift from her uncle which she carries with her everywhere. Using passages from the book, tidbits that she picked up from her favorite science teacher, and her own instincts, Lizzie treks through the woods, determined to find Matias. There are parts of Lizzie's story that are very endearing, particularly her conversations with Uncle Davy, and there are parts of the story that would have benefited from further illumination and exploration, particularly Matias – we only see him through the eyes of Lizzie, who gives frustratingly little in the way of characterization. Lizzie, herself, is both an atypical and realistic 13-year-old, who often acts from a place of great naivete, but also great heart.
THOUGHTS: This is a perfect book for young readers who prefer the company of adults to other children their own age, and who are looking for a quirky wilderness adventure.
Realistic Fiction          Lauren Friedman-Way, The Baldwin School
---
Bailey, Linda. Hot on the Trail in Ancient Egypt. Kids Can Press. 2018. 978-1-771-38985-3. $11.99. Gr. 5-8.
Bailey, Linda. Stowing Away with the Vikings. Kids Can Press. 2018. 978-1-525-30150-6. $15.99.
Bailey, Linda. On the Run in Ancient China. Kids Can Press. 2019. 978-1-525-30152-0. $15.99.
The first item in The Time Travel Guide series, Hot on the Trail in Egypt explores the life and culture of living in Ancient Egypt. As three siblings are sucked into a book in a spooky looking store, they realize that they are lost in Ancient Egypt and need to complete the guidebook in order to return home. The guidebook explains different parts of the life and culture in Ancient Egyptians, from the clothing, homes, work, parties, rulers, and more. In order to escape the madness and life of an Egyptian, the siblings complete the book and manage to return back to the spooky store, hoping to never return.
THOUGHTS: The cross between a story and real life information provides students with an opportunity to place themselves in the siblings shoes, while learning interesting information about life in Egypt. The guidebook is not filled with an excessive amount of information, but enough relevant and different information that keeps readers interested.
932 Egypt          Rachel Burkhouse, Otto-Eldred SD
---
Falligant, Erin. Body Pro: Facts and Figures About Bad Hair Days, Blemishes, and Being Healthy. Savvy Books (Capstone Press), 2018. 978-1-515-77878-3. 48 p. $23.99. Gr. 4-7.
A very informative and statistics-filled book for girls about the physical and social aspects of puberty. Body Pro has good images, great infographics throughout and well organized chapters that cover topics from how often to shampoo your hair to info about bras and breasts. There is a chapter on healthy eating and sugary drinks as well as a chapter on being active and staying healthy. Other topics covered briefly are substance abuse, sleep, mental health, and how to talk with adults.
THOUGHTS: I think this is a really good resource for 4th-7th Graders. It's got relevant data that won't go out of date soon, so is worth the price. If you're looking to update your collection, this should be on your list.
646.7 Personal Care          Emily Woodward, The Baldwin School
---
Diggs, Barbara. Illustrated by Sam Carbaugh. The Vietnam War (Inquire and Investigate). Nomad Press, 2018. 978-1-619-30658-5. $17.95. Grades 6 -9.
Mooney, Carla. Globalization: Why We Care About Faraway Events. 978-1-619-30664-6.
Wood, Matthew Brenden. The Space Race: How the Cold War Put Humans on the Moon.  978-1-619-30661-5.
Taylor, Diane C. World War II: From the Rise of the Nazi Party to the Dropping of the Atomic Bomb. 978-1-619-30655-4. 
This title provides an accessible introduction to the history of the Vietnam War for middle school students.  It discusses the origins of the conflict with the colonial rule of the French, the growing US involvement in the 1950s, the strategies and actions of the United States government as the war escalated, the realities of conflict for American soldiers, the growing anti-war movement at home, and the fall out as the US withdrew troops.
THOUGHTS: A very readable and engaging history, this terrific text includes features to increase understanding such as informational sidebars, photos, cartoons, QR code links to primary source material, and ideas for individual or group research projects.   
Non Fiction 959.7   Vietnam – History          Nancy Summers, Abington SD
---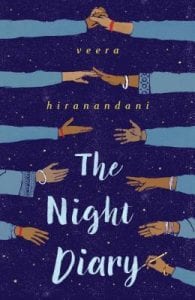 Hiranandani, Veera. The Night Diary. Dial,  2018. 978-0-735-22851-1. 272 p. $16.99.  Gr. 5-8.
It is 1947, India is splitting into two countries, and 12-year-old Nisha and her family find themselves on the wrong side of the divide. Shy, smart, Nisha and her twin brother are half-Muslim, half-Hindu. Because they are being raised by their Hindu father, they are no longer safe in what has now become the Muslim country of Pakistan. Nisha is inconsolable at the thought of leaving Kazi, her family's Muslim cook, and the only person she truly feels comfortable talking with. Through letters she writes to her deceased mother, Nisha tells the story of her family's dangerous journey to their new home.  
THOUGHTS: Gorgeous writing and realistic, relatable characters make this story about the Indian partition and the horror of the mass migration that resulted from it a must-buy for middle school libraries.
Historical Fiction          Maggie Bokelman, Cumberland Valley SD
It's 1947, and 12 year old Nisha is chronicling her daily life in India in letters to her mother. Recently, India has gained independence from Britain, and split into India and Pakistan. Nisha and her family live in Pakistan, but feel that it no longer safe to be there. So Nisha and her father, brother, and grandmother become refugees and begin the long journey to a new home. Nisha spills her fears and doubts into her letters: how alone she feels being half-Muslim and half- Hindu and how she fears her family does not have enough fresh water for the journey. After suffering the loss of her mother, who died giving birth to Nisha and her twin brother, Amil, Nisha fears she cannot bear to lose her home, too.
THOUGHTS: A wonderful look at an important part of India's history, Nisha's voice is real and fresh and will appeal to younger readers. Add this Newbery Honor Book to your shelves!
Historical Fiction          Victoria Schwoebel, Friends' Central School
---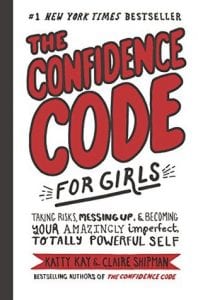 Kay, Katty, and Claire Shipman. The Confidence Code for Girls: Taking Risks, Messing Up, & Becoming Your Amazingly Imperfect, Totally Powerful Self. Harper, 2018. 978-0-062-79698-1. 308 p. $14.99. Gr. 3-8.
This non-fiction, self-help book is research based, but incredibly readable. All the information gathered (and there's a LOT) is explained in a way that makes sense without sounding demeaning. The book is divided into three different sections: "Risk More!" "Think Less!" and "Be Yourself!" The authors give concrete real-life examples, and reach readers through a variety of different styles of text and images, including cartoon panels throughout that provide examples. The Confidence Code for Girls can be read as a workbook – there are a lot of ways to interact with the text, from creating a "Confidence Notebook" to taking quizzes, deciding what path might be the most confident to take in a scenario, to creating your own confidence code.
THOUGHTS: I wish this book had been around when I was starting middle school. It is incredibly well researched and referenced with a full section of endnotes.
305.2352 Social Groups          Emily Woodward, The Baldwin School
---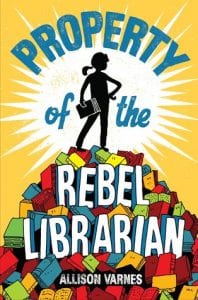 Varnes, Allison. Property of the Rebel Librarian. Random House, 2018. 978-1-524-77147-8. 275 p. $16.99. Gr. 4-7.
June's parents have always been strict, but when they start controlling her access to books, June is at first confused then angry. Her anger turns to outright horror when her parents demand a mass book-banning in June's school library. Things get even uglier when the school administration sides with June's parents, and June's beloved school librarian, who refuses to comply, loses her job. Instead of giving up, June fight backs by banding together with a group of like-minded students. Hoarding books in an empty locker, she becomes "the rebel librarian," and soon even the kids who didn't like to read are clamoring for the latest titles she's managed to gather. But not all the kids are on her side, and everything comes to a head when information starts leaking out about where all the "contraband" is coming from.
THOUGHTS:  The situation this book presents is ridiculously extreme (or so one would hope). However, it provides an interesting jumping off point for thinking and talking about censorship and banned books, and June is a positive role model for youth activism. A fast-paced, thought-provoking tale that will appeal to fans of realistic fiction.
Realistic Fiction          Maggie Bokelman, Cumberland Valley SD
June is a reader; the library her sanctuary, and librarian Ms. Bradshaw her idol. When June's parents discover her reading an "inappropriate book," they go a little overboard. Taking drastic measures to ensure their daughter is not manipulated by such unacceptable content, her parents (and other parents in their parent organization) convince the school to place the Ms. Bradshaw on leave and close the school library until the entire collection can be reevaluated. Heartbroken by this transgression (are books really that bad?), June hides what little books remain after her parents clear the shelves in her bedroom. Taking the long way to school (because she has free time now that she's not in the library), June stumbles across a Little Free Library and what follows can only be described as a librarian being born. Suddenly, rule following June is loaning books out on the black market, making new friends, and taking risks she never imagined. 
THOUGHTS: Cute and quirky, hand this one to your readers. Classes can create a list of books that June obtains, talks about, or requests she fills. Discussions can follow about what books students would break the rules to read.
Realistic Fiction          Maryalice Bond, South Middleton SD