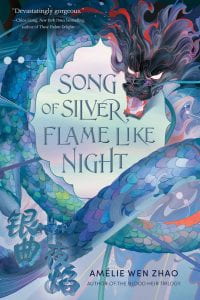 Zhao, Amelie Wen. Song of Silver, Flame Like Night. Delacorte Press, 2023. 978-0593487501. $19.99. 480p. Grades 9-12.
Lan is a performing song girl in Haak'gong, and although her life appears to be the same as the other girls she lives and performs with, she has a secret. Lan spends her days trying to understand the message behind the strange mark left on her arm by her mother before she died. In her quest for answers, she meets Zen. Zen is a practitioner and only uses his magic in secret. When their worlds collide one fateful night, Zen agrees to take Lan to his practitioner masters after she uses her powers in a moment of panic. As Lan begins to understand her powers and the fate of her mother and her people, Lan realizes that everyone has secrets. She's swept up in a war to overthrow the Elantian regime who want to outlaw her magic. Drawing upon ancient Chinese myths and legends, Zhao has crafted a story of love, loss, betrayal, and power. Will Lan and Zen use the powers they possess to save their world, or will they destroy it?
THOUGHTS: This book really kept me on my toes! I felt that a lot of the characters made surprising decisions that somewhat "broke the mold" of what I would expect of a YA character. There is a ton of gray area when it comes to the magic the characters possess and the decisions they make when it comes to obtaining power to protect the ones they love. Readers will enjoy the action, mystery, and adventure this fantasy novel provides as well as the inclusion of ancient Chinese mythology.
Fantasy