Higgins, Melissa. Buzzing Bees. Pebble, 2019.  978-1-977-10341-3. 32 p. $21.74. Grades K-3.  (Smithsonian Little Explorer- Little Entomologist 4D).
 —. Beautiful Butterflies. 978-1-9-771-0343-7.
 —. Brilliant Beetles.  978-1-977-10342-0.
Peterson, Megan Cooley. Amazing Ants.  978-1-977-10340-6.
 —. Dashing Dragonflies. 978-1-977-10344-4.
­­­­­­­­­­­­­­­­­­ —. Grand Grasshoppers. 978-1-977-10345-1.
The Little Entomologist series with their catchy alliterative titles explores the insect world in text that is accessible to young readers. In Buzzing Bees, the author discusses 11 species of bees from around the world. Each two page spread focuses on a different species and talks about their habitat, behavior, and physical description. There are colorful photographs with a close-up of the insect on the page on the right.  Text boxes contain additional information. There is an index, glossary, and suggested readings and websites in the back matter. The term "4D" refers to the Capstone app, where the reader can scan the starred pages with a phone camera and see them come alive on video.
THOUGHTS: This series would be a great addition to any elementary library. The books will attract browsers, and primary students will find them useful for reports.
595.7 Insects -Bees          Denise Medwick, Retired, West Allegheny SD
638.1 Animal Husbandry- Bees
---
Dempsey, Kristy. Papa Put a Man on the Moon. Dial Books for Young Readers, 2019. 978-0-735-23074-3. Unpaged. $17.99. Grades PreK-3.
Marthanne and her Papa like to look at the stars and dream. A dream is about to come true. On July 20, 1969, American astronauts landed on the Moon. Marthanne is especially proud because her Papa helped to weave the fabric that was part of the astronauts' space suit. The fabric is so special. It keeps the astronauts safe, and her Papa did that! Dempsey and illustrator Sarah Green help capture Marthanne's pride and excitement of this miraculous event. Dempsey brings in her personal experience, having grown up in such a town as Marthanne. This personalization makes the story so much more real to the young readers. There is excitement and anticipation as the manned space age comes to being. The author's addition of Walter Cronkite's "Oh boy, oh boy, oh boy," reflects the joy and pride of our country.
THOUGHTS: Even though children today may not take space travel for granted, there is not the novelty that Marthanne experienced (as did many of us older readers) in 1969. Young readers will notice that this book captures the underlying feelings of pride and accomplishment that the mill workers express. That should encourage discussion as to contributions large and small that make our country work.
Picture Book          Jeannie Bellavance, Retired
---
Woodrow, Allen. Curse of the Werepenguin. Viking Books for Young Readers, 2019. 978-0-451-48044-6. 352 p. $17.99. Grades 3-6.
Curse of the Werepenguin follows Bolt Wattle who lives a not so interesting life after being left at an orphanage by his parents. He has dreams that his parents will come back for him; so when a Baron from Brugaria decides to adopt him, he feels that his life is finally looking up! However, the Baron is an odd character who Bolt isn't sure is all that he seems (either in age or in personality). He is a strange bird (maybe literally) who wears tuxedos every day, and forbids Bolt from asking any questions. Pretty soon Bolt has bigger problems to deal with when he is bitten and turned into a half-human, half penguin who has this desire to eat fish and cause mischief and mayhem. Can Bolt make a new life for himself with the Baron, or is he destined to be an orphan for the rest of his life? 
THOUGHTS: This book is a delightfully, laugh out loud funny homage to Young Frankenstein. While some references might go over a young reader's head, I think they will enjoy the book anyway! I loved the found family element to this book and found myself rooting for all the characters, even the Baron! Definitely a must have for any school library!
Fantasy          Mary Hyson, Lehigh Valley Academy
---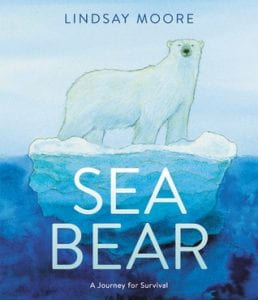 Moore, Lindsay. Sea Bear: A Journey for Survival. Greenwillow Books, 2019. 978-0-06-279128-3. Unpaged. $17.99 . Grade K-5.
Sea Bear follows a solitary polar bear's journey over the course of the year as she struggles in the search for food in her Arctic habitat. This text is beautifully illustrated with gorgeous watercolors and is written in a charming, poetical style using alliteration, repetition, and imagery to capture the plight of marine life in the face of global warming. The book also includes information on the animals and the growing environmental crisis in our arctic regions.
THOUGHTS: Sea Bear provides a touching and informative look at the increasing threat of the effects of climate change. Highly recommended for primary grades K-5.
Picture Book          Nancy Summers Abington SD
---
Farina, Matthew. Lawrence in the Fall. Disney/Hyperion, 2019. 978-1-484-78058-9. Unpaged. $16.99. PreK-Gr. 2.
When a young fox named Lawrence is directed to bring in something he collects to show his classmates, he begins to fret. He doesn't collect anything! What will he bring in? He goes home in tears, where his father assures him they'll find something. Early the next morning, the two venture out into the woods to look for the perfect object for show and tell. At first, they are unsuccessful, and when a storm blows through and Lawrence loses sight of his father, it seems like their trek into the forest was a terrible idea. Before long, however, Lawrence discovers beauty in the falling leaves, which he can't wait to share with his classmates. A lovely story about the beauty of nature and the power of persistence, this title is perfect for young readers who love to explore the great outdoors.
THOUGHTS: I envision this title being used in an elementary classroom to introduce some sort of leaf project. The rear end pages actually picture fourteen different types of leaves from common trees. These images, in conjunction with the story, could inspire students to go out and look for these types of leaves themselves. If a leaf project is not in the curriculum, perhaps extra credit points could be rewarded for each type of leaf students find. Such educational connections abound with this title, and I love the connection to nature that will lead students outdoors. Definitely a must-have for early science collections.
Picture Book          Julie Ritter, PSLA Member
---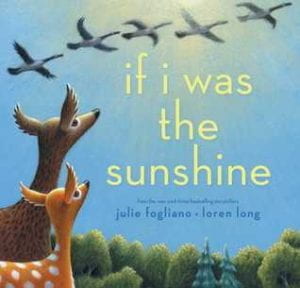 Fogliano, Julie. If I Was the Sunshine. Atheneum Books for Young Readers, 2019. Unpaged. 978-1-481-47243-2. $17.99. PreK-Gr. 2.
This clever, poetic story uses an abundance of metaphors to describe a mother's love for her daughter. On the opening spread, readers will see a mother and daughter, both in overalls, walking across a field. This same pair is shown reading a bedtime story on the final spread. Throughout the work, the mother expresses her love in stanzas like the following: "if i was the sunshine/and you were the day/i'd call you hello!/and you'd call me stay". Gorgeous illustrations complement the poetic stanzas, making this an enthralling read for any young child.
THOUGHTS: Although some of the metaphors may not be entirely comprehensible to young readers, the pleasing language and stunning imagery in this book will surely capture their attention. Fans of Margaret Wise Brown's classic, The Runaway Bunny, will absolutely adore this similarly structured story. Use this as a satisfying bedtime story, or use it to inspire students to create their own delightful metaphors.
Picture Book          Julie Ritter, PSLA Member
---
Daywalt, Drew. This Is MY Fort (Monkey & Cake, Book 2). Orchard Books, 2019. Unpaged. 978-1-338-14390-4. $9.99. PreK-Gr. 2.
Monkey and Cake are best friends who have lots of silly adventures together. In this book, the second in the Monkey & Cake series, Cake decides to build a fort in which no monkeys are allowed. Naturally, Monkey feels very left out. Before long, however, Cake gets a taste of his own medicine and realizes that everything is better with friends. A humorous story with an important underlying message about friendship and sharing, this easy-to-read title is perfect for beginning readers.
THOUGHTS: Readers may recognize Drew Daywalt as the bestselling author of The Day the Crayons Quit, which should make this title appealing to his already established fan base. All young readers will love the hilarious way in which Daywalt deals with serious subjects like exclusion and feeling left out. Pair this with other well-loved titles about animal pairs and friendship – such as Frog and Toad – or use it to initiate a discussion with young children about including others. It is the perfect addition to any emerging reader collection, as most of the pages contain only a few short sentences.
Picture Book          Julie Ritter, PSLA Member
---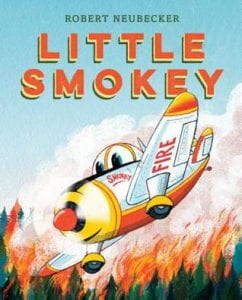 Neubecker, Robert. Little Smokey. Alfred A. Knopf, 2019. 978-1-984-85104-8. Unpaged. $17.99. PreK-Gr. 2.
Little Smokey is the smallest plane at the National Interagency Fire Center. Whenever there is a forest fire, the bigger planes race out to fight it, but Little Smokey must stay back because she's too small. Then, one day, a fire breaks out that proves to be too much for the bigger planes. They cannot get close enough or fly low enough to effectively fight the flames. Finally, Little Smokey has an opportunity to prove her worth. An encouraging tale about a courageous and unlikely hero, this story champions the principles of bravery and teamwork.
THOUGHTS: In addition to inspiring cooperation and courage, this book also does an excellent job of introducing the subject of wildfires. The last two pages in the book give a brief overview of wildfires, firefighting, and fire prevention. This would be a wonderful introduction to a unit on fire safety that could perhaps end with a field trip to the fire station. Whether or not this title is incorporated into the curriculum, it will still be a hit with fans of Little Blue Truck or The Little Engine that Could.
Picture Book          Julie Ritter, PSLA Member
---
Lord, Cynthia. Because of the Rabbit. Scholastic Press, 2019. 183 p. 978-0-545-91424-6. $17.99.  Grades 3-6. 
Emma is excited to begin fifth grade in public school.  Although she enjoyed being homeschooled in rural Maine, she is eager to go to school to make friends. The night before school starts, she accompanies her game warden father on a mission to save a rabbit caught in a fence. They soon learn that this is a domestic rabbit, and Emma is allowed to take it home until they can find the owner. Meanwhile, Emma learns that finding a best friend is not as simple as she thought. A boy named Jack wants to be her friend, but she is concerned that being with Jack, who has an aide to keep him focused and from blurting out, might keep her from finding other friends. Jack, Emma, and two girls work on a group project called Two Truths and a Lie. During a work session, Emma learns from one of the girls that there is a poster for a lost pet rabbit. Emma has become very attached to Lapi and is forced to make a decision about whether to keep the rabbit or call the owner. The rabbit means a lot to her, because it reminds her of her grandfather, who told her fables about Monsieur Lapin and Monsieur Renard, the fox. She also must decide what true friendship is all about. Lord has included some interesting facts about rabbits in the chapter headings and writes an author's note explaining how she got the idea for this book.
THOUGHTS: This is a charming story, and the designated audience will easily be able to relate to Emma as she navigates her way through issues of friendship and pet ownership. Animal lovers will enjoy this one, and the cover itself will attract readers. A great choice for elementary libraries.
Realistic Fiction          Denise Medwick, Retired, West Allegheny SD
---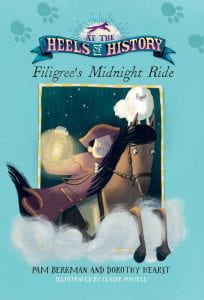 Berkman, Pam, and Dorothy Hearst. Filigree's Midnight Ride. Margaret K. McElderry, 2019. 978-1-534-4333-5. 186 p. $17.99. Grades 1-4.
Filigree, a Pomeranian pup, and his young mistress, Frances Revere, retell the famous ride of Frances' father, Paul on that fateful day in April 1775.  No one – not even the other dogs – takes the little fluffy dog or the girl seriously, but both Filigree and Frances prove them wrong! They are resourceful and determined. Earlier Filigree was known as Pudding, much to his chagrin, when he was owned by the wife of a Tory who left him behind when she had to return to England. Filigree uses this to his advantage when he spies on General Gage, the British Commander. There are some tense moments when Filigree is nearly captured, but the doggy ingenuity prevails.
THOUGHTS: This series introduces younger children to events in American history through fiction. History after all is best told in stories. I am pleased that the authors' note at the end of the book takes great care to separate fact from folklore (In this case Longfellow's poem which romanticizes the event and the actual deposition that Revere wrote) and to explain the realities of the day. They also mention what they added to make the story more readable. The section on slavery in Massachusetts is very enlightening. Be sure to check out the forthcoming At the Heels of History 2020 titles: Minsha's Night on Ellis Island and Bobo's Cave of Gold (California Gold Rush).
Historical Fiction          Jeannie Bellavance, Retired
---
Verde, Susan. I Am Love: A Book of Compassion. Abrams Books for Young Readers, 2019. 978-1-4197-3726-8. Unpaged. $14.99. PreS- Gr. 2.
This book is a gem. Susan Verde and Peter Reynolds create a beautiful book that will guide younger children and their adults through simple examples of caring and love. Important concepts brought out are learning to listen, being present, being thankful, and working together to make a better world. There is a strong sense of self awareness and self-love. No one is perfect, so strive to do your best. The language is often metaphoric and poetic.
THOUGHTS: This book speaks to our spiritual nature without being overtly religious or preachy.  It should be shared and discussed gently. The yoga poses presented at the end may be helpful in establishing a quiet mood so the book can be shared. Reading this book would be a perfect activity for a school which have a paired grade level program.
Other books in the I Am series written by Susan Verde and illustrated by Peter Reynolds include I Am Yoga, I Am Peace: A Book of Mindfulness, and I Am Human: A Book of Empathy.
Picture Book         Jeannie Bellavance, Retired
---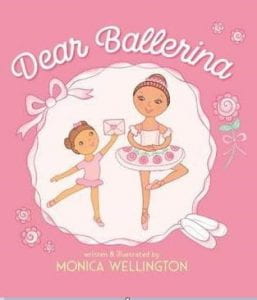 Wellington, Monica. Dear Ballerina. Holiday House, 2019. 978-0-823-43932-4. Unpaged. $17.99 . Grades K-3.
A young ballet student writes to her idol, a professional dancer, sharing her excitement about her recent recital and her dreams for the future. The book has charming color illustrations and includes some factual information about a dancer's costume and equipment.
THOUGHTS: An additional purchase. Would be a nice independent reading selection for a primary grade student taking ballet lessons or for fans of the Angelina Ballerina books.
Picture Book          Nancy Summers, Abington SD
---
Markel, Michelle. Out of this World: The Surreal Art of Leonora Carrington. Illustrated by Amanda Hall. Harper Collins, 2019. 978-0-062-44109-6. Unpaged. $17.99. Grades K-5.
The book follows the childhood and adult life of Leonora Carrington, a painter in the Surrealist school. Leonora was the daughter of staid English upper class parents, whose wish was for their daughter to be educated as a proper English girl in preparation for a suitable marriage. Leonora's artistic temperament did not allow for this dream to be realized. Leonora marched to her own drummer, leaving England for France to study with notable artists such as Max Ernst. Forced to flee Europe as the Nazis took over, Leonora found a permanent home in Mexico and spent her days there, raising a family and creating the art that would be exhibited in New York City in her one woman show. Hall's beautiful and vibrantly colored illustrations capture the spirit of Leonora's surrealist paintings, featuring the fanciful subjects she often drew.
THOUGHTS: Highly recommended picture book which brings to life the story of a talented though not well known artist. A great choice to share with artistic students, to feature during Women's History Month, or to use in collaboration with an art class.
759.2 Paintings of Europe          Nancy Summers, Abington SD
Biography