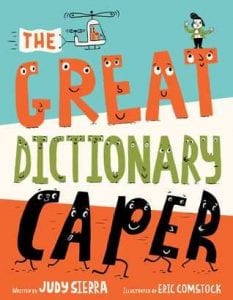 Sierra, Judy. The Great Dictionary Caper. Simon & Schuster Books for Young Readers, 2018. 978-1-481-48004-8. Unpaged. $17.99. Gr. K-3.
When words in the dictionary get bored, they escape from the dictionary and have a little fun.  Onomatopoeias form a marching band and parade across the page; antonyms play hide and seek. Action verbs jump, bounce, run, and somersault across the page. Even palindromes get in on the action and have a family reunion. However, things begin to spiral out of control as words without rhymes feel left out, interjections begin interrupting, and conjunctions fail to hold things together. Ultimately, Noah Webster himself restores order by commanding the words to get back in the dictionary. A hilarious play on words and linguistic concepts, this book is both educational and fun, and it comes complete with a glossary of linguistic terms in the back.
THOUGHTS: This title is an elementary English teacher's dream! It would serve as an excellent supplemental resource for teaching concepts like onomatopoeias, contractions, interjections, homophones, palindromes and more. It would be especially useful for visual learners struggling to grasp these concepts. Definitely a must-have for every elementary school English collection.
Picture Book          Julie Ritter, Montoursville Area SD
---
Lê, Minh. drawn together.  Disney- Hyperion, 2018. 978-1-484-76760-3. Pages 32. $17.90. Gr. K – up.
A kid and his grandfather spend time together, but don't speak the same language. Their differences stand out through the food they eat (boy- hotdog; grandfather- asian noodles) and the TV grandfather watches. Their facial features express their feelings of unhappiness and boredom… until the boy gets out his markers and begins drawing. The grandfather's face lights up, and he gets his own drawing utensils, a sketch book, ink, and brushes. The realization that they can communicate with each other is heartwarming. Things go well, and even when they hit a bump in the road, they don't give up. Finally embracing and knowing each other, the story ends with the kid waving goodbye from the car holding one of grandfather's brushes. The grandfather smiles back holding a marker aloft.
THOUGHTS: This is my new favorite book. The progression of the characters from unhappiness to complete communication, all without words, gives me goosebumps. Younger kids enjoy the story for what it is, the older ones point out symbolism, societal differences, and enjoy the comic like panels in the beginning and end.
Picture Book          Emily Woodward, The Baldwin School
---
Thompkins-Bigelow, Jamilah. Mommy's Khimar. Salaam Reads, 2018. 978-1-534-40059-7. Pages 32. $17.99. Gr. Pre K – 1.
"Mommy's Khimar" is told from the point of view of a small child in a loving family. Her mommy wears khimars during the day and when she goes out of the house. This head-covering symbolizes safety and love for the little girl. She loves going into her mother's khimar closet, and when she is allowed to wear her favorite, her imagination overflows. She is a princess, a bird keeping her baby brother warm in his nest, a superhero! Her grandmother is not the same religion as her parents, but they love each other and are family. After the day is done and the khimars are put away, the girl imagines she is still wearing it while she falls asleep, smelling her mother's scent and feeling safe and loved.
THOUGHTS: This book should be a must for any Preschool – Kindergarten library. It does the dual job of introducing children in a positive way to the Muslim religion as well as reaffirming any children who are part of that community. Children will relate to the world of pretend and wanting the safety and love of their parents.
Picture Book          Emily Woodward, The Baldwin School