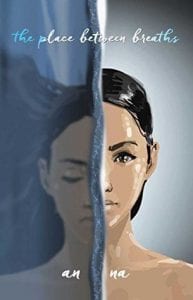 Na, An. The Place Between Breaths. Caitlyn Dlouhy, 2018.  978-1-481-42225-3. 181 p. $17.99. Gr. 8-12.
Grace is a high school senior whose mother left when she was a child, and has not been heard from since. Her father has dedicated his life to finding a cure for schizophrenia, which he blames for her disappearance. Although Grace does not share her father's unrelenting faith in the possibility of finding and saving her mother, she is proud to have secured an internship with the research facility where her father works. Grace's aptitude with numbers enables her to notice an irregularity the experienced scientists miss, which leads to the isolation of a gene for schizophrenia. For Grace, though, the thrill of this discovery is muted by the knowledge that a cure may still be many years away. Although she has long given up on her mother, Grace fears that she, too, has schizophrenia. The narrative is woven among multiple points of view, multiple timelines, and multiple realities, reflecting Grace's uncertain perspective.
THOUGHTS: This is not an easy read. At times, the story is being told by a psychotic narrator–but it is not always clear when. Readers may find themselves disoriented and confused, and may need to go back and reread parts of the story in order to sort out what "really" happened. However, it is gripping, fascinating, and poetic. Readers who enjoy introspective, psychological novels will be entranced. Recommended for high school libraries.
Realistic Fiction          Maggie Bokelman, Cumberland Valley SD
---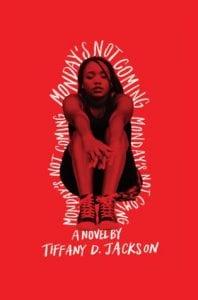 Jackson, Tiffany D. Monday's Not Coming. Katherine Tegen Books, 2018. 978-0-062-42267-5. 435 p. $17.99. Gr. 9 and up.
Claudia Coleman and Monday Charles are best friends. They do everything together until the summer Monday disappears. Claudia is concerned about Monday, but the adults in her life don't think anything is wrong. They believe the story that Monday has gone to live with her father, but Claudia knows that would never happen because she knows Monday, and the stories Mrs. Charles and her sister, April, provide don't add up. As she continues to worry and search for Monday, Claudia realizes that she doesn't know Monday nearly as well as she thought. Without her, Claudia's grades slip, truths are brought to life, and she must develop as an individual in order to find out the truth behind Monday.
THOUGHTS: Starred by both Publisher's Weekly and School Library Journal, Monday's Not Coming is an amazing follow-up to Jackson's 2017 novel, Allegedly. Through Claudia's narration readers are immersed in her struggle to find her best friend while also finding her own voice.  She is raw and full of emotion while also strong and determined. Claudia shines a light on the impact of friendship and determination to find the truth when everyone else around is willing to accept the story. Monday's Not Coming is an amazing mystery with twists and turns that keep readers wanting more.
Mystery          Erin Bechdel, Beaver Area SD
Another great read from outstanding new author, Tiffany Jackson. The dark tale of a young African American girl from the projects in DC, who slips through the cracks and goes missing. Her family is unconcerned and clearly hiding something, teachers and social workers are overwhelmed and it is too easy for them to let it slide. Neighbors are reluctant to get involved in the business of another family .  The only one to notice or care is Monday's friend, Claudia. The timeline is not linear, the narrative jumps back and forth from elementary school days through trouble in middle school to the present. The mystery unravels through the efforts and the determination of Claudia, who misses the closest friend she ever had. Though I had some difficulty with the multiple timelines, I enjoyed the story as an exploration of the close bonds of friendship despite strong differences, and as  a condemnation of a community and a system that failed a young girl.
Thoughts: Touches on dark subjects such as child abuse, drug use and the harsh realities of kids in poverty. Will appeal to fans of urban fiction and novels that reflect stories kids hear on the news such as All American Boys and The Hate U Give.   
Realistic Fiction           Nancy Summers Abington SD
---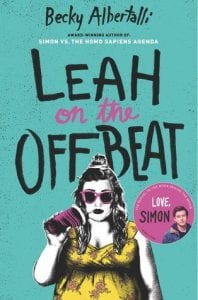 Albertalli, Becky. Leah on the Offbeat. New York: Balzer & Bray, 2018. 978-0-062-64380-3. 268 p. $17.99. Gr. 8 and up.
With her characteristic wit, teen-speak, and three dimensional characters, Becky Albertalli's latest YA offering, Leah on the Offbeat, is an entertaining and compulsively readable novel. The titular character, Leah, will be familiar to readers of Albertalli's debut, Simon vs the Homosapiens Agenda, as she is Simon's best friend. Where Simon is charming, self-assured, and effusive, Leah is snarky, constantly doubts herself, and is uncomfortable with emotions. What the reader knows, but most others don't, is that Leah is bisexual, a secret she has kept closely guarded, even from Simon, who is now openly out. Throughout the book, Leah pines for Abby Suso (cousin of Molly and Cassie Suso from, The Upside of Unrequited), a sort of friend, who is dating her other best friend, Nick. Though Leah seems to be in complete denial about the depths of her feelings, she often comes off as cold to Abby because she refuses to let herself fall for a straight girl. Leah is a study in contradictions: she's proud of Simon for coming out, but can't find the courage to come out herself; she is a talented artist, but posts everything anonymously, because she fears rejection; she is a drummer in a band, but hates being in the limelight; she's comfortable in her body, but is convinced that nobody can really love her because of her weight. While most of the time, these contradictions make her relatable and realistic, it sometimes gets in the way of truly connecting with, and sympathizing, with her. The dialogue, however, is what readers have come to expect from Albertalli – full of clever one-offs, hilarious interplay, and teenage musings; it's what makes this book so much fun to read. Leah's relationship with her mother also adds depth, and the fact that they live paycheck to paycheck is in stark contrast to many of her friends, who have never had financial worries. While Leah on the Offbeat lacks the sheer charisma and charm of Albertalli's first two novels, it is still a solid effort, with a great cast of engaging, diverse, and accessible characters.
THOUGHTS: This is a YA novel through and through, complete with college road trips, high school musicals, promposals, and the requisite senior prom; this a decidedly lighter book than Simon and Upside, though be warned: Leah is a big fan of dropping the f-bomb frequently and with gusto.
Realistic Fiction          Lauren Friedman-Way, The Baldwin School
The second title in the Creekwood High series follows Leah Burke, best friend of Simon Speier from Simon and the Homo Sapiens Agenda.  The story focuses on a close-knit group of friends who realize that their group is splintering in different, unexpected directions as their senior year heads to a close. Leah, a big girl, confident in herself, comfortable with her bisexualtiy, though not sharing the news yet. The story is great coming of age tale that embraces diversity and celebrates so many different types of individuals. A solid read with several well realized LGBT characters, though ultimately it is not as awesome as the first title.  My main problem is that I found the character of Leah to be a bit mean and selfish; cruel to her mother, unkind to Garrett, the boy who likes on her, and demanding and rude to her girl crush, Abby, who is just starting to figure out her sexuality.
Thoughts Though not as compelling and charming as Simon, it should be a popular choice in most high school libraries.
Realistic Fiction          Nancy Summers Abington SD
---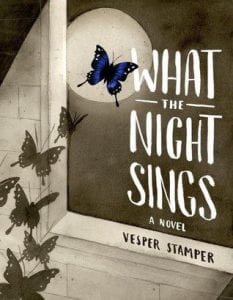 Stamper, Vesper. What the Night Sings. Alfred A. Knopf, 2018. 978-1524700386. 266 pp. $19.99. Grades 7+.
What the Night Sings is a haunting illustrated novel of the Holocaust that focuses on the years between the end of World War II and the founding of the modern state of Israel. Gerta, the only surviving member of her small family, is sixteen when Bergen-Belsen is liberated in April of 1945. Her musician father perished at Auschwitz, where Gerta's ability to play his viola saves her life by way of a seat with the Women's Orchestra (which played music for arriving transports). After Liberation, Gerta — now a free but "displaced person" — struggles to regain her health and identity in a changed world. She befriends Lev, another teen in the camp who seeks a commitment from Gerta, but she chooses to focus on her music and recovering her singing voice. Another displaced person, Michah, tries to sweet-talk her into relocating to Palestine. Ultimately, Gerta must answer one key question for herself: When all is stripped away, who am I? Her journey reveals her deep desire to not just survive, but to fully live and love. Stamper's emotionally rich ink wash illustrations complement her spare, poetic narrative.
THOUGHTS: What the Night Sings belongs in every library serving teens, and will be an especially important addition to Holocaust literature collections. Don't skip over the Author's Note, which includes insight into Stamper's artistic process, research for the novel, and personal connections to Gerta's story.
Historical Fiction          Amy V. Pickett, Ridley SD
---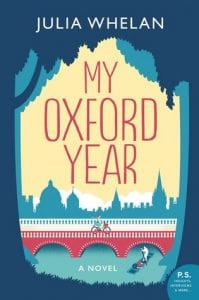 Whelan, Julia. My Oxford Year. William Morrow, 2018. 978-0-06-274064-9. 329 pp. $15.99. Grades 10+.
When two dreams come true at once, is it too much of a good thing? Twenty-four year old Ella Durran, freshly minted Rhodes Scholar, has just touched down in London to begin her Oxford year, fulfilling the dream she's cherished for a decade. Then she receives a phone call offering her a consulting position with a progressive presidential candidate. Ella deftly juggles her studies, her new job, and an unexpected definitely-not-a-relationship with her dashing professor. Jamie Davenport seems like a typical "posh prat" at first, but Ella goes along for the intellectually stimulating and physically satisfying ride. After all, her plane ticket home is already booked and real life awaits at the end of the school year. When Jamie reveals a devastating secret, Ella must reconsider whether the path she's planned out for herself is the one she really wants. My Oxford Year is an excellent debut novel from well-known audiobook narrator Julia Whelan. Each chapter opens with a snippet of poetry that sets the tone for what follows. It's an absolutely delightful coming-of-age romance with strong emotional resonance.
THOUGHTS: Unlike many other "new adult" titles that depict the college and early adulthood experience, this one is both lushly romantic and school library-appropriate.
Fiction (Romance / Crossover)          Amy V. Pickett, Ridley SD
---
Blount, Patty. Someone I Used to Know. Sourcebooks. 2018. 978-1-492-63281-8. 384 p. $10.99. Grades 9 and up.
Ashley Lawrence's hopeful beginning of her freshman year comes to a swift halt when she is sexually assaulted by one of the most popular seniors as part of an annual tradition. Each fall the school football team holds an annual scavenger hunt, in which the boys compete for points for completing dares, stunts and sexual conquests. Ashley's older brother, Derek, is an eager participant, but the game gets out of hand at Homecoming. The subsequent rape trial and the canceling of the football program at the school tears the school community and the Lawrence family apart.   The novel is told through the dual perspectives of Ashley and Derek and seeing both points of view is enlightening. Ashley still struggles to deal with her emotions two years after the assault, but Derek's character is the one who grows the most as he slowly realizes how much he was a part of the boys will be boys mentality and the toxic culture at the school.    In the wake of the #MeToo movement, this is timely reading for older teens about a serious issue. The author includes a list of resources on sexual violence for victims.
THOUGHTS: Feature with similar titles such as Wrecked by Maria Padian and Speak by Laurie Halse Anderson and share with Health Education teachers to spark discussion and awareness during Dating Non-Violence Week in February.
Realistic Fiction   Nancy Summers Abington SD