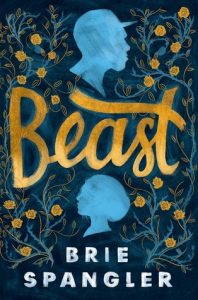 Spangler, Brie. Beast. New York: Alfred A. Knopf, 2016. 978-1-10193-716-7. $17.99.  330 p. Gr. 10 -12.
A loose retelling of the Beauty and the Beast story with an LGBT twist.  The Beast in this tale is Dylan, a 15-year-old freak of nature who stands at 6'6", with pure muscle and an overabundance of hair. Looking as he does, he has a hard time fitting in and zero luck so far with girls his age. Fortunately he is able to have some degree of social acceptance because of his friendship with one of the most popular kids in school J.P., a wealthy, manipulative golden boy who keeps Dylan close to be an enforcer for his loansharking business at school.  After a particularly bad day at school, Dylan steps out on the roof of his house and falls which lands him in a cast and in therapy for self-harming teens.  There he meets the artistic and beautiful Jamie, and they immediately click. Jamie seems to accept him just as he is. Their relationship starts off so sweetly, but before long we discover a crucial piece of information that Dylan missed when he zoned out during his therapy session; Jamie is transgendered. Though the news comes as a shock, Dylan and Jamie have a real connection, and Dylan tries to make sense of his strong feelings for her and reconcile that with the reality of her gender.  A straight forward romantic tale with the characters struggling with self-acceptance and the value of true connection. Both main characters are captivating. Dylan is smart, observant, thoughtful, funny and a bit crude at times. Jamie is strong, original, perceptive and wise. The bond between Dylan and his mother is genuine, caring, and close. THOUGHTS:  A good choice for libraries to add a title with a positive and multi-faceted trans character.  Recommended for older readers because of language a sexual themes.
Realistic Fiction            Nancy Summers, Abington Senior High School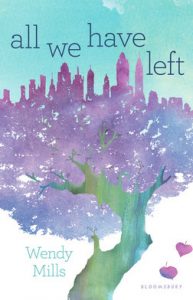 Mills, Wendy. All We Have Left. New York: Bloomsbury, 2016.  978-1-61963-343-8. 362 pp.  $17.99. Gr. 8 and up.
Two stories of two teenage girls whose lives are changed by the tragic events of 9/11 are presented in this alternating narrative.  Alia is a Muslim American teenager attending a creative arts high school in New York City in 2001.  When she gets in trouble at school, her parents refuse to sign her permission slip for a selective summer program for aspiring artists at NYU.  In a last-minute, desperate attempt at convincing them to let her attend the program, Alia skips school to go talk to her father at his workplace in the World Trade Center.  Fast forward 15 years. Jesse is a white American teenager whose brother, Travis, was killed in in the 9/11 terrorist attacks.  After getting involved with the wrong crowd at school, she gets caught vandalizing and is ordered to complete community service hours at the Islam Peace Center, where she gains a new understanding and appreciation for the Islamic religion and Muslim culture. Convinced that she can put her life back together and bring healing to her family if she finds some answers, she begins searching for the truth about her dead brother.  Why was he at the World Trade Center on that fateful day in 2001, and what was he doing during his final moments?  Her quest for answers leads her to Alia, and she discovers that there is much more to the story than she could have imagined.  An uplifting story of healing, courage, compassion, and forgiveness, this outstanding title deserves a place in every young adult collection if only to combat the forces of hatred and fear in today's world.  THOUGHTS: An enlightening and heartfelt read, this novel has many applications to our world today and could easily be incorporated into any social studies curriculum.  The lessons about tolerance and acceptance that run throughout the book would spark excellent discussions in classes studying various world cultures.  Information presented in the book about the Islamic religion and Muslim culture could also be useful as an introduction to the Muslim way of life.  It would be interesting to have students compare common misconceptions of Muslim culture and Islamic religion with their realities.  In addition, references to ISIS, the building of the World Trade Center, 9/11 itself, and changes in the U.S. since 9/11 are relevant to any U.S. or contemporary history course. To really make history come alive, pair this title with Jim Dwyer's 102 Minutes, or hand it to students prior to a field trip to the 9/11 Memorial and Museum.  A must-have for high school libraries!
Historical/Realistic Fiction                  Julie Ritter, Montoursville Area High School​