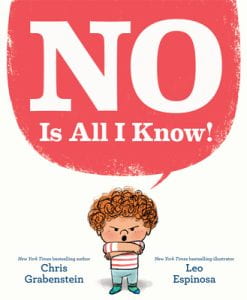 Grabenstein, Chris. No is All I Know! Illustrated by Leo Espinosa. Random House, 2023. 978-0-593-30204-0. Unpaged. $18.99. Grades PK-2.
Oh, Oliver McSnow. "NO!" is his favorite word. It's "NO!," no matter what. His "NO!" becomes the world's strongest NO! and takes over his life and that of his family. No baths, no sleep, no puzzles, or pizza, or even ice cream! Only mac n' cheese for breakfast, lunch, and dinner. When cousin Jess, who loves to say "YES!" comes to visit, Oliver is too tired to say "NO!," and follows Jess and his "YES!" Suddenly, a new world opens up to Oliver as he tries new things and discovers that "YES!" is a lot more fun than "NO!"
THOUGHTS: Leo Espinosa brings the rhythm and meaning of Chris Grabenstein's text to life in No is All I Know! Oliver is depicted as stubborn and passionate–and his parents shocked and bewildered by his all-encompassing "NO!" While initially I thought that the book would appeal mostly to a Pre-K audience whose parents are desperate for some relief from the "NO" phase, I believe the book will have broad appeal to primary students who are looking for a fun read and a relatable story. Some younger brothers and sisters may even be treated to story time by siblings who find this book on the shelf in the library. Highly recommended for its humor, universal story, and appealing illustrations.
Picture Book