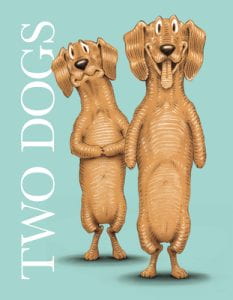 Falconer, Ian. Two Dogs. Michael DiCapua Books, 2022. 978-0-062-95447-3. Unpaged. $18.99. Grades PreK-1.
Ian Falconer of Olivia fame returns with another silly bit of fun, this time featuring dogs not pigs. Percy and Augie are two dachshunds who have been with their family since puppyhood. The family played with them a lot as puppies, but once the children were old enough to go to school and the parents went to work, the pair found themselves alone and bored. Of course, they would follow the usual indoor routines of most dogs, like chasing each other, playing with a ball and barking at squirrels. Even some unusual behaviors are not enough to amuse them, and the pooches decide they have to go outside. After figuring out how to open the lock, the dachshunds proceed to have a grand old time in the yard. They swim in the pool, play on the swings, roll in some unpleasant raccoon droppings and "water" the flowers. Then they spot a tiny hole in the lawn and cannot resist enlarging it. Suddenly the pair hear the approach of the family car, and Augie and Percy "hightail" it back inside. Will the canine duo come up with a clever way to avoid being blamed for the giant hole? Falconer has created humorous artwork that shows the animals with all their doggy characteristics, but with a slight human touch, as he did with Olivia.
THOUGHTS: This laugh out loud picture book is sure to be a hit with young readers who will ask for it to be read again and again. Highly recommended for all elementary collections.
Picture Book           Denise Medwick, Retired, PSLA Member