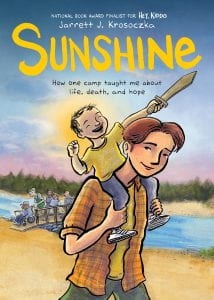 Krosoczka, Jarrett J. Sunshine. Scholastic, 2023. 978-1-338-35631-1. 240 p. $14.99. Grades 9-12
Sunshine, a graphic novel by Jarrett J. Krosoczka, follows Jarrett during his senior year in high school as he volunteers at a camp for kids who are seriously ill with their families. He was worried that the camp would be sad and depressing; however, Jarrett finds Camp Sunshine to be the opposite. He finds joy and happiness in the camp, and he meets some amazing families, which he keeps in touch with throughout his life. There is an author note at the end of the book with more information about the camp as well as the families that Jarrett met while he was there. The illustrations are gray at times, but with these spots of yellow that brighten the illustrations as well as the reader's mood as they go through the story.
THOUGHTS: The reader will be hard pressed not to have tears in their eyes by the end of this touching graphic memoir. A must read for every high school student, as well as for anyone who loved Hey, Kiddo. 
Graphic Memoir
Graphic Novel