McIntosh, Will. Burning Midnight. New York: Delacorte Press, 2016. 978-0553534108. $17.99. 320 pp. Gr. 7 and up.
People all over the world are captivated by mysterious spheres that have suddenly appeared  on Earth. The colorful orbs are rated by their rarity and effects.  Those that are very rare with the most valuable effects are worth thousands, if not millions of dollars. If a person has two of the same kind, the spheres can be "burned",  which will allow the owner to acquire the spheres'  special properties. In the years since they first appeared, people have been on a mad dash to find or purchase and burn the spheres in order  to enhance their personal abilities. Now the possibility of finding new ones is diminishing.  Sully, who  struggles to help his single mom pay the bills, and Hunter, an orphan trying to make it on her own, team up to search for any valuable spheres still at large. Before long they discover the rarest one yet. Next thing they know, billionaire businessman Alex Holliday and his ruthless team of professional collectors are on their trail and will stop at nothing to get their treasure. The story brings in some interesting themes: the division between rich and poor; the possibility that a rare find could completely change a person's life, and the unknown long-term effects of the miracle spheres.  THOUGHTS:  Overall, Burning Midnight is a page turner, a sci-fi adventure that would have special appeal for gamers, reluctant readers, and Pokémon Go aficionados.
Science Fiction    Nancy Summers, Abington Senior HS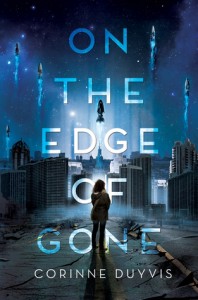 Duyvis, Corinne. On the Edge of Gone. New York: Amulet Books, 2016. 978-1-41971-903-3. $17.95. 456pp. Gr. 9 and up.
In 2043, a comet is hurtling towards Earth, and it's impact is expected to be devastating. Hours before it hits, sixteen year old Denise is anxiously trying to get her drug-addled mother out of their apartment and into an underground shelter. Although her family has been assigned a shelter on the outskirts of their hometown, Amsterdam, Denise's' sister Iris is missing. A random encounter outside their apartment leads Denise and her mother to a generation ship; one of a few left on Earth, grounded due to mechanical issues. The ship will leave in search of new planets to settle on after the comet hits. While Denise worries her mother will not stay clean or follow the rules to keep them on board while the comet hits; she is also determined to become useful enough to convince the crew to allow her and her mother a lifetime spot on the ship. While the crew works to repair the ship, Denise works on and off board to prove her worth, all while searching for her missing sister. Since Denise is autistic, she must break out of her comfort zone in order for her family to survive. THOUGHTS: A good story with a lot going on, readers may be overwhelmed at first by the many overlapping themes, but those who stick with it will find a satisfyingly heartfelt story in the so often bleak and depressing universe of dystopian/sci-fi.
Science Fiction          Vicki Schwoebel, Friends' Central School
Hutchinson, Shaun David. We Are the Ants. New York: Simon Pulse, 2016. 978-1481-449632. 451 pp. $17.99 Gr. 9 and up.
Henry is a lonely teen struggling to deal with the recent suicide of his boyfriend. Henry is bullied at school and bullied at home by his older brother, a college dropout with a pregnant girlfriend.  His mom is a harried single mom and his grandmother is slowly fading away from Alzheimer's.  He's fallen out with his best friend and his secret school boyfriend is toxic. He has a lot on his plate, without counting the periodic alien abductions he has endured since he was thirteen. The aliens have now given him the choice to save the world with the push a button, and Henry is trying to figure out if it is worth it. When a new student with a troubled past joins his class, Henry finds a supportive friend and potential romance which helps him to see his life in a more positive light. We Are the Ants is a strong portrayal of a character going through the grief process and working his way through his difficult family and school situations. Virtually all of the characters are well drawn and genuine; each flawed, and there are a couple who not that likeable. But, even the negative characters, Henry's brother and Marcus, the sometime bully, sometime friend and romantic partner are shown to have more depth than many story villains.  Henry's wry, introspective and frequently hilarious voice are central to this tale. The alien abductions and Henry's ruminations provide some much needed levity to the serious subject matter.  THOUGHTS: A strange story that blends together the sci-fi fantasy with a very raw and real coming of age tale. Rough language, explicit scenes and mature themes make this a choice for older teen readers.
Science Fiction   Nancy Summers, Abington Senior HS