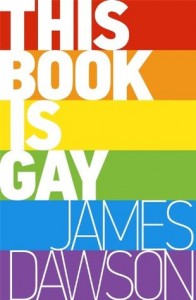 Dawson, James.  This Book is Gay.  Naperville, IL: Sourcebooks, 2015. 978-1-49261-782-2. 272 p.  $15.99.  Gr. 9 and up.
A solid addition to LGBT collections, this book answers all the questions people have about the LGBT experience.  Directed not only at gays and lesbians but also at straight readers, the book covers many topics that are often overlooked in school curricula.  For instance, the author discusses homosexuality as it relates to various religions, gives tips for coming out and dealing with homophobia and bullying, describes international laws pertaining to homosexuals, makes suggestions for using sex apps and online dating websites, explains the ins and outs of gay sex, and more.  Scattered throughout the book are humorous cartoons, helpful charts, and descriptive quotes by LGBT individuals.  A useful cheat sheet of terminology as well as contact information for support groups is included at the end of the book.  The author uses a light, humorous tone throughout the book and provides guidance and encouragement for teenagers struggling with their sexual identities.  The enthusiastic and straightforward way in which information is presented will appeal to all teens who are curious about LGBT issues.
300s; Homosexuality      Julie Ritter, Montoursville Area High School
The teenage years are difficult for everyone, but they can be especially hard for gays, lesbians, bisexuals, and transsexuals, all of whom society considers abnormal.  Furthermore, because these topics are considered taboo, LGBT teens do not have access to many nonfiction resources that address these topics.  Not only does this book help to fill that void, but it does so in an easily accessible, humorous way that teens will appreciate.  The book is a great addition to a sex ed curriculum and would also pair wonderfully in a display with David Levithan's books – who, incidentally, wrote the introduction for this book.​