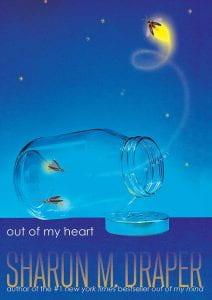 Draper, Sharon M. Out of My Heart. Atheneum Book for Young Readers, 2021. 978-1-665-90216-8. 352 p. $18.99. Grades 5 and up. 
Melody Brooks has cerebral palsy, but that has never stopped her in the past, and it won't stop her now from achieving her plan of attending camp this summer. After researching camps for kids like her, she convinces her parents to complete the application for Camp Green Glades. At first, Melody's dream is dashed when she learns the camp does not have any openings this summer, but then, after a cancellation, Melody's dream comes true. At Camp Green Glades, Melody experiences swimming, ziplining, hiking, horseback riding, and even dancing; all things she never dreamed she could do. Throughout all of her adventures, she finds true friendship and a personal determination and will to do anything.
THOUGHTS: This is a MUST read for all ages. Sharon Draper once again brings to life the voice of those often left silent. This highly anticipated follow up to Out of My Mind (Atheneum Books for Young Readers, 2010) shows readers the potential in not only people with specific needs, but all of us. Melody goes on adventures that I've never tried, but definitely want to after reading how Melody felt. Out of My Heart gives hope to all and is another prize for middle-grade (and all) readers. Draper's ability to bring Melody's voice to life is amazing; Melody is eloquent and strong and still a soon-to-be-teenager going through all of those "tween" things. Another superb novel from Sharon Draper. 
Realistic Fiction          Erin Bechdel, Beaver Area SD
Sidenote – I have a nephew with CP. Both of Melody's stories give me so much hope for him and what he can become. My heart is filled with hope because of Melody. 
Sidenote 2 – I do not recommend the audio of this book. I love audiobooks, but this reader used a very high-pitched voice for Melody that I found to be too childish. It wasn't Melody's voice. I switched to just reading the print about a quarter of the way through the book.