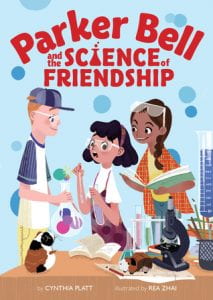 Platt, Cynthia. Parker Bell and the Science of Friendship. Clarion Books, 2019. 978-1-328-97347-4. 152 p. $16.99. Grades 2-4. 
Parker Bell is a girl who loves science.  She even applies scientific theory when choosing which outfit she will wear to school. Her heroes are Mae Jemison and Jane Goodall.  She and her best friend Cassie have been friends since kindergarten and enjoy doing school assignments together. When the teacher announces a Science Triathlon, Parker knows she and Cassie will make a great team and so she is surprised when Cassie invites a boy from her Coders Club to be part of their group.  Parker is not fully on board with this, but enjoys the three assignments they need to complete for the contest. During the process, Parker not only learns more about science, but also about the true meaning of friendship.
THOUGHTS: Although the story is slight, it has some STEM connections that add interest.  It is a good choice for independent elementary readers who enjoy a shorter chapter book that contains some full page illustrations. Children will be able to relate to this story about friendship and life in elementary school.
Realistic Fiction           Denise Medwick, Retired, West Allegheny SD
---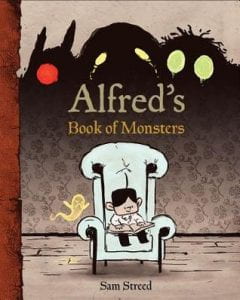 Streed, Sam. Alfred's Book of Monsters. Charlesbridge, 2019. 978-1-580-89833-1. Unpaged. $15.99. Grades K-2.
Alfred loves to read about monsters, much to the disapproval of his Aunty who thinks her nephew should enjoy tea time.  Still the young boy locks himself in his room to read about such monsters as the Nixie with two neon green eyes, the Black Shuck with one blood red eye and the Lantern Man with two yellow eyes.  Alfred is determined to meet these creatures and writes a letter inviting them to tea. When they appear, Aunty and Alfred have differing opinions about their guests' visit. Streed's illustrations are done in Photoshop and were influenced by antique books about Victorian times. There is a sepia color palette throughout the text.  Alfred and his Aunty are drawn in a whimsical style and have square faces, while the spooky monsters have dark bodies with glowing eyes. Readers will enjoy examining the drawings for interesting details, like the skull and jar of eyeballs in Alfred's study.
THOUGHTS: In this picture book, Streed adds just enough scariness to satisfy those primary students who think they want a scary book.  He balances that with comic relief when Alfred and his Aunt sit down for tea. A good choice for libraries needing "not too scary" scary stories.
Picture Book          Denise Medwick, Retired, West Allegheny SD
---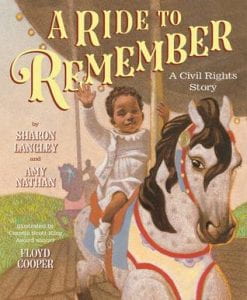 Langley, Sharon, and Amy Nathan. A Ride to Remember. Abrams Books for Young Readers, 2019. 978-1-419-73685-8. Unpaged. $18.99. Grades K-3.
Sharon Langley, an African American, grew up in Baltimore in the 1960s when discrimination and segregation were prevalent. This story of her childhood, told as a conversation between her younger self and her parents, recounts the struggles and protests leading up to the day when African American families like her own were finally able to legally enter Gwynn Oak Amusement Park. On August 28, 1963, Sharon took her first carousel ride at the park, surrounded by kids of various ages and races. The carousel becomes representative of equality, as everyone rides, "nobody first and nobody last, every equal, having fun together." This wonderful first-person narrative comes complete with beautiful illustrations,  references to other civil rights figures, additional information about the carousel (which now sits on the National Mall in Washington, D.C.), a bibliography, and a timeline.
THOUGHTS: I love that this first-person account of the civil rights movement is written from the perspective of a child, making it easier for young readers to relate to. There are many ways to weave this seamlessly into an elementary social studies curriculum. Use it to introduce the concept of nonviolent protest. Pair it with other excellent titles like Andrea Davis Pinkney's Sit-In: How Four Friends Stood Up by Sitting Down (2010) or Walter Dean Myers's I've Seen the Promised Land: The Life of Dr. Martin Luther King, Jr. (2004).  Have students research a civil rights leader of their choice, or have them write their own peaceful protest stories. The possibilities are endless!
305.800975 Civil Rights           Julie Ritter, PSLA Member
---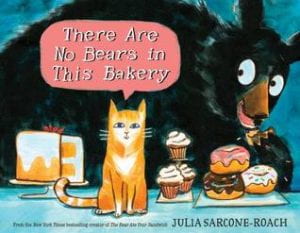 Sarcone-Roach, Julia. There Are No Bears in This Bakery. Alfred A. Knopf, 2019. 978-0-399-55665-4. Unpaged. $17.99. PreK-2.
Muffin, an orange marmalade cat, keeps watch over his neighborhood and knows everything that goes on in it. One night, however, he hears an unfamiliar sound coming from inside the bakery. When he goes to investigate, he is shocked to find a small bear whose stomach is growling. He befriends the bear, helping it to donuts, cookies and other sweet treats. Before long, they're greeted by an even larger bear! Readers will be delighted to discover how the larger bear reacts to the scene in the bakery–and even more entertained to see the baker's reaction when she finds her bakery in disarray the next morning. This humorous detective story is definitely worth consideration for purchase!
THOUGHTS: Equal elements of suspense and hilarity make this title an excellent read-aloud. The book would also be a great way to introduce concepts such as similes, personification, and onomatopoeia, all of which are prominent throughout the story. Give this book to fans of mystery/detective stories or to those who are just looking for a fun, light-hearted read.
Picture Book           Julie Ritter, PSLA Member
---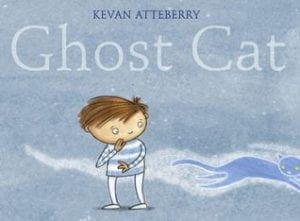 Atteberry, Kevan. Ghost Cat. Neal Porter Books, 2019. 978-0-8234-4283-6. Unpaged. $18.99. PreK-2.
A young boy is convinced that there is a ghost inhabiting his house. This particular ghost takes the form of a cat and behaves much like his family's recently deceased cat. At first, he just feels and hears the ghost, but eventually he is able to spot it and follow it. When the ghost ultimately leads the boy to something wonderful, readers discover why the ghost may have showed up in the first place. A heartwarming story about love, loss and healing, this title deserves a place on every preschool or elementary shelf.
THOUGHTS: Offering a promise of hope and healing, this title would be perfect to hand to young children who've recently experienced the loss of a pet or other loved one. Insinuating that we can often see, feel and hear loved ones after they pass, it provides the perfect foundation for difficult discussions about grief with young children.
Picture Book           Julie Ritter, PSLA Member
---
Archer, Micha. Daniel's Good Day. Nancy Paulsen Books, 2019. 978-0-399-54672-3. Unpaged. $16.99. PreK-2.
The people in Daniel's neighborhood always tell him to have a good day, prompting him to wonder what exactly makes a good day. As he walks through town on his way to grandma's one day, he starts asking his neighbors what a good day is for them. He soon discovers that everyone defines a good day differently. For the baker, a birthday makes a good day, while the nanny appreciates when the babies take a long nap. For Daniel's grandma, a hug from him makes a good day. No matter their answers, an appreciation of community and simple joys can certainly be felt throughout the story. This gorgeous picture book is a beautiful reminder to count all of our blessings each day, even the small ones.
THOUGHTS: This title would make a great read-aloud, after which listeners could share what makes a good day for them.  I could also see this title being used to spark some important discussions with young readers. For starters, the simple fact that everyone had a different definition of "good day" shows that we are all unique. This fact was reinforced by the variety of ages and races pictured throughout the story. It is important for young children to understand and appreciate others for who they are, even if they're different from us. Another important lesson that children can glean from this title is the simple idea of being kind and asking others about themselves instead of being self-centered. They might be surprised to learn about other viewpoints they've never even considered. Social skills are definitely vital in today's world, and this title introduces some of these important concepts in a beautiful manner.
Picture Book           Julie Ritter, PSLA Member
---
Read, Kate. One Fox: A Counting Book Thriller. Peachtree, 2019. 978-1-68263-131-7. Unpaged. $16.95. PreK-1.
In this animated counting book, one hungry fox with two sly eyes comes across three plump hens. And so the story goes, counting as it tells a thrilling tale. Will the hens become dinner for the fox, or will they manage to get away? An exciting story accompanied by large, brightly colored illustrations will have readers counting and turning pages until the very end.
THOUGHTS: This book would be especially beneficial for very young readers. Not only does it reinforce counting skills, but readers will also learn new vocabulary and alliteration through phrases like "famished fox" and "padding paws." Pair this with Mo Willems's A Busy Creature's Day Eating! (2018) to teach both numbers and ABCs to preschoolers and kindergarteners.
Picture Book           Julie Ritter, PSLA Member
---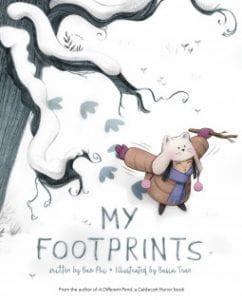 Phi, Bao. My Footprints. Capstone Editions, 2019. 978-1-68446-000-7. Unpaged. $19.99. K-3.
Thuy, a Vietnamese American girl, is bullied at school. On her way home, she pretends to be different animals, mimicking each of their footprints in the snow. Birds can fly away if they feel threatened, so she hops with her feet in a V shape pretending to be a bird. Bears can stand up for themselves, so she stomps deep into the snow to imitate a bear paw print. When she gets home, her two mothers join in, and the three of them imitate mighty creatures like the phoenix and the Sarabha. Before long, Thuy's troubles seem to be forgotten, and a clear message shines through about the power of love and kindness and the strength of family ties.
THOUGHTS: If you are looking for anti-bullying and/or multicultural titles to add to your collection, you should definitely consider purchasing this book. The main character is both Vietnamese American and has two moms, both of which should undoubtedly spark some discussions about inclusion. Also, the book includes brief notes about the phoenix from East Asian mythology and the Sarabha from Hindu mythology, giving readers an insight into these cultures. The hopeful ending should inspire targets of bullying to overcome that which burdens them. Bao Phi's previous book, A Different Pond, was a Caldecott Honor book, and this timely and meaningful story is another excellent selection for elementary libraries.
Picture Book           Julie Ritter, PSLA Member
---
Schaub, Michelle. Finding Treasure: A Collection of Collections. Charlesbridge, 2019. 978-1-58089-875-1. Unpaged. $16.99. K-3.
When a young girl's teacher directs everyone in class to bring in something they collect, she begins to panic. She doesn't collect anything! She decides to explore the collections of her family and friends for inspiration, writing poems about each of their collections as she does. By the end of the story, readers will be as delighted as the narrator to discover that she does, in fact, have a special collection to share.
THOUGHTS: The most obvious application of this book is inspiring readers to start collections of their own. The final page even includes tips and a website to help them get started. However, because it is essentially a book of poems, it may also be used to introduce a unit on poetry. Teachers could even combine these two concepts and have students write their own poems about a personal collection of theirs. Though it may not be a necessary purchase, this is definitely a solid title for any elementary library looking to expand its poetry collection.
Picture Book           Julie Ritter, PSLA Member
---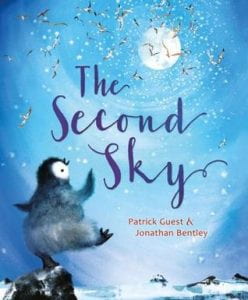 Guest, Patrick. The Second Sky. Eerdmans Books for Young Readers, 2019. 978-0-8028-5520-6. Unpaged. $17.00. PreK-2.
Gilbert, a young penguin, wants desperately to fly. After a lot of flapping and many failed attempts at flying, he determines that he needs to just open his wings like an albatross and soar. So, he climbs to the top of a cliff and jumps. What happens next will surprise and delight readers. This satisfying story about a lovable penguin will inspire readers to go after their own dreams, even if it means reworking their initial ideas to create something even more beautiful.
THOUGHTS: This would make an excellent supplemental resource for early elementary lessons on penguins, as there is some factual information woven into the story–for instance, the fact that penguins cannot fly in the air, but they can fly in water. Fans of Toni Buzzeo's One Cool Friend (2012) and/or Fifi Kuo's I Can Fly (2018) will appreciate this title. A solid purchase for all libraries serving young children.
Picture Book           Julie Ritter, PSLA Member
---
Arnold, Elana K. What Riley Wore. Illustrated by Linda Davick. Simon and Shuster Kids, 2019. 978-1-4814-7260-9. $17.99 Grade PreK-3.
Riley, a gender non-conforming child, chooses a different inventive and empowering outfit to wear each day to help conquer the challenges that might present themselves. The people Riley encounters at school, at the doctor's office, at a restaurant or at the playground all remark positively on the merits of each costume.  Cheerful, whimsical and brightly colored illustrations add to the appeal of this quick read.
THOUGHTS: A terrific and empowering read aloud suggestion for preschool through 2nd grade. A tribute to the appreciation of  individuality.
Picture Book          Nancy Summers Abington SD