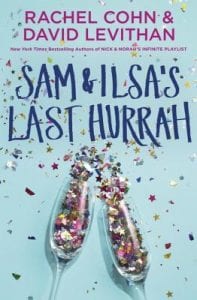 Cohn, Rachel, and David Levithan. Sam & Ilsa's Last Hurrah. Alfred A. Knopf, 2018. 978-0-399-55384-4. 281 p. $17.99. Gr. 9-12.
Twins Sam and Ilsa are high school seniors on the brink of graduation day. They are throwing one final dinner party at their grandmother's rent-controlled Manhattan apartment, which has a fabulous view of New York City.  As with all of the dinner parties they've thrown throughout adolescence, both Sam and Ilsa invited three people, but neither twin told the other who these three guests would be. Told in alternating viewpoints, Sam and Ilsa each struggle to achieve closure on this chapter of their lives and seek answers about what their next adventures should be, all while entertaining exes, frenemies, potential future lovers, best friends, and others at their final dinner party.
THOUGHTS: This is a very relatable coming-of-age story that will resonate with young adults who are struggling to figure out what they should do with their futures. There are a handful of gay and bisexual characters, including Sam and Ilsa, and Sam is plagued by anxiety; therefore, the book is especially relatable for students grappling with anxiety or their sexuality. Reserve this title for mature students, as there is underage drinking and profanity throughout the book.
Realistic Fiction          Julie Ritter, Montoursville Area SD
---
Zoboi, Ibi. Pride. New York: Balzer + Bray, 2018. 978-0-062-56404-7. 304 p. $17.99. Gr. 9-12.
Zuri Benitez is a Haitian-Dominican teenager living in Bushwick, Brooklyn. She loves the "poetry" of her neighborhood, and worries when the abandoned house across the street becomes a mini-mansion, sticking out "like a newly polished pair of Jordans thrown in with a bunch of well-worn knockoffs (2)." Gentrification is happening all over Brooklyn, with rich white families are moving in and vowing to "clean up" the neighborhood. The new neighbors are the wealthy African-American family, and the two son, Darius and Ainsley Darcy, are exceptionally charming and handsome. Zuri's older sister immediately connects with Ainsley, but Zuri remains weary. She doesn't think her neighborhood needs to change – and she doesn't want the Darcys to change her family, either. When Ainsley breaks up with her sister, Zuri is even more wary but finds herself connecting more and more with Darius. Giving Darius a chance means accepting that things will change, and Zuri is not ready to give up her neighborhood, independence, and family home just yet.
THOUGHTS: While this book may be a contemporary retelling of Pride and Prejudice, Zoboi grounds the story with Zuri's fierce connection to her neighborhood and brings a voice to the real life issues that many teen people of color are currently experiencing in their neighborhoods. By exploring gentrification, racism, and maintaining cultural heritage, Zoboi creates a rich and timely story.
Realistic Fiction          Vicki Schwoebel, Friends' Central School
---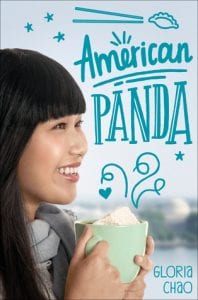 Chao, Gloria. American Panda. Simon Pulse, 2018. 978-1-481-49910-1. 310 p. $17.99. Gr. 9-12.
Seventeen-year-old Taiwanese American Mei Lu is a freshman at MIT, where she is studying to become a doctor as per her parents' wishes. The truth, however, is that she hates germs and finds biology boring. Her real dream is to own a dance studio. To make matters worse, she finds herself falling for a fellow MIT student named Darren, who she knows her parents will never approve of because he is Japanese, and her very traditional parents are already pre-arranging her marriage to another Taiwanese doctor. As Mei struggles to find her own happiness while still maintaining a relationship with her parents, she finds herself building a web of lies that is destined to eventually unravel. Read the book to find out whether these lies drive a wedge between her and her family, or whether she finds a way to reconcile her own hopes and dreams with their expectations.  
THOUGHTS: This book will resonate with any teen who is trying to follow his/her dreams and find him/herself, especially those who feel pressure from their parents to succeed. Pair this book with Samira Ahmed's Love, Hate, & Other Filters for students who are caught between tradition and reality. This title also has educational value, as abundant references to Taiwanese culture and history make it an excellent complement to any high school social studies curriculum.
Realistic Fiction          Julie Ritter, Montoursville Area SD
---
Kaufman, Amie, and Meagan Spooner. Unearthed. Disney Hyperion. 2018. 978-1-484-75805-2. $17.99. 336 pages. Grades 8 and up.
Earth's resources are dwindling, climate disasters have left the planet nearly uninhabitable, and the people are desperate to solve the environmental crises. An extinct, alien race with advanced technology that could save Earth have left behind cryptic messages which scientists have struggled for years to comprehend. Now scholars, corporations, and criminals are all sending missions to the distant planet, Gaia, to recover this potentially Earth-saving knowledge. Mia, an orphan girl who ekes out a living as a scavenger and who is trying to buy back her sister's freedom, has secured transport to Gaia to try to find her fortune by raiding the temples of the Undying. When she arrives on the planet, her plans start to unravel, but then she meets with Jules Addison, an overprivileged scholar, who has come to Gaia for archaeological research. At odds over her need to scavenge artifacts for money and his desire to prove his father's theories right, the two end up in an uneasy alliance as they race to a remote and unknown temple site to beat out the other dangerous scavengers.
THOUGHTS: A recommended purchase for libraries where Science Fiction is popular. The two main characters are intelligent and determined, each of them intriguing and likeable. Each chapter is told from their alternating perspectives. The novel is filled with danger, puzzles, twists and turns and the ending is a real cliffhanger, demanding a sequel. Kaufman and Spooner have come up with another action packed adventure romance series, perfect for fans of Illuminae or the Starbound trilogy.
Science Fiction          Nancy Summers, Abington SD
---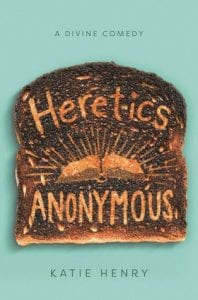 Henry, Katie. Heretics Anonymous. Katherine Tegen Books, 2018. 978-0-062-69887-2. $17.99. 326 p. Gr. 9+.
Michael Ausman is not happy. Due to his father's most recent job transfer, the 16-year-old atheist is starting at St. Clare's Catholic High School. Things look up during history class; however, when he encounters Lucy debating Sister Joseph Marie about female saints. Assuming he has found a kindred spirit, Michael introduces himself to Lucy and decides she will be his friend. Lucy introduces him to her eclectic group of friends: Avi, who is gay and Jewish; Max, who uniquely wears cloaks to school; and Eden, who is Pagan. To Michael's surprise, Lucy is devoutly Catholic, while disagreeing with the church on many issues. Eventually the group invites Michael to its "study group", nicknamed Heretics Anonymous, where they discuss their frustrations with the school. Michael convinces the group that if they want the school to change, they need to take action and not just talk. At first, their guerilla attacks create a buzz of healthy discussion at the school. But then Michael goes too far, and endangers the friendships he now treasures. Throughout the book, which rockets from hilarious to philosophical to tender, Michael is driven by his rage against his father for being absent so much and requiring the family to move frequently. The polyglot cast of characters is well portrayed without veering into tokenism, and under the humor lies the question of what, exactly, is faith. The ending of the book is stunning, and you will find yourself reading it over and over.
THOUGHTS:  A thoughtful analysis of faith without ever turning preachy. Highly recommended for high school libraries and mature middle schoolers. (Frank discussions of contraception and male arousal).
Realistic Fiction          Nancy Nadig, Penn Manor SD
---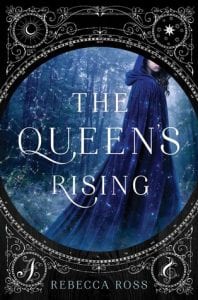 Ross, Rebecca. The Queen's Rising. Harper Teen, 2018. 978-0-062-47134-5. $17.99. 439 p. Gr. 7 +.
Fantasy fans will revel in this unique world crafted by Ross. When she was young, Brienna's grandfather finagled a position for his orphaned granddaughter at Magnalia House, an aristocratic school for select young ladies to master a passion, even though Brienna has not exhibited a particular talent. After seven years of schooling, and several changes of passion, Brienna is ready to accept a position as a Knowledge passion, and she is devastated when she is left without a patron. However, when Brienna begins experiencing the memories of an individual involved with the downfall of the last queen of the neighboring Queen's Realm of Maevana, the Dowager of Magnalia House arranges an interview with an acquaintance of hers. Soon after accepting the position with Alderic Jourdain, Brienna realizes no one is who they seem, and she is drawn into an underworld of political intrigue and a plot to overthrow the current king of Maevana and return the throne to the rightful queen. Ross creates an elegant world, based on Renaissance France, with characters who have deep passions, both academic and emotional. Uniquely, the land of Maevana has traditionally had a queen, and daughters are of great value.
THOUGHTS:  A literary costume drama, The Queen's Rising hits all the right notes – opulent dresses, friendship, mystery, danger, and a dash of romance, all with a feminist twist. The sequel to the planned duology will be released in March, 2019.
Fantasy          Nancy Nadig, Penn Manor SD
---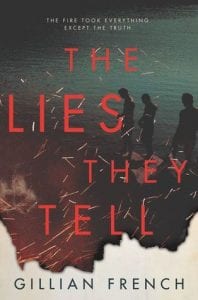 French, Gillian. The Lies They Tell. HarperTeen, 2018. 978-1-524-71587-8. 352 p. $10.99. Gr. 9 and up.
Ever since the unsolved arson that rocked their small Tenny's Harbor, ME town, Pearl and her father have struggled. Caretaker for the Garrison estate (and many other homes along "the row"), Pearl's father has been mostly out of work due to suspicions about his involvement and his reputation at the bar. Determined to clear her father's name, Pearl uses her job at the club to get in with the summer kids. Breaking through the layers of secrecy is easier said than done, but Pearl fights to become more than a local townie fling. Torn between loyalties to her dad, her friends, and solving the mystery of the Garrison murders, Pearl risks her own life to uncover the truth. Some truths are better left alone, and Pearl will have to decide if the truth is worth all she's risking. 
THOUGHTS: Hand this one to mystery fans and fans of We Were Liars. Readers will be drawn to the mystery and unable to put it down until they know if Pearl is successful at uncovering the truth or worse. 
Realistic Fiction          Maryalice Bond, South Middleton SD
---
Maggi, Nicole. What They Don't Know. Sourcebooks Fire, 2018. 978-1-492-67265-4. 368 p. $10.99. Gr. 9 and up.
Mellie, the quiet, daughter of the ultra-conservative Christian mayor, begins her story with: "Dear Ms. Tilson, You probably think you know who I am, but I'm here to tell you that you don't. I used to be a bright star of a girl, but that girl burned out of existence, like a fire swept through my life and left nothing but ash and smoke…." Told through journal entries that her English teacher will never see, Mellie pours out her soul as she grapples with the life-altering decision she faces. Lise is outspoken, and she stands up for what she believes, which is one of the reasons Mellie's family decided they couldn't be friends many years ago. Now living two very different lives, each keeping her own secret, Mellie and Lise alternately share their secret struggles on the pages of their English journals. Lise can't help but notice Mellie is struggling, but is Mellie ready to let someone, especially Lise, help her. 
THOUGHTS: A fan of multi-narrator books, I loved both of these characters and was deeply invested in their stories. The struggles and pressures they feel will resonate with many readers. This is a must have for high school libraries where intense, emotional books are popular. Trigger warning: This book deals with a sexual assault that has taken place. 
Realistic Fiction          Maryalice Bond, South Middleton SD
---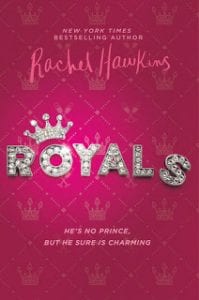 Hawkins, Rachel. Royals. GP Putnam's Sons Books for Young Readers, 2018. 978-1-524-73823-5. 296 p. $17.99. Gr. 9 and up.
Ever since her perfect older sister Ellie went off to University and started dating the crown prince of Scotland (no, there isn't really one), Daisy has been dodging the paparazzi and trying to live a normal life. When now call me Eleanor announces her engagement, Daisy does everything to avoid the tabloids. Her ex-boyfriend's scandalous lies leave Daisy shipped off to Scotland, missing out on her summer plans, to avoid further embarrassment and spend quality time with Eleanor. Daisy learns she isn't the only sibling causing rumors. Eleanor's future brother-in-law and sister-in-law stir up their own trouble, and Daisy quickly realizes Eleanor's future life may not be as glamorous as she tries to claim. An unsupervised group of teenagers with seemingly limitless funds on the loose in Scotland leaves the royal family liaison Glynnis to clean up the mess. 
THOUGHTS: Hand this book to any hopeless romantic or readers who like learning about royals and their drama. Fans will anxiously await the second installment in this series.  
Realistic Fiction          Maryalice Bond, South Middleton SD