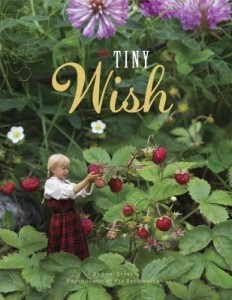 Evert, Lori. The Tiny Wish. New York: Random House, 2015. 978-0-385-37922-9. 32p. $17.99. Gr. PK -3.
Young Anja and her cousins are playing in the mountain meadows. Then , while playing hide-and-seek, Anja wishes that she could be smaller to hide more effectively. When she looks up again, she is tiny, and a wren offers her a ride. So begins Anja's adventures through nature, as she sees things from a new, smaller perspective.
This beautiful book with its colorful illustrations and realistic photo-shopped creations is  a wonderful jumping off point for a fantasy story starter having students create their own tiny adventure. It also might be a great discussion to answer: What might be difficult if you were only six inches tall? What might be easier? The last page challenges the reader to decide, was it a dream or was her adventure real? Such creative and fun photographs bring the beauty of the mountains and its creatures to life in this inventive tale.
Picture Book, Fantasy        Donna Fernandez, Calvary Christian Academy
Yolen, Jane and Heidi E.Y. Stemple. You Nest Here With Me. Honesdale: Boyd Mills Press, 2015. 978-1-59078-923-0. 32p. $16.95. Gr. PreK-3.
Jane Yolen and daughter Heidi Stemple created a beautiful bedtime offering in which a mother tells her daughter about different birds and their nests, but reassures her that "you nest here with me." For example, "Coots nest low in cattail reeds, Sparrows' nests are full of weeds, Plus tangled grasses, feathers, seeds…But you nest here with me." Fourteen different birds are featured, though a few other kinds make guest appearances; nature lovers may be able to spot them in Sweet's illustrations. The rhyming text is succinct and flows nicely, making this a perfect soothing read at bedtime.
The text is also full of facts about different birds and might encourage a new generation of bird-watchers. Yolen, daughter Heidi, and husband David are bird enthusiasts. There is an Authors' Note that describes their family's passion for birds and each bird mentioned in the text is highlighted with a few quick facts, a silhouette, and illustrations of their eggs and feathers. Sweet's illustrations have her usual sketchy quality, full of patterns and a bit of mixed media. They suit the story well. A great book!
Easy Fiction, Picture Book       Lindsey Long, Nye & Conewago Elementary Schools