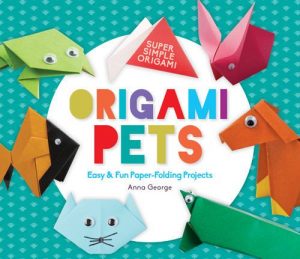 George, Anna. Super Simple Origami. Super Sandcastle, 2017. $19.00 each, $114.00 set of 6. Gr. K-3.
Origami Birds. 978-1-68078-446-6.
Origami Dinosaurs. 978-1-68078-447-3.
Origami Farm Animals. 978-1-68078-448-0.
Origami Insects. 978-1-68078-449-7.
Origami Pets. 978-1-68078-450-3.
Origami Zoo Animals. 978-1-68078-451-0.
This series is a must-have for all school libraries where origami is popular! Each title presents several projects from easy to more complex (although none are tremendously difficult). One great strength of this series is its design: clean page layout, brightly colored lettering, and well organized directions. Beginning matter reviews basic folds, origami symbols, and special folds; back matter includes a glossary. Each animal is presented using a different color paper, so it's very easy to see where one project finishes and a new one begins. Projects in Origami Zoo Animals include basic 6 step Friendly Fox, Slithering Snake, Trumpeting Elephant, Silly Seal, Diving Dolphin, and Striped Tiger, which is the most complicated with 24 steps and two colors of paper. This series is a great choice to refresh your origami section. THOUGHTS: Purchase where origami is popular or needs an update–highly enjoyable and well designed.
736; Origami          Lindsey Long, Lower Dauphin School District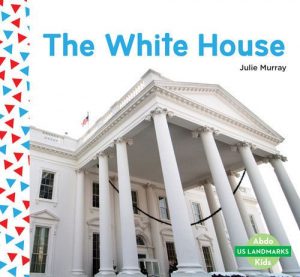 Murray, Julie. US Landmarks. ABDO, 2017. 24 p. $19.00 ea., $114.00 set of 6. Gr. K-3.
Lincoln Memorial. 978-1-68080-911-4 .
Martin Luther King Jr. Memorial. 978-1-68080-912-1.
Mount Rushmore. 978-1-68080-913-8.
The Statue of Liberty. 978-1-68080-914-5.
United States Capitol. 978-1-68080-915-2.
The White House. 978-1-68080-916-9.
This basic series is solid but somewhat basic. The White House gives basic facts about the landmark, including location, basic history, and function ("The president lives in the White House," and "It is in Washington, D.C."). The photographs are colorful and the text includes a map showing the landmark's location. Each book includes a Table of Contents, Index, and Glossary. This set would be excellent for use with beginning readers since there is spare text. One note: President Obama is shown as the president in many of the photographs, making the book seem a little dated for a 2017 publication date. THOUGHTS: A solid purchase.
970s, U.S. Government/History          Lindsey Long, Lower Dauphin School District
Kids Can Cook! Capstone Press, 2017. 32 p. $21.04 ea., $84.16 set of 4. Gr. 3-6.
Ventura, Marne. Bacon Artist: Savory Bacon Recipes. 978-1-51573-814-5.
Omoth, Tyler. Campfire Chef: Mouthwatering Campfire Recipes. 978-1-51573-813-8.
Ventura, Marne. Disgusting Eats: Nasty, but Tasty Recipes. 978-1-51573-812-1.
Omoth, Tyler. Grill Master: Finger-Licking Grilled Recipes. 978-1-51573-815-2.
Kids Can Cook! just may fill a void on your cookbook shelf–after all, who doesn't love bacon? This series features several interesting titles for budding chefs. Bacon Artist has 12 mouth-watering recipes filled with bacon, from bacon cheddar dip to bacon quiche. There are snacks, side dishes, and main courses, along with information on different kinds of bacon, bacon cooking methods, and additional resources. The recipes are fairly straightforward but would definitely be most appropriate for upper-elementary level students with some cooking experience since some of them call for chopping or using the stove and oven. Large photographs show off the finished product opposite one page of directions. THOUGHTS: A fun series for experienced kid cooks.
641.5; Cooking     Lindsey Long, Lower Dauphin School District
Top Sports Tips. Capstone, 2017. $20.99ea. $125.94 set of 6. 32p. Gr. 3-8.
Rissman, Rebecca. Top Basketball Tips. 978-1-5157-4719-2.
Jones, Jen. Top Dance Tips. 978-1-5157-4724-6.
Schwartz, Heather E. Top Ice Hockey Tips. 978-1-5157-4723-9.
Hammelef, Danielle S. Top Soccer Tips. 978-1-5157-4722-2.
Rissman, Rebecca. Top Softball Tips. 978-1-5157-4721-5.
Schwartz, Heather E. Top Volleyball Tips. 978-1-5157-4720-8.
Some of today's most popular sports are examined in Capstone's new series Top Sports Tips. Each volume presents basic information on individual sports as well as tips designed to help competitors improve their skills. This reviewer had the opportunity to examine the Top Softball Tips volume.  After reviewing the basic rules of the game, the author presented training step-by-step stretching and strength training tips, illustrated with photos. Hitting tips, as well as fielding tips (with separate chapters on infielding and outfielding) were also included. Numerous drills that athletes could use to improve their play were also included throughout the text.  THOUGHTS: Each slim volume (only 32 pages) contains a lot of valuable training information appropriate for upper elementary and middle grade readers. The training tips presented were clearly explained and the drills presented were useful and only  required basic equipment and in some cases, a partner. The text was enhanced by the presence of photos that illustrated stretches and drills. Recommend to athletes looking to improve their play.
796; Sports      Elizabeth Henry, Lampeter-Strasburg School District