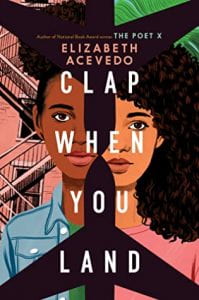 Acevedo, Elizabeth. Clap When You Land. Quill Tree Books, 2020. 978-0-062-88276-9. 432 p. $18.99. Grades 9-12. 
Because of a terrible tragedy, two sixteen year old girls suffer an unimaginable loss. Though they're half sisters, Camino Rios and Yahaira Rios have never met; they don't even know of the other's existence. When Camino arrives at an airport in the Dominican Republic to pick up her Papi for the summer, she sees a crowd of people in tears. The plane he was on went down over the ocean, and Camino's future plans of attending medical school in the US vanish in an instant. Despite the utter hole her Papi's disappearance leaves in Camino's life, she holds onto hope that he will be found alive. Who else will protect her from El Cero, a local pimp who starts hanging around and following her. In New York Yahaira suffers a similar loss, though her grief is overshadowed by guilt and anger. Because she learned one of her Papi's secrets, Yahaira gave up playing chess and rarely spoke to her father for the past year. Yahaira struggles to see her Papi as the man she grew up idolizing, as the man her local Dominican community in New York sees. Her mother is also experiencing similar mixed emotions, and she is adamant that Yahaira's father be returned to the states, though his wishes were to be in the Dominican. As Yahaira learns more about her father and his time away from her, she becomes more determined to know more.
THOUGHTS: Told in alternating chapters of verse, do not miss out on this newest Acevedo book! It is a must have for high school collections.
Realistic Fiction          Maryalice Bond, South Middleton SD