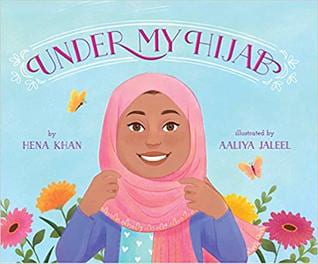 Khan, Hena. Under My Hijab. Lee & Low, 2019. 978-1-620-14792-4. 32 p. $18.95. Gr p-3.
Under My Hijab is a beautifully written and illustrated picture book explaining in a child's voice about what a hijab is.  The main character, a young girl, talks about the different women in her family from her grandmother to her sister, and all the different ways they wear their hijab. While the story does not explain why the women are wearing a hijab, there is back content that gives a child friendly explanation. The main character also discusses each woman as an individual, showing their different interests and how at home the women do not wear a hijab.
THOUGHTS: I love the strong females in this book, from her mother who is a doctor, to her aunt who is an artist with purple hair. This book would be great to use as an opening to a lesson about different cultures. I would use this book possibly as an introduction into research or with younger students as a lesson talking about Ramadan or other holidays.
Picture Book          Arryn Cumpston, Crawford Central SD
---