Norton, Preston. Neanderthal  Opens the Door to The Universe. Disney Hyperion,  2018. 978-1-484-79062-5. $17.99. 410 p. Grades 10+.
Cliff Hubbard, the gargantuan 250 pound social reject known as Neanderthal, is suspended from school after he gets into a fight with the popular star of the football team who continually harasses and torments him.  Cliff is beyond surprised when Aaron Zimmerman shows up on his doorstep a week later with a List from God. Aaron, recovering from a brain injury that put him in a coma for a few days, swears he saw God, who gave him a list of five things to fix at Happy Valley High School.  God also told Aaron that Cliff is the person he needs to help him out with this task. When Aaron tells Cliff that life is a door to the universe and that God has the voice of Morgan Freeman, it seems to Cliff to be a direct message from his beloved older brother, Shane, who died the year before. Cliff reluctantly agrees and the two boys are off to stop some bullies, connect with a cantankerous teacher and hopefully make their school suck less.  Some of the plot developments in the novel are a bit too coincidental and convenient to ring true.  The quick transition of the boys' relationship from mortal enemies to best friends and Cliff's social transformation from bullied loser to hero test the bounds of credibility. Many of the characters are stock stereotypes –the misunderstood loner, the jock jerks, the uptight small-town Christian teens, and the rebellious and tough girl with a heart of gold. However it is still an enjoyable and touching read, exploring so many issues that an American teenager in a small town might face –dysfunctional families, grief, popularity and fitting in, acceptance and connection. And the main character Cliff is so thoughtful, his ruminations  and abundance of terrific quotes and pop culture references provide insight and hope about his depressing circumstances.
THOUGHTS: Funny and honest, edgy with foul language and a dark comedic side, recommended for older teens.  
Realistic Fiction          Nancy Summers, Abington SD
---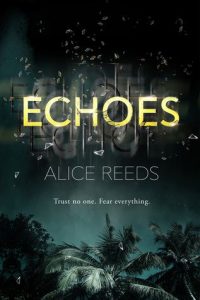 Reeds, Alice. Echoes. Entangled Publishing. 2018. 978-1-640-63248-6. $9.99. 400 p. Grades 10+.
Fiona remembers the crash and, despite her hatred of Miles, is thankful that he survived as well. The question now, is how do they get off this island? Or maybe the question should be, what is trying to kill them on this island? It eerily becomes clear that this is no accident and that something is happening to them, and it is happening on purpose. A plan to do what to them? Kill them? Fiona realizes that Miles may be the only one she can trust in this whole situation. They need to work together to get off this island and from whatever is out there trying to get them.
THOUGHTS: This book was captivating, with twists and turns throughout the entire book. At one moment, you feel as though you know what is going on, only to realize that you are still not quite sure what is happening. This would be a great YA novel for teens.
Thriller, Mystery          Rachel Burkhouse, Otto-Eldred SD
---
Stone, Tamara Ireland. Little Do We Know. Disney Hyperion, 2018. 978-1-484-76821-1. 304 p. $17.99. Gr. 9 and up.
Ever since former best friends Emory and Hannah said things they couldn't take back, they haven't spoken or crossed the 36 steps separating their houses.
Emory is preparing for the lead role in her school's production of Our Town and spending time with her boyfriend Luke before they go to separate colleges. With UCLA drama department auditions and Luke's lacrosse games to fill her time, Emory doesn't seem to notice Hannah's absence.
Hannah begins to question her faith – the one thing she could always count on – when she learns about her family's financial crisis. She listens to her father's sermons differently and can't seem to get Emory's words out of her mind. When Hannah helps Luke in unexpected ways, all three teens begin to rethink their paths.
THOUGHTS: Beautifully written with dual narrators, Little Do We Know is about losing yourself, your best friend, and your faith, then trying to find your way. Readers will appreciate the honest portrayal of these characters and their parents, who demonstrate that not every decision is the right one. Mature relationships are included, making this book most suitable for high school readers.
Realistic Fiction          Maryalice Bond, South Middleton SD
Hannah and her life-long best friend and next door neighbor, Emory, have shared every moment of their lives. But when the girls have a serious argument, they both say things they can never take back and as they head into their senior year their friendship seems to be over.  Hannah throws herself into her work at the Christian school her father runs and Emory is focused on her nearly perfect boyfriend, Luke, and her upcoming audition for UCLA's acting program. After a freak accident, Luke nearly dies and Hannah is the one who is there to save his life. As Luke recovers he tries to make sense of his near death experience and he finds that Hannah is the only person he can relate to.  With Luke and Hannah becoming closer, and Emory concerned over her growing distance from him, the two girls are forced to face each other to come to terms with their own relationship. All of the characters are believable and nuanced, the connection that Emory and Luke have is so positive and caring and gives a great example to teens on what a healthy relationship can be. The situations are realistically portrayed as Hannah, Emory, Luke and their families navigate some serious issues such as questioning faith, sexual harassment and forbidden attraction.
THOUGHTS:  A solid tale that examines friendship, family and romantic love. Overall a good choice for fans of realistic fiction and romance.  
Realistic Fiction          Nancy Summers, Abington SD