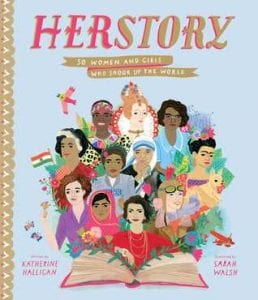 Halligan, Katherine. Herstory: 50 Women and Girls Who Shook up the World. Simon & Schuster Books for Young Readers, 2018. 978-1-534-43664-0. 109 p. $19.99. Gr. 1-5.
Another addition for those fans who can't get enough of powerful women! Herstory is thoughtfully organized by topics such as "Believe & Lead" and "Think & Solve," and provides both background biographical information regarding the woman and girls it highlights as well as valuable context regarding the significance of their contributions. The glossary in the back is an added bonus for younger readers.
THOUGHTS: I like this book a bit more than other similarly themed books because of the additional context and backstories. It also includes photographs of the women or of items and events directly related to them, increasing the realism for readers. At this point, however, some of the selections are getting rather repetitive — do we really need another collection featuring Queen Elizabeth and Marie Curie? — and I'd like to see a broader range of overlooked women whose lives and work have impacted the world around us.
920.72           Emily Woodward, The Baldwin School
---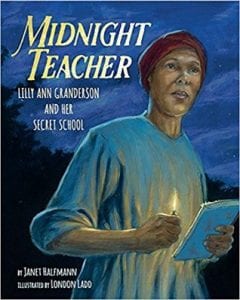 Halfmann, Janet. Midnight Teacher: Lilly Ann Granderson and her Secret School. Lee & Low Books, 2018. 978-1-328-78160-4. Pages 32. $18.95. Gr. 1 – 3.
Lilly Ann Granderson was a slave woman who learned to read and write. Even though it was illegal, she believed in teaching others and would hold secret classes at night for her fellow slaves. Teaching all night and working all day, this amazing hero risked a devastating punishment of 39 lashes every time she taught, but she persevered, enriching the lives of countless others through her bravery and dedication.
THOUGHTS: A perfect accompaniment to the popular collections of influential women from history, this book provides an opportunity to explore in slightly greater depth a largely unknown hero. I encourage all libraries to get this book!
Picture Book          Emily Woodward, The Baldwin School
---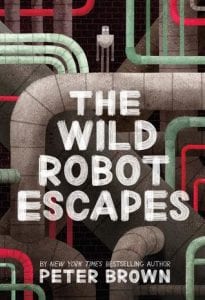 Brown, Peter. The Wild Robot Escapes. Little, Brown and Company, 2018. 978-0-316-38204-5. 276 p. $16.99. Gr. 3-6
The sequel to, The Wild Robot, this book continues Roz's story after she is forced to leave her beloved wild island. Roz (the name our robot calls herself instead of ROZZUM Unit 7134) has been separated from her son, Brightbill the goose, and is put to work on Hilltop Farm. Roz realizes that she is not a normal robot and must pretend to be one in order to survive. Will the kids of the farm Jaya and Jad realize that the stories she is telling them are all true? Roz discovers she is homesick for her son and wild animal friends, yet they need someone on Hilltop Farm too…
THOUGHTS: Definitely read The Wild Robot first before you move on to this book. It's a great continuation of the story, with heart and epic adventure. Roz has to contend with both animals and humans blocking her dream of getting back home with Brightbill. *The audio book has a great narrator!
Science Fiction          Emily Woodward, The Baldwin School
---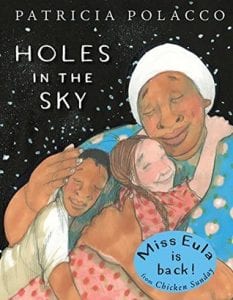 Polacco, Patricia. Holes in the Sky. Putnam, 2018. 978-1-524-73948-5. Unpaged. $18.99. Grades 2-5.
Miss Eula returns in this newest book by Polacco. This semi-autobiographical story is about Trisha's move from their farm to California after her beloved Babushka dies. Her grandmother told her that the stars are like "holes in the sky" and that those who pass away give their family a sign that they are watching from the other side. Trisha loves her new neighborhood and finds it very different with its diversity of people. She also meets a new friend named Stewart, whose grandmother, Miss Eula, reminds Trisha of her own grandmother. Even though California is experiencing a drought, Miss Eula maintains a beautiful garden by using the gray water left over from the washing machine to keep it alive. The children, Miss Eula, and the entire neighborhood then work together to rebuild a grieving neighbor's garden. Later Trisha gets her own sign from her Babushka, as she realizes that Miss Eula, who also wears vanilla as perfume, may well fill the void left by her own grandmother. Polacco uses a wonderful metaphor of the gray water creating beauty to show that love can grow even in the midst of grief. Polacco uses markers and pencils to create her signature art.
THOUGHTS: All libraries will want to add this one to their collections. The important and relevant message of community, diversity, and love makes this a great story to read aloud. Polacco fans will enjoy learning how Miss Eula of Chicken Sunday fame came to be such an important part of Trisha's life.
Picture Book          Denise Medwick, West Allegheny SD
---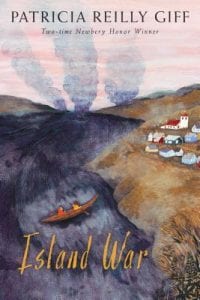 Giff, Patricia Reilly. Island War. Holiday House, 2018. 978-0-823-43954-6. 201 p. $16.99. Grades 3-6.
This is the latest book in Giff's collection of World War II stories. Set in a remote Aleutian island far from the Alaskan coast, this story is told from the viewpoints of two children – Izzy and Max. The year is 1941, and Izzy has accompanied her widowed mother to the island, which was a favorite of Izzy's father. Max reluctantly comes with his father and is surprised to learn that his father is a secret radio operative for the US government. Not long after the families reach the island, they learn about the attack on Pearl Harbor, and soon the island is invaded by Japanese soldiers. By chance, Max and Izzy avoid being found by the soldiers and are left behind when the Japanese put the island's inhabitants, including their parents, on a ship bound for Japan. Max and Izzy must overcome their mutual dislike in order to survive the cold and lack of food, while hiding from the Japanese soldiers who remain. The short chapters are told in the first person point of view and switch back and forth between the main characters. Izzy's character appears to be better developed than Matt's, and there could be a better explanation of the reasons why his father would take him to such a remote and dangerous place. Still the book has moments of tension and even surprise when the children receive aid from an unexpected source.
THOUGHTS: This book will appeal to Giff fans and anyone who enjoys historical fiction. The short length makes it a good choice for reluctant readers. Purchase where Giff's books are popular.
Historical Fiction          Denise Medwick, West Allegheny SD