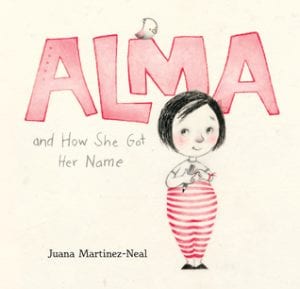 Martinez-Neal, Juana. Alma and How She Got Her Name. Candlewick, 2018. 978-0-763-69355-8. Unpaged. $15.99. PreK-Gr. 3.
Alma Sofia Esperanza José Pura Candela thinks her name is way too long. One day, when she complains about the length of her name to her father, he sits her down and tells her all about the different family members after whom she was named–their likes, interests, hobbies, dreams, and beliefs. She soon discovers that she has much in common with her ancestors, and perhaps she likes her long, meaningful name after all. This is a sweet story that depicts a young girl's connection to her father and to her ancestors, and it is one that is sure to elicit questions from young readers about their own names.
THOUGHTS: Reading this title aloud would be the perfect way to introduce a unit on ancestors. After reading it, students could talk to parents and/or other relatives about their own names, and they could even try to complete their own family trees. A 2019 Caldecott Honor book, this is a must-have for elementary library shelves.
Picture Book          Julie Ritter, Montoursville Area SD
---
Blackall, Sophie. Hello Lighthouse. Little, Brown and Company, 2018. 978-0-316-36238-2. Unpaged. $18.99. PreK-Gr. 3.
This book documents the daily routine of a lighthouse keeper from the time he begins his job until technology renders his job obsolete. Readers will be fascinated by all of the lightkeeper's tasks, including polishing the lens, refilling the oil, trimming the wick, winding the clockwork, painting the rooms, writing letters to his wife, making dinner, writing in his logbook, ringing a warning bell when it becomes foggy, and even rescuing shipwrecked sailors. An intriguing look into the history of lighthouses, complete with an extensive author's note that further explains many of the lightkeeper's tasks, this is a must-have for all libraries who serve young readers.  
THOUGHTS: This book has so much potential for use in the classroom. Teachers and students could explore the obvious: the history of lighthouses. Teachers could have their students pretend to be lighthouse keepers and write their own letters to loved ones about daily life as a keeper. Depending on where they are located, they could possibly even take a field trip to tour a lighthouse. This book offers so much more, however, in addition to all of that. It is the perfect segue into a discussion about the impacts of technology on jobs and the economy. After reading this book and discussing technological advancements, students could research a specific invention and how it has impacted the world, or they could explore the pros and cons of technology. A fascinating read with plenty of learning potential, elementary school teachers and librarians alike will all want a copy of this title to add to their collections.
Picture Book          Julie Ritter, Montoursville Area SD
---
Percival, Tom. Goat's Coat. Bloomsbury, 2018. 978-1-681-19901-6. Unpaged. $16.99. Gr. K-2.
Alfonzo the goat is very excited when he receives a new (and fashionable) coat. As he is out walking in the coat, he encounters other animals facing various troubles. Being a caring goat, Alfonzo wants to help out. As it turns out, the best way to help often involves Alfonzo using bits and pieces of his coat. For example, he uses fabric from his coat to bandage the injured tail of a cat and uses an additional piece of fabric to create a tent to provide shelter to a family of hedgehogs. As the weather turns colder, Alfonzo's good deeds have resulted in him no longer having a coat. When a blizzard arrives, a freezing Alfonzo is surprised by all the animals he had helped. They gift him with a sweater to take the place of his coat and keep him warm.
THOUGHTS: This heartwarming tale about the importance of kindness and caring for others is sure to be a hit. The story is told rhyme, making it an ideal choice for a read aloud. The text is enhanced by Christine Pym's illustrations, created with watercolor, pencil, crayon, and potatoes, which bring Alfonzo and his friends to life and feature great details and expression.
Picture Book          Elizabeth Henry, Lampeter-Strasburg SD