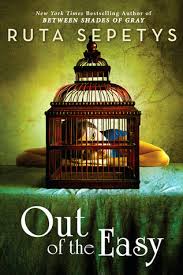 Sepetys, Ruta. Out of the Easy. New York: Philomel, 2013. 978-0-399-25692-9. 346p. $17.99. Gr. 9 and up.
It's 1950. World War II has ended.  The Cold War is just beginning. McCarthyism is on the rise, and life in New Orleans is one big party.  At least it seems that way for everyone except Josie Moraine, who's living a life less than perfect.  Josie dreams of escaping the stigma of being the daughter of a French Quarter prostitute whose mothering has left Josie caring for herself since the age of twelve.  Josie dreams of a life outside of the Quarter, a life at Smith College, in New England, that will allow Josie to become Josephine and put the past behind her, but first she must get in to Smith and figure out a way to pay for it.  With support from Patrick, her employer's son; Jesse, her biker friend; Willie, the brothel madam, and Cokie, Willie's right-hand- man, Josie's dreams might come true, that is until the murder of a wealthy, Memphis contractor on New Year's Eve threatens to end everything and sent her down a path less than respectable because they "call this place 'The Big Easy', [but] shoot, ain't nothin' easy about it" (328).
Sepetys eloquently describes life in 1950s New Orleans through the life of Josie Moraine, a life that has not been innocent, yet Josie projects an innocence about her through her choice in friends, personality, and dreams.  Although lacking is some areas, Out of the Easy is a wonderful exploration of growth, life, and how one choice can change everything.  This is an excellent novel for teens and adults alike.
Historical; Realism         Erin Parkinson, Lincoln JSHS, Ellwood City