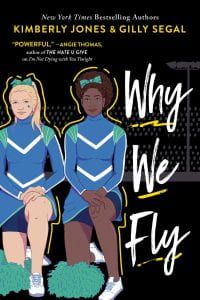 Jones, Kimberly, and Gilly Segal. Why We Fly. Sourcebooks Fire, 2021. 978-1-492-67892-2. $17.99. Grades 9-12.
With a shared love for cheerleading, Eleanor ("Leni") and Chanel ("Nelly") have been long time best friends. Continuing to recover from a bad fall and concussion, Leni attends physical therapy in preparation for senior season. When Leni, a White, Jewish girl, is named captain over the more deserving Nelly, a Black girl who has stepped up during Leni's injury, the friendship begins to splinter. Since she's become interested in star quarterback Three, Leni doesn't seem to notice how hurt Nelly feels. Nelly, meanwhile, has her own pressures to cope with and does so by making some questionable choices. Leni struggles to reign in the team and feel like a true captain. Then in support of a professional football player who is from their Atlanta, Georgia high school, Leni convinces the cheer team to take a knee during a game. The repercussions ripple through their community, impacting each character differently. Told in alternating voices by author team Jones and Segal (I'm Not Dying with You Tonight, 2019), this novel tackles social issues in a new perspective from those who are on the sidelines. 
THOUGHTS: This novel addresses how friends, despite similar interests and history, may grow apart. Told amongst a contemporary backdrop with racial justice at the center, Why We Fly will be popular where similar books are enjoyed.
Realistic Fiction           Maryalice Bond, South Middleton SD