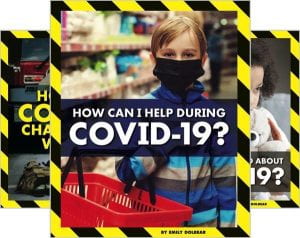 Pandemics and COVID-19. The Child's World. 2021. $19.95 ea. $119.17 set of 6. Gr. 2-5.
Dolbear, Emily. How Can I Help During COVID-19? 978-1-503-85277-8.
—. What If I'm Worried About COVID-19? 978-1-503-85318-8.
Latta, Sara. What is COVID-19? 978-1-503-85276-1.
—. Who are the COVID-19 Helpers? 978-1-503-85315-7.
Laughlin, Kara L. How Has COVID-19 Changed Our World? 978-1-503-85317-1.
—. What Is a Pandemic? 978-1-503-85316-4.
The Pandemics and COVID-19 series is a kid-friendly guide for younger readers and caregivers to explain some of the issues going on in the world with COVID-19. This series provides readers with some information on items they may not be sure about, such as what a pandemic actually is and how/why is COVID-19 different from other diseases. This series provides information that is explained in a kid-friendly way, providing up-to-date information. The series also includes some ways that readers can help out during the pandemic, as well as providing a "Good News!" section that can help keep hopes up and a positive outlook toward the future.
THOUGHTS: This series provides good information on pandemics and COVID-19. The information includes colorful photographs and captions that increase the understanding of the text. The series also includes places to find more information on questions that students may have. Pandemics and COVID-19 is a great series for those who want to help by explaining information to their students/readers, but may not be sure how to do so.
362.1962-616.2 Forensic Medicine         Rachel Burkhouse, Otto-Eldred SD