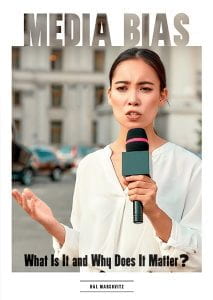 Marcovitz, Hal. Media Bias: What Is It and Why Does It Matter? ReferencePoint Press, 2023. 64 p. $33.05. Grades 6-12.
Beginning with an introduction that discusses that national news coverage on the trial of Kyle Rittenhouse, Media Bias: What Is It and Why Does It Matter? shows readers how members of the media "can provide vastly different views of the same event" (7). Four short chapters follow and provide researchers and with a wealth of information about news, news consumption, bias, and perception. Chapter one (News, Opinion, and Bias: How Do They Differ?) provides information on objective reporting, editorials and columns, going for shock value, many forms of bias, bias on the right, bias on the left, bias at the supermarket, and the hallmarks of fair and unbiased reporting. The shock value call out focuses on Meghan Markle as a popular target of sensationalism after her marriage to Prince Harry. Chapter two focuses on bias's impact on news consumers and addresses vaccine decisions, presidential elections, localized and national crises, sports reporting, and the impact of media on people's lives. Social media, fake news, historical issues (Franklin purchasing the the Pennsylvania Gazette to advocate revolution against the British) and current issues (COVID-19 and the January 6, riot at the US Capitol) are addressed. Color photos and text boxes enhance information presented throughout the book. This title concludes with source notes, for further research, recognizing bias, and an index.
THOUGHTS: ReferencePoint Press's single titles series will enhance secondary library collections looking to update their current issues collections for student research. Depending on student research needs, this title is appropriate for middle and high school collections.

302.23 Media