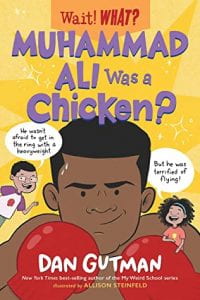 Gutman, Dan. Wait! What? Muhammad Ali Was a Chicken? Norton Young Readers, 2021. 978-1-324-01706-6. 112 p. $6.99 (paperback). Grades 3-5.
In a fun, new nonfiction series from Dan Gutman, two kids (Paige and Turner) take turns trying to top themselves with the lesser known (yet still fascinating) facts of famous people. In fact, Muhammad Ali was a chicken when it came to flying, but they also discuss his bravery in the ring and standing up against the Vietnam War and social justice issues. With quotes and stats and illustrations along with the two narrators, the text is broken into curious and quick digestible bits of information. After some basic background, readers learn about the boxer Cassius Clay who changed his name to Ali for religious reasons. The stories about childhood are relatable for students, and the decisions from his fighting to his adulthood are explained in understandable terms without too much sugar coating. Ali was the Greatest for his showmanship and personality as much as his muscle and willpower, and Gutman gets into all those skills with interesting detail. Even teachers and adults will stop as they read to say, "Wait! What?" and want to learn more!
THOUGHTS: More titles are coming in this new series, including Amelia Earhart and Albert Einstein. Fans of the Weird School Fact books and the Who Was? biographies naturally will gravitate towards this nonfiction book.
Biography          Dustin Brackbill, State College Area SD