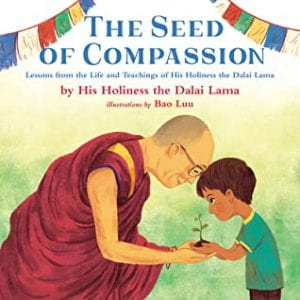 Dalai Lama. The Seed of Compassion: Lessons from the Life and Teachings of His Holiness the Dalai Lama. Kokila, 2020. Unpaged. $18.99  978-0-525-55514-5. Grades 3-6. 
This tale, directed to children, is a mix of biography and moral lesson on compassion. Known today as His Holiness the Dalai Lama, he grew up as Llamo Thondup in a small agrarian village in Tibet. He credits his mother as his first teacher of compassion, sowing the seeds in him to care for others' needs above his own. She shared with others in need, she nourished plants to grow, she mothered him well ("I was a bit spoiled!"), and demonstrated patience and "warmheartedness" to all people. The book covers his life as he was (at three years old), declared to be the new Dalai Lama, spiritual leader of the Tibetan Buddhists, through the years of his training as a monk, to the core message of this book: compassion sets humans apart from other species, and while material possessions require only the five basic senses, compassion requires the mind and shows strength, not weakness. He offers suggestions: "When someone disagrees with you, rather than think they are mistaken, you must ask, Why might they feel this way?  When someone is scowling or upset or hurt, you could busy yourself with your own concerns, or you could ask, What might I do to help them?….It takes practice." The tone is positive and encouraging, and the practical questions will help readers to understand compassion and how they can promote it in the world.
THOUGHTS: A helpful social-emotional resource to boost World Kindness Day and more.
294.3 Religious Teachings        Melissa Scott, Shenango Area SD