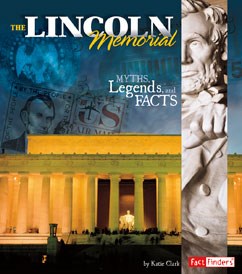 Monumental History (series). North Mankato: Capstone Press, 2015. 32 p. $26.65. Gr. 4 and up.
 Clark, Katie. The Lincoln Memorial: Myths, Legends, and Facts. 978-1-4914-0205-4.
Gunderson, Jessica. The Alamo: Myths, Legends, and Facts. 978-1-4914-0204-7.
Gunderson, Jessica. Mount Rushmore: Myths, Legends, and Facts. 978-1-4914-0203-0.
Murray, Robb. The Washington Monument: Myths, Legends, and Facts. 978-1-4914-0206-1.
Have you ever wondered if there are hidden messages in the architecture of the Lincoln Memorial, in the number of marble steps, or in the positioning of Lincoln's hair? Are Lincoln's hands placed to spell his initials, L.A., in sign language? This unique series addresses these rumors and legends in the context of a factual account of the inspiration, design, and construction of America's most famous monuments. The Lincoln Memorial covers the long road from Lincoln's assassination in 1865 to the memorial's construction in 1914, and eventual dedication. Colorful pages, word definitions, and captioned photos all enhance the text's readability. The last chapter touches on historic events that occurred at the Lincoln Memorial, such as Martin Luther King, Jr.'s 1963 speech on its steps. Critical thinking questions that are correlated to the Common Core and a link out to FactHound.com (using the book's ISBN) complete the back matter. These books are great selections for students who enjoy history, trivia, and conspiracy theories!
975; American Memorials and Monuments            Amy V. Pickett, Ridley High School
I can imagine these books inspiring students to one day visit these amazing monuments in person! They would also make a great introduction to researching presidents, debunking myths, citing evidence to support your claims, and taking a virtual field trip via sites such as http://www.nps.gov/featurecontent/ncr/linc/interactive/deploy/index.htm#/introduction.