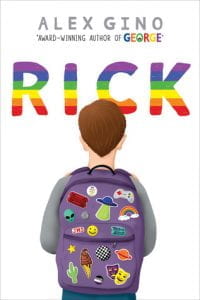 Gino, Alex. Rick. Scholastic Press, 2020. 978-1-338-04810-0. $17.99. 225 p. Grades 5-9.
Rick Ramsey doesn't exactly know why he seems to feel different from other boys his age, especially his best friend Jeff. But he knows that he doesn't enjoy talking about girls' bodies, kissing, or even dating.  Jeff doesn't notice Rick's discomfort when he talks about these topics. Rick lets it go; Jeff can be kind of a jerk, but they've had some great times together and they're best friends. They start middle school, and Rick becomes increasingly confused about his feelings and more uncomfortable with Jeff's behaviors. He starts to wonder – perhaps the two of them became friends out of convenience. Rick's grandfather gently pushes him to really think about his relationship with Jeff and whether it is worth holding on to. Rick finds comfort in spending time with his grandfather, the one person in his life who really understands him. When his grandfather reveals that he used to dress up as female characters for various sci-fi conventions, Rick begins to understand that sexuality and gender are complex – but that doesn't change how he feels about his grandfather. Meanwhile, at school, Rick decides to attend The Rainbow Spectrum, a group of LGBTQ+ students, at first out of curiosity. He keeps this information from Jeff, who defaces the group's posters with inappropriate drawings. However, as he makes new friends in the Rainbow Spectrum and becomes a participant rather than an observer, he makes some hard decisions and truly begins to understand himself. Fans of Gino's novel George will be happy to check in with that book's main character Melissa, who appears as one of Rick's classmates.
THOUGHTS: Rick and his grandfather have a sweet relationship. Everyone can relate to having that one person in their lives that understands them on a deeper level. Many can also relate to making tough decisions about a friendship that has truly worn on too long. All students will benefit from reading about the complexity of sexuality told in a way that is appropriate for younger readers. This book is an important one to have in our libraries as we strive to represent all kinds of people on our shelves.
Realistic Fiction          Danielle Corrao, Ephrata Area SD
---
Harrell, Rob. Wink. Dial Books for Young Readers, 2020. 978-1-984-81514-9. 320 p. $16.99. Grades 3-6.
Ross Maloy would love to be just like any other middle school kid, but that just doesn't seem possible. Since he was diagnosed with a rare form of eye cancer, he has faced treatments, hair loss, family troubles, bullying, and even the loss of a best friend who seems to be avoiding him. How to survive through this scary and unpredictable time? With laughter and music and friendship, which are sometimes found in unexpected places. For example, the radiation tech asks for Ross' music preferences to help make the treatments more tolerable, and that leads to exploring new artists who connect with his inner emotions. In turn, this leads Ross to learning to play guitar and jamming with a band, even including his one time nemesis, Jimmy. Friendship comes in other unexpected forms, from his unshakeable rock Abby to an older, wise (and wisecracking) Jerry. Through it all, there are moments real and heartbreaking, hilarious and inspiring – much like the weird world of middle school can be for any kid! 
THOUGHTS: Along the lines of Wonder and other stories which teach tolerance and difference for school, Wink has plenty to discuss and perspectives to learn. The author writes from personal experience, having gone through the same treatments. He also includes comic strip bits from Batpig and inserted illustrations to inject humor and to express Ross' feelings. Very worthwhile purchase for middle grade readers.
Realistic Fiction          Dustin Brackbill, State College Area SD
---
Park, Linda Sue. Prairie Lotus. Clarion Books, 2020. 978-1-328-78150-5. 261 p. $16.99. Grades 5-8.
It is 1880, and Hanna is a fourteen year old girl who is moving to the Dakota Territory with her father. Hanna has dreams of becoming a dressmaker like her deceased mother, but she faces some obstacles because she is half-Chinese and knows that white Americans do not always want to live with people of other ethnicities. As her father works on building the dress goods store, Hanna asks him if she can go to school for the first time. The townspeople do not want their children attending class with her and all but three remove them from school. After a few weeks, Hanna's teacher accelerates her graduation and Hanna is happy to devote her time to getting the store in order and makes a dress to promote the store's opening. While doing an errand, Hannah is attacked by two drunken men and is able to escape with bruises. However, some people in the community believe that Hanna encouraged the men and plan on boycotting the store, until some friends intervene. Park has blended her own life experiences facing prejudice as a Korean-American and her childhood love of the books of Laura Ingalls Wilder in writing this novel. In the not-to-be missed author's note, Park acknowledges the problems with Wilder's treatment of Native Americans and in this book presents a positive relationship in the friendship between Hanna and the Sioux women, as they share a meal and "Timpsina," a prairie turnip.
THOUGHTS:  This novel is well-crafted, and Park has done a fabulous job in the development of her main character.  The reader can experience Hanna's feelings as she is treated unfairly by the community, simply because she is Chinese.  Park has also drawn attention to the plight of the Native Americans who also faced discrimination and were forced into reservations. This is a first purchase for upper elementary and middle school libraries. A truly engaging story. 
Historical Fiction          Denise Medwick, Retired, West Allegheny SD