Wittenstein, Barry. Sonny's Bridge. Charlesbridge, 2019. 978-1-580-89881-2. 32 p. $21.99. Grades K-4. 
In the early 1960's, if you were on the Williamsburg Bridge in New York City at night you might have heard the sounds of Sonny Rollins' saxophone floating through the air. Sonny's Bridge is a poetic biography of the jazz legend and his path to recording his third album 'The Bridge." Born during the Harlem Renaissance, Sonny is influenced by the jazz greats. When he starts playing the saxophone, Sonny is a teeneager living through WWII and the Jim Crow movement. He hits the music scene just in time for the bebop revolution. An overnight success, Sonny Rollins even plays at Carnegie Hall, but the fame is too much and Sonny takes a two-year sabbatical where he spends his nights practicing on the bridge to avoid waking his neighbors. On the bridge Sonny plays his own way until he finally feels ready to record his famous comeback album. An author's note and timeline at the back of the book provide more insight into Sonny's life and notable accomplishments through 2018. A bibliography along with a list of quotes and websites for more information are also included. The digitally created illustrations add to the historical significance of the story while also embracing the legendary status of Sonny Rollins. 
THOUGHTS: An excellent picture book biography with plenty of historical connections and an introduction to jazz. This book is versatile and can serve both as a read aloud for younger audiences while also allowing room to discuss deeper historical significance with older students.  A welcome addition to any school library.  
92; Picture Book          Jackie Fulton, Mt. Lebanon SD
---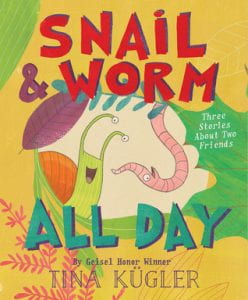 Kugler, Tina. Snail and Worm All Day. Houghton Mifflin Harcourt, 2019. 978-0-358-06364-3. $16.99. 32 p. Grades K-2. 
Snail and Worm have three adventures to share in their second book together. Snail points out all the accomplishments of their friends when a little cheering up is needed for the day. Together the two friends barely escape a dragon (which turns out to be a turtle hiding in its shell) and then take a nap. When Snail is sleepy, Worm agrees to tell a bedtime story that isn't too scary and includes both friends. The three short stories are excellent examples of friendship for young readers. Although the text is deceptively brief, there is plenty of humor and feeling packed into the stories. The bright acrylic, pastel and collage illustrations give the comfortable feeling of a picture book while the text is suitable for early readers. 
THOUGHTS: A lovely hybrid text for emerging readers who are ready to graduate to reading on their own. This picture book is a bridge in the gap to early readers while providing some opportunities to teach about friendship. 
Picture Book          Jackie Fulton, Mt. Lebanon SD

---
Sobel, June. Tow Truck Joe. Houghton Mifflin Harcourt, 2019. 978-0-358-05312-5. 32 p. $17.99. Grades Prek-1. 
A friendly red tow truck named Joe and his dog Patch spend a day in town helping their neighbors with flat tires and dead batteries. As they cruise around town Patch and Joe say hello to many other working vehicles including the grocery truck, cement mixer, and ice cream truck. When a rushing milk truck collides with the cookie cart causing a traffic jam, Patch and Joe help all of the vehicles work together and find a sweet solution to get everyone rolling again. The brightly colored illustrations of a busy small town filled with working vehicles will be a hit with very young readers. Rhyming text, lots of honking hellos, and a repeating red light/green light verse will make this a fun addition to storytime for a preschool crowd. 
THOUGHTS: Trucks are always a hit at storytime, and this is a good addition to any preschool collection. It's a fun, engaging read aloud with many opportunities to incorporate movement. This book also can be used to teach young children about cooperation and community. 
Picture Book          Jackie Fulton, Mt. Lebanon SD

---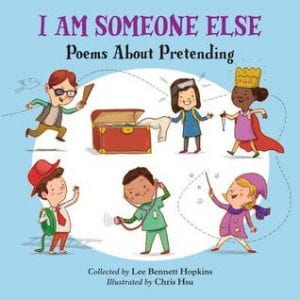 Hopkins, Lee Bennett. I Am Someone Else: Poems about Pretending. Charlesbrisdge, 2019. 978-1-580-89832-4. 32 p. $16.99. Grades K-4.

Playing pretend is universal among children, and this illustrated anthology of poetry about imagining embraces that commonality. A brief introduction reminds the reader that "there is nothing better than being yourself" then goes on to explain that it is fun to think about being someone else at times. Poetry is divided into three categories, each of which features a unique heading poem. "Wish! Be a Storybook Character" features poems about fantasy role play such as wizards, pirates, and even what it might be like to be a giant's wife, courtesy of Lois Lowry. "Support! Be a Person who Helps" includes poems about career role play such as pilot, veterinarian, and police officer. "Invent! Be a Person Who's a Maker" is a collection of poems related to STEAM professions featuring a builder, poet, and chef. Even video game designers get a poem in this section. Ethnically diverse illustrations with each poem depict children dressing up to match their imaginary scenario. Refreshingly, the illustrations also support imaginary play as an ungendered activity by depicting both boys and girls dressing up in various costumes such as a male nurse and a female video game designer. 
THOUGHTS: This anthology is a great contemporary way to incorporate poetry into STEAM lessons in the elementary library. I would definitely add this title to update a poetry collection. A table of contents would make this title more functional, but the lack of one doesn't distract from the overall reading experience. 
811; Picture Book        Jackie Fulton, Mt. Lebanon SD
---
Myers, Matt. Hum and Swish. Neal Porter Books, 2019. 978-0-823-44286-7. 32 p. $18.99. Grades K-3. 
Waves gently crash over the sand on a perfect beach day. Jamie sits quietly humming and playing in the sand as the wind tousles her hair. Here she finds some rocks. There is a puddle left by the waves. Jamie digs, crafts, and collects, content to be in her own world by the sea. People pass by and ask questions about her project. Uninterested in visitors, Jamie keeps her focus. It seems like only the ocean truly understands her. Eventually, another artist sets up shop nearby. The artist has no questions and no answers. The two work in parallel amongst their understanding of each other and the ocean. Museum quality acrylic and oil paintings frame the story, masterfully conveying the serenity and strength of the ocean. Hum and Swish has managed to create a time capsule of a few preciously perfect  hours spent playing next to the ocean. 
THOUGHTS: A fantastic addition to any school library collection. STEAM connections can be made using Jamie's building with sand and found objects as inspiration. 
Picture Book          Jackie Fulton, Mt. Lebanon SD