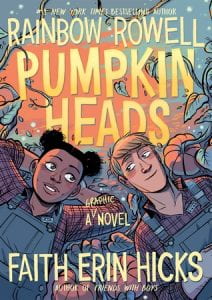 Rowell, Rainbow. Pumpkinheads. First Second, 2019. 978-1-250-31285-3. 208 p. $17.99. Grades 6+.
In this charming graphic novel, perennial pumpkin patch workers and best friends Josiah and Deja realize it is their very last shift to work at their beloved fall festival before they head off to college. And though Josie is wallowing a bit about leaving a place, a time, and friends that he truly loves, Deja won't let him spend their last night at work in a funk. And so she plans an adventurous evening for the two of them to explore all the sights and sounds at the fair, but most especially for Josie to finally talk to his cute crush at the Fudge Shoppe.  
THOUGHTS: The colorful and engaging illustrations by Faith Erin Hill and a sweet story of friendship and positivity by teen favorite Rainbow Rowell, make this title a quick and easy read that is sure to be a hit. 
Graphic Novel          Nancy Summers, Abington SD

---
Donnelly, Jennifer.  Stepsister. Scholastic Press, 2019. 978-1-338-26846-1. 341 p. $17.99. Grades 6+. 
In this fantastic retelling of the Cinderella story, the focus in on the stepsister Isabelle, after she and Tavi mutilate their feet in their doomed effort to fit into the glass slipper and win the prince. Now the two girls and their failing mother are alone, derided by the townfolk, marked as outcasts, and struggling to eke out an existence in the countryside. Ella is long gone with her prince, and Isabelle is trying to put the pieces of her life back together. However, Chance and Fate have a wager on Isabelle's future and her very soul. Can she find redemption and regain the precious pieces of herself that she lost, or is she doomed to a life of jealousy, regret, and bitterness? 
THOUGHTS: A clever and intriguing tale that brings the favorite fairytale full circle. Highly recommended for fans of fantasy of fairytale retellings.
Fantasy Fiction (Fairytales)           Nancy Summers, Abington SD   
---
Stevenson, Robin. My Body My Choice: The Fight for Abortion Rights. Orca Issues, 2019. 978-1-459-81712-8. 175 p.  $19.95. Grades 7+.
Written as a response to declining access to abortion and birth control for women in the United States and across the world, this well-researched and well-written book provides readers with solid information on the history of abortion, the medical procedures available, the societal impacts of unplanned pregnancies, the history of the reproductive rights movement, the laws surrounding the issue and the anti-abortion movement. The book includes sidebars highlighting quotes from established and up-and-coming activists and color photos of protests and marches from around the world. 
THOUGHTS: A solid reference choice for secondary grades with up-to-date information, pages of citations and references, a glossary, and index.  
362.19 Social Welfare Problems and Services          Nancy Summers, Abington SD

---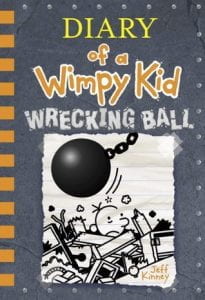 Kinney, Jeff. Diary of a Wimpy Kid: Wrecking Ball. Amulet, 201. 978-1-419-73903-3. 217 p. $14.99. Grades 4-8.
When Greg's great aunt dies, the Heffley family feels pretty bad when they show up for her funeral and realize (too late, of course) that it's the wrong funeral…especially when they learn that she's left them a large inheritance! Everybody lobbies for his favorite way to spend the money, but Greg's mom says that they're putting an addition on they house. In typical Greg Heffley fashion, hilarity ensues when Greg attempts to get involved in the renovations, and every aspect of the project goes sideways. It turns out that there is a clerical error with the building permits, and Greg's family has wasted their money on construction that can't continue. Mom's solution? It's time to move to a bigger, nicer house across town and time to sell the Heffley home to a new family. With meatball subs falling into concrete buckets, hot tubs swinging from cranes, mice families running amok, and Greg's failed attempts at gutter cleaning, this Wimpy Kid book is the funniest addition to the series in the last few years. Greg's fear of make-believe monster "The Grout" will have you and your students laughing out loud.
THOUGHTS: Kinney is back on point with this Wimpy Kid book, a winner for avid fans and kids just starting the series.
Realistic/Humorous Fiction           Lindsey Long, Lower Dauphin SD
---
Knowles, Jo. Where the Heart Is. Candlewick Press, 2019. 978-1-536-20003-4. 292 p. $16.99. Grades 5-9.
This absorbing coming of age story explores friendship, love, and identity as well as family financial problems. Thirteen-year-old Rachel has so much on her plate. Micah, who has always been a faithful constant friend, would like their relationship to deepen. Rachel realizes that she doesn't want this. Her parents' financial difficulties bring tension as they lose their house and must move to an apartment. She is embarrassed that her mother must buy clothing from the thrift store. She feels awkward at parties that the new trendier girls give. There is stress from her summer job feeding the animals next door when she realizes that Lucy, the ornery pig is destined to be slaughtered for food.  Rachel is angry but introspective. Change and uncertainty about her future plague Rachel, but Knowles tempers these fears with strong family support and Micah's friendship. The pace of the book calms down in the last chapter as Rachel realizes that for now, her family being together is more important than the house she lived in. They are beginning a new chapter in their lives. The future may not be certain, but she sees that there is hope. Jo Knowles writes with sensitivity as a young girl begins to understand her sexuality along with the anxiety of loss.  
THOUGHTS: I especially appreciated how Knowles portrays the parents and their problems. They may be angry at their circumstances, but they always consider what is best Rachel and her sister and try to make it happen. Hopefully readers who may be going through trying times will get a better understanding of adults feel when they are going through major losses.
Realistic Fiction          Jeannie Bellavance, Retired
---
Haddix, Margaret Peterson. Greystone Secrets #1: The Strangers. Harper Collins, 2019. 978-0-062-83837-7. 405 p. $17.99. Grades 3-7.
In this dystopian middle school novel Margaret Peterson Haddix introduces the Greystone Family, Mom, Chess, Emma, and Finn who live in a quiet suburb, by choice. The mystery starts as three other children are kidnapped. Mom is in a panic. These three kids are identical to the Greystone children in looks, ages, and names. Mom leaves suddenly after telling the children that they will always have each other.  The story continues as each child sees the events from his/her unique point of view. Chess, a quiet, gangly sixth grader, remembers when his father died and how his mother uprooted the family. He feels a deep responsibility to take care of his siblings. Emma, a fourth grader, loves math. She tries to put order in everything by seeing the mathematical connection and patterns. Finn, an exuberant second grader, loves to talk and to discover new words. These individual narrations allow readers to see characters grow into stronger, more mature persons. The Greystones form an unlikely friendship with Natalie, the daughter of the woman who is watching them during Mom's absence.  Natalie and the Greystones begin to explore Mom's basement office to find clues. When they discover a secret passage, the story takes off into an alternate world. It looks like home, even with the same people, but it is a world of cruelty, mind, and sensory control. The citizens live in abject terror. The plot has many twists involving codes and cyphers, a resistance movement, and a search for truth. The "end" leaves the reader hanging. There will be sequels! Greystone Secrets #2, The Deceivers is coming out in April 2020.
THOUGHTS: In addition to being a page turner, this book shows clear strong family ties and teamwork. This reminded me of The Hunger Games series by Suzanne Collins and also some of the science fiction by William Sleator.  
Science Fiction          Jeannie Bellavance, Retired