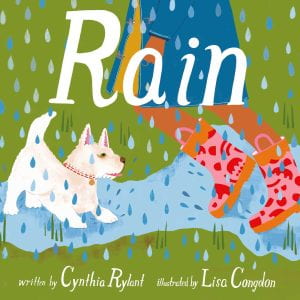 Rylant, Cynthia. Rain. Illustrated by Lisa Congdon. Beach Lane Books, 2023. 978-1-442-46509-1. Unpaged. Grades PreK-1. $18.99.
Rylant extols the beauty and benefits of rain in this colorful picture book. Instead of looking at rain as a dreary unexciting weather event, the author describes how rain is perceived by a variety of characters, who eagerly anticipate the rainfall. The cats love rain, but only from inside, while one dog loves the feel of raindrops on his nose. Mother Duck and her ducklings are in their element during the shower, while children play outside wearing their raincoats and multi-colored boots. After the precipitation stops, the animals and children go back outside to a world that is now sunny and refreshed. The rain has filled up the creeks, birdbaths, and even the dogs' water bowls and now the flowers and garden vegetables will continue to grow "all because of rain." The digital full bleed drawings by Congdon are vibrant and striking. The illustrator toys with perspective, since the children are pictured only from the knees down, which allows the reader to focus on the puddles. Instead of wishing for the rain to go away, children will learn to welcome a rainy day and see it in a different light.
THOUGHTS: Rylant's latest work in simple text puts a positive spin on rainy weather and its benefits. This picture book is a good choice for rainy day storytimes for preschoolers and primary students. 
Picture Book