Graff, Lisa. Far Away. Philomel Books, 2019. 978-1-524-73859-4. 266 p. $16.99. Grades 3-6.
Twelve year old Caraway June (CJ) Ames lives with her Aunt Nic, a medium who travels around California using her gift to reach the spirits of loved ones who have passed on. CJ's deceased mother sends messages to CJ though Aunt Nic. One day, Aunt Nic makes two important announcements. CJ will be going to boarding school and Aunt Nic will no longer be able to communicate with CJ's mother, because she is now in the realm of Far Away where spirits cannot be reached. CJ believes that if she finds a personal object belonging to her mother, this "tether" will pull her mom back from Far Away. CJ enlists the help of sixteen year old Jax, who is a cameraman for Aunt Nic's shows. In an eventful day, CJ and Jax locate the home where her mother and aunt grew up and find some of her mother's artwork. However, CJ also finds more than she anticipated, and this changes her life forever. CJ is a likeable character, and readers will admire her strength as she seeks out to learn the truth about her life. Yet she has her moments as she makes a deal with an unscrupulous magician whose agenda is to expose Aunt Nic as a fraud.
THOUGHTS: This story takes readers on a roller coaster ride of emotion – from joy to sadness and from anger to acceptance. Graff has created a novel that explores the meaning of loss, love, and family. A fabulous choice for all elementary and middle school collections.
Realistic Fiction          Denise Medwick, Retired, West Allegheny SD
---
Bell, Cece. Chick and Brain: Smell My Foot. Candlewick Press, 2019. 978-0-763-67936-1. 70 p. $12.99. Grades K-2.
Step aside, Dick and Jane, and make room for the zany Chick and Brain! With repetition and limited vocabulary, two friends try to outwit and outgross a dog named (appropriately) Spot. Chick is a smart but trusting yellow bird, who focuses on etiquette and correcting manners; while Brain is more laid back and silly with his heart boxers and two large feet with differing powers! Bell uses plenty of speech bubbles and panels to keep the dialogue moving, and readers easily will get the sight gags and emotional cues as they progress. The gross title, exaggerated characters, and witty plot will have beginning readers engaged and begging for more. Hopefully this is the start of a Chick and Brain series!
THOUGHTS: Slightly longer and more advanced than the Elephant and Piggie stories, this has great opportunity for young readers to practice pacing, voice, fluency, and reading with emotion. My uncorrected proof edition was divided into 4 chapters, but it is easily digested in one sitting. I am sure that budding cartoonists will be drawing their own versions in no time!
Picture Book          Dustin Brackbill    State College Area SD
---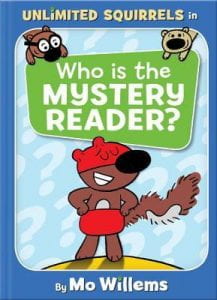 Willems, Mo. Who Is The Mystery Reader? Hyperion Books for Children, 2019. 978-1-368-04686-2. 96 p. $12.99. Grades K-2.
The Unlimited Squirrels are back in action in Mo Willems' latest multi-feature beginning reader, containing pages of a story, inquiry and information, jokes, and plenty of crazy dialogue! The big story revolves around the critters learning the art of reading, especially with the skilled aid of a masked mystery reader (with underpants!) who leaps onto the scene just in time to save the day! Sounding out letters and using context clues are two of the powers that they practice, but keen readers will also seek the true identity of the mystery reader. Later in the book, the squirrels explore the earliest writing forms, including photographs and captions to help visualize the answers. The final chunk of the book goes through Mo's writing process and briefly highlights how a book is made. All in all, there is no mystery about whether this latest edition of the Unlimited Squirrels will be a HUGE hit with readers of all ages! (wink-wink – the answer is YES!!)
THOUGHTS: By going to a page count of 96, Mo has managed to enhance his stories with more value and reason to re-read. Book buddies and classroom mystery readers would be wise to share this book with younger classes and then allow younger readers to follow up with practice and inquiry of their own. Highly recommended for all libraries.
Picture Book          Dustin Brackbill    State College Area SD
---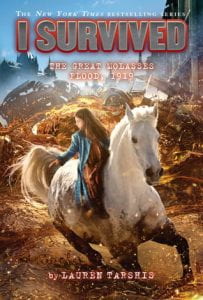 Tarshis, Lauren. I Survived The Great Molasses Flood, 1919. Scholastic, 2019. 978-1-338-31741-1. 94 p. $5.99. Grades 3-5.
With an I survived book, you can always guarantee an interesting historical event and a lot of action. But what I've always liked the most in these books are the close friendships; and this book is no exception.  Carmen and Tony are great friends – so close they feel like brother and sister. They look out for each other at every turn; and they know each other well. Tony has a large family, Carmen only has her Papa, and her Nonna back in Italy. They live in the North End of Boston in 1919.  At the start of the book, a terrible influenza is going around and unfortunately, Carmen's Papa catches it and passes away. Carmen is sad and feels alone, but Tony's family takes her in like one of their own. The North End houses a very large steel tank that holds 2 million gallons of mollases that is sent to factories.  The tank is very unstable and can be heard snapping, creaking and popping all the time. One fateful day when Carmen and Tony are nearby, the tank explodes, spilling all 2 million galllons of thick, sticky goo into the streats. Carmen and Tony are separated by the flow and soon, Carmen is injured and fighting for her life. Carmen does survive (hence the title!) and remains with Tony's family who have a big surprise for her.  They have brought her Nonna from Italy to be with her while she recuperates.
THOUGHTS: The I Survived books have really reached a lot of reluctant readers, and I love how excited my students are with each new one.  This one was a little different. There was a lot more personal story and a little less disaster, but it was compelling just the same.
Historical Fiction          Eva Thomas, Unionville-Chadds Ford SD

---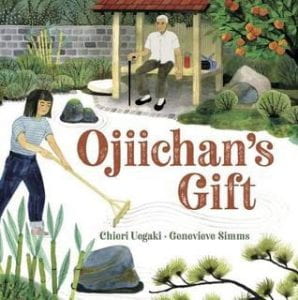 Uegaki, Chieri. Ojiichan's Gift. Kids Can Press, 2019. 978-1-771-38963-1. 32 p. $16.99. Grades K-5.
Mayumi and her Grandfather Ojiichan have a special relationship. When she was born, Ojiichan made her a beautiful garden in his backyard. Every summer when Mayumi visits, they work the garden together. She learns to plant and to tend, to weed and to rake. They spend many summers creating this beauty and bonding, and during the year, Mayumi collects treasures in a special tin to take to the garden the next summer. Then one summer, everything changes.  Ojiichang cannot live by himself anymore, so Mayumi and her parents have to help him pack up his house. Mayumi is sad but sees that the garden needs tending and decides to do it one last time. As she is weeding and raking, and idea comes to her. She makes Ojiichan a small Zen garden in a Bento box, one that he can tend in his wheelchair. She has included special pieces from their garden. When Mayumi unpacks her suitcase at home readers see that she has also brought some special pieces of the garden home for herself as well. She makes herself a small zen garden so she can feel closer to her Grandfather Ojiichan.
THOUGHTS: This is a special relationship between grandfather and granddaughter and although things have to change, they find a way to keep hold of their special garden. This is a sad and sweet story that makes me want to make miniature zen gardens with my students!
Picture Book           Eva Thomas, Unionville-Chadds Ford SD
---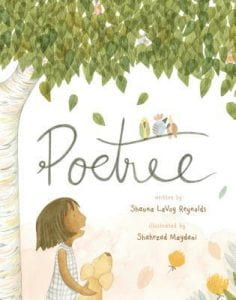 Reynolds, Shauna LaVoy. Poetree. Dial Books for Young Readers, 2019. 978-0-399-53912-1. 32 p. $17.99. Grades K-3. 
Sylvia loves expressing herself through poetry, and on the first day of spring, she celebrates the new season by tying a poem to a birch tree in the park. When she passes by the tree the next day, her poem is gone, and a new poem hangs in its place. Sylvia is astonished that the tree wrote back to her, and she can't wait to visit again. She shares a haiku, as well as several other poems, all the while dreaming of ways she and her new tree friend will pass the time. It's only as she's composing a poem in sidewalk chalk near the tree that Sylvia finally discovers the truth: her classmate, Walt, has been visiting the tree too. Once the initial shock wears off, the pair compose a new poem together and sit beneath the tree, taking in the setting sun and quietly enjoying nature. 
THOUGHTS: Shy students will relate to Sylvia's quiet, reflective nature. Several nature-inspired poems appear throughout the book, making this a perfect tie-in with poetry units or a natural read-aloud choice for Poetry Month in April. At school, Sylvia and Walt do not initially hit it off in class, so this title can also spark discussions about kindness, making new friends, and discovering commonalities with classmates. 
Picture Book          Anne Bozievich, Southern York County SD