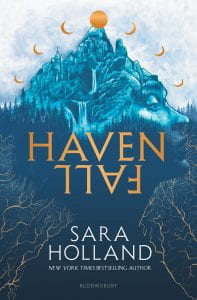 Holland, Sara. Havenfall. Bloomsbury,  2020. 978-1-547-60379-4. $18.99. 305 p. Grades 7-12.
"To everyone who's ever felt like they don't have a place." Maddie is an ordinary teenager who lives extraordinary summers at Havenfall, a Colorado inn that connects different realms: Earth (Haven), Bryn, Fiordenkill, and formerly, Solaria. The inn is run by her Uncle Marcus, and someday, Maddie hopes to take over as the innkeeper. Still traumatized by the unsolved death of her brother, which was blamed on her mother, Maddie is looking forward to her summer escape in Havenfall. However, after briefly reuniting with her uncle and beloved Fiordian soldier, Brekken, things start to go horribly wrong. Maddie awakens on her first morning to chaos: Marcus has been hurt, Brekken has disappeared, and someone has been murdered by a Solarian creature, although the door to that realm is supposed to be sealed. Suddenly, Maddie finds herself in the position she's always wanted, but without the guidance of her uncle or best friend. On her own, Maddie must untangle the secrets and betrayals lurking around every corner and decide who she can really trust: a mysterious newcomer, or the powerful delegates of the realms she's known for years?
THOUGHTS:  This was a refreshing, new fantasy read for me! Although it's mainly described as a contemporary fantasy, it's also a mystery which helps to draw the reader into the story. By the end of the novel, there are still many questions that have not been answered, which left me feeling like I needed to know more. Holland also gives her readers a glimpse into three fantastical worlds, and I'm hoping she expands upon these realms in her follow up novels to Havenfall. There is still so much of this magical story left to tell.
Fantasy          Emily Hoffman, Conestoga Valley SD